Steem 2020 Time To Embrace Attraction Networking: Give To Get
Networking is never easy at first.
Especially when it seems like everyone else knows each other, while you are left standing on the sidelines.
I used to be 'that guy.'
You know, that guy who stands on the side hoping for someone to start a convo with them.
Or that guy who is circling around the networking event with those creepy googly eyes.
Yep, that was me.
I was never taught how to network in the college of engineering.
Or any other grade for that matter.
So when I moved to Kirinyaga after undergraduate, things were definitely going to get bumpy.
By the time I landed in Kirinyaga, I realized I needed to make some friends.
So I began attending Meetup events.
'How was it?'
Awkward as fuck.
'Why was it awkward?'
Because it seemed like everyone knew each other & I was some alien.
I remember my first meetup event, I was standing on the side for a few before I realized, I needed to break the ice with someone.
Everyone was in groups.
So I walk up to a group of 5 people where 1 guy is telling a story.
And for some reason, I blurt out 'Whatsup guys! I'm Trilston'
The guy telling the story was visibly upset after being cut off (I think he was about to get to the good part).
But he allowed me to join the group anyways.
The group tried creating conversation with me & vice versa. But it just felt very uncomfortable.
One forced sentence after another...
1 hour later after hopping from group to group, I felt drained.
I went home that day & decided that networking was overrated.
Realized that was the last time I was entering a networking event again!!
But wait...
I realize I was someone new to town. I didn't have much options you know.
Networking was pretty much my only option to make friends.
So I decided to suck it up & keep showing face.
For the next few months, I began to attend event after event.
Something began to change.
'What?'
I was no longer that guy who no one knew.
Eventually after showing my face a bunch of times, & having mini conversations, I was starting to become known.
Now, many different groups knew who I was.
They would often invite me over, or I'd create a group by myself.
And I'd keep an extra eye out for guests, so they didn't have to go thru the awkwardness like I did.
Soon, every event I went to, I had new people coming up to me.
Having a group to talk to made me much more approachable than the guy gawking at others from the side.
So why do I tell you this?
I reached the attraction networking stage AFTER putting in the work.
Not going to lie, when you enter a brand new networking event, it's going to feel a lil unconformable at first.
You don't know anyone.
That's normal.
But some people let that initial awkwardness rule out going to another one of those events again.
Big mistake...
Why?
Because everyone you know was a stranger at one point or another.
Pretty sure it was overly formal with them before y'all were able to loosen up around each other.
Networking just feels awkward because you are begin off at the uncomfortable at scale.
Feels like the whole world is watching you.
But in reality, they are all focused on themselves.
Just keep being social.
Event after event of showing face, you will begin to build a level of familiarity with them.
Your networking muscle will get stronger & it'll feel easier to talk to others.
Soon, you'll begin to magnetize them.
Now, this is one way to go about it.
Another way to do attraction networking is via social media.
Be one of those accounts that always provides value in one way or another and that's STEEMIT
Don't be the loser who goes on Steemit for example & whines all the time.
Rather, provide value by entertaining, educating or sharing some wisdom.
Eventually, you'll see a lot of winners hopping into YOUR comment sections.
By following the attraction networking formula on my steemit account using steem basic income shares, I have been given the opportunity to speak at an online livestream conference, appear on podcasts & talk to successful businessmen etc.
This route requires you to invest in yourself, share your message via your content & attract winners.
I recommend having a level of offline & online presence.
The offline presence will require you to fight through the initial discomfort, keep showing up to events, build familiarity & have others come up to you.
The online presence will require you to set up your social profiles, keep providing value & have others contact you.
Either way, it's a win win for you.
Life is a game of people.
Therefore, building your social portfolio is huge.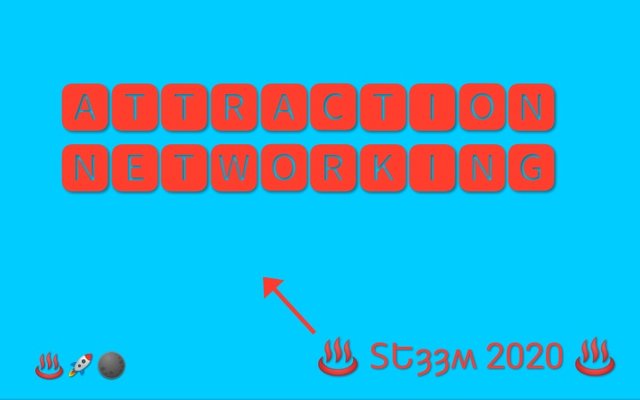 Later tonight, I will be dropping a blog discussing about the cousin of attraction networking: Attraction marketing.
If you're a business or personal brand, then this blog is for you!
Ditch the sleazy tactics & learn how to bring the party to you.
Till Tomorrow.
Mr. Power Up ⚡
Posted using Partiko Android