Gracefield Creative Resources is a Creativity Hub located in the heart of the town in Uyo, Akwa Ibom State - Nigeria. At the Creativity Hub, we do all creative things ranging including:
Creative Writing
Resaerch Consultancy
Data Analysis
Graphics Design/Corporate Branding
General Printing
Content Creation
Sales of Stationery
Book Editing and Publishing
Recently, following my engagement on the #steem blockchain, we have incorporated other services such as:
Blockchain Marketing
Crypto Consultancy
To further butresss how much we are interested in crypto consultancy and blockchain marketing, we now receive payment for services with Cryptocurrencies. In the now, only #steem and #sbd are accepted.
Within Uyo, we have a few persons into crypto and #steem and we hope to give real value to their crypto by receiving them as payment for services.
Currently, my account @Uyobong and project account @Writeandearn are the official wallets for the receipt of such transactions.
Steem-Marketing /Promotional Banners
It became very necessary to let the world know we accept #crypto. As such, yesterday was very hectic as I designed and printed flex banners and posters to show the updates in our services. In the banner, it is well emphasized that customers can pay with STEEM and SBD for their services.
I hope this will be another way to boost the value of #steem and a well create more awareness for #steem in my locality.
Meanwhile, my Hub is almost turning into a STEEM OFFICE as I daily have young people coming in to open accounts. I hope to start requesting for freely claim accounts from high SP holders.
We daily hold informal meet-ups which I will begin to publish from Next week. In such meetups, I am always so happy to tell visitors about my interested projects and communities in #steem. One of such communities is @STEEMCHURCH where I enjoy love and freedom. I tell them as well of our Telos Expansion and Steemchurch flags of freedom are always raised.
I hope @steem.marketing will find this blog worthy of promoting Steem.
---
Photo Gallery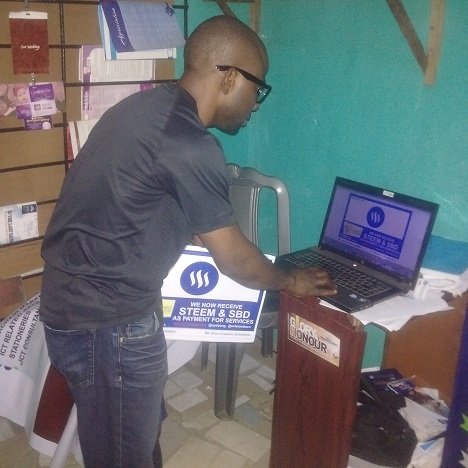 Screen design of #PayWithSteem
---
An array of printed #PayWithSteem Posters
---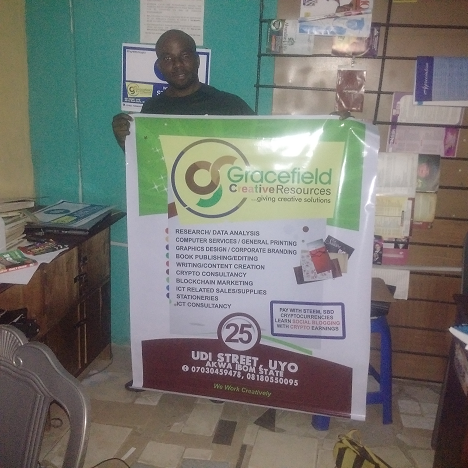 My PayWithSteem promo-banner flex
---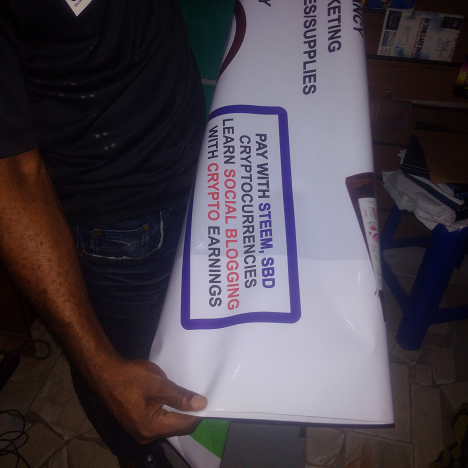 ---
#PayWithSteemvposter pasted on the office wall
---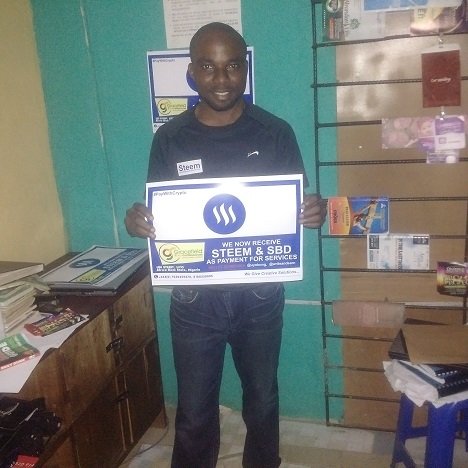 Me, posing with #PayWithSteem poster
---
Gracefield Creativity Hub Boss on a Pose
---
Me and my photographer- @Liltom002
---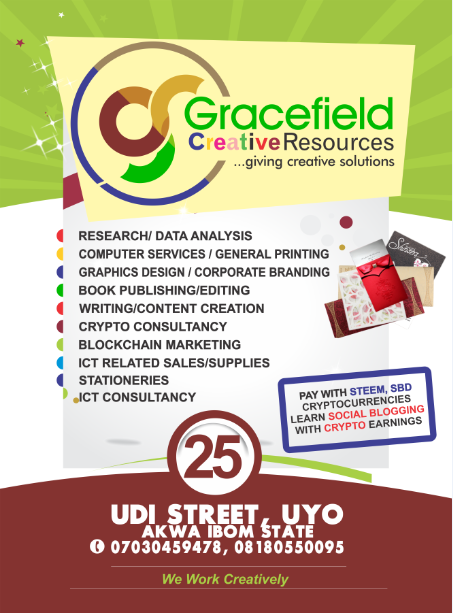 Design of Promotional Banner
---
Always watch out for more from here...
---
If you are new, read more about #steem
---
THERE IS A BEAUTIFUL COMMUNITY YOU WOULD LOVE TO MEET ON #STEEM - @STEEMCHURCH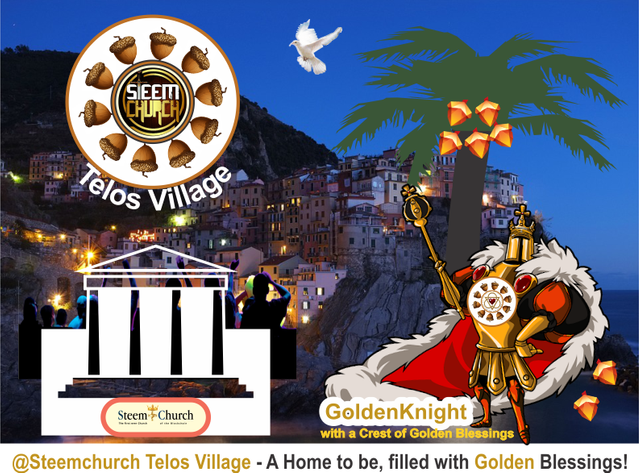 FILL THIS FORM and use uyobong.jc as referrer in the questioned screenshot below

I see a a new web of prosperity and blessings as our very leader @Sirknight had promised. Thank you Great SN for living to your words. You are amazing. God bless you and shine the light of His presence on you continually - Amen.
Earlier, I had said that STEEMCHURCH TELOS VILLAGE WILL BE A HOME OF GOLDEN BLESSINGS.
I see Steemchurch Telos Village. beyond a "conventional village setting." As captured above by @Sirknight in the working proposal, Telos Village is a community for the prosperity of the community.
---
I am UYOBONG MBABA, your brother, teacher and analyst