Steem Whales cashing out? Great tool to monitor their activity...
Are the Steem Whales cashing out? Great tool to monitor their activity...
Hello Stemians,
Hope you are having a good day.
Today I would like to share a tool I stumbled upon when doing more research of Steemit Fundamentals.
The webite is called 'Steemdown', it shows a transparent and clear picture of the 'Inside guts' of the Steem economy.
Thanks to the way the steemit blockchain is designed, any user is able to see the movement and wallet of any user.
In this case, @bitcoiner has done a great job in compiling all the large whales (large account) into an easy to use and monitor site. Congrats
Here is a snapshot of how it looks like: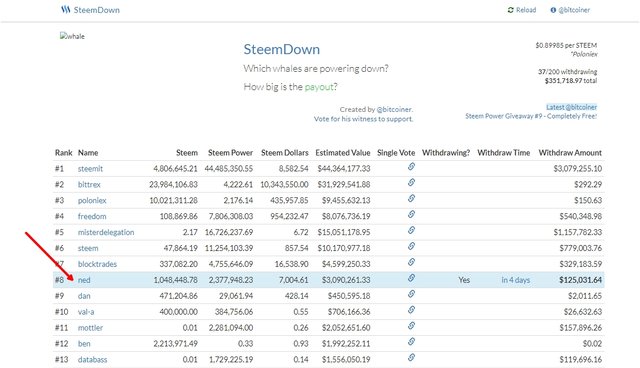 It is ordered by the largest accounts in the whole steemit economy, it includes how much Steem they own, Steem Power and Steem Dollars.
The interesting thing about this website/tool is that it also shows when a 'Whale' is withdrawing and in how many days the power down will occur.
Now, the reason why a whale would withdraw or power down are many, such an example is the current CEO of Steemit, Mr Ned Scott , who has made a withdrawal of $125,031.64 that will be filled in 4 days of writing this article.
His reason of doing so could be many, such as paying payroll, R&D , expenditures etc.
Hope this tool can help you understand more of this fascinating community and give you an 'edge'.
The important thing for me as a trader and long term believer of the Steem community is that it is already a game changer and an industry disrupter (look out FB, TW, INST)
Steemdown website - https://steemdown.com/
Thank you for stopping by and I wish you the best of luck,