Curating content that bring views to Steemit - From Reddit. Step by step guide for "whales" and "dolphins".
1.
Visit https://www.reddit.com/domain/steemit.com/top/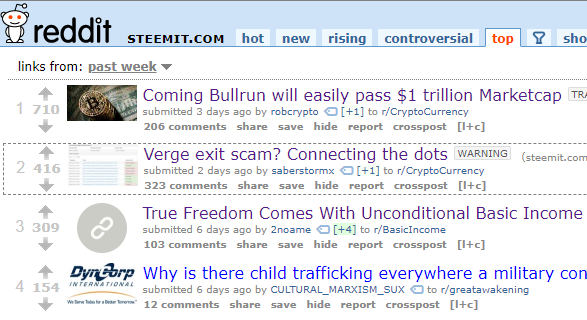 2.
Up-vote everything but the bad content. (could be fake / paid upvotes)

3.
Click the top posts

4.
Check view count and hit that up-vote button.

5.
*optional, (you might have to read the actual thing)
Find a comment that look informative and up-vote it to the top.

6.
Repeat every day.
Bonus
Hold and drag this link in your bookmark bar.


In other words; judge and reward the effort that was done to promote Steem content OUTSIDE OF STEEM!
Now minnows, you also know how to attract big votes. Get it out there!
Alternative frontends links :
https://www.reddit.com/domain/d.tube/top/
https://www.reddit.com/domain/busy.org/top/
https://www.reddit.com/domain/utopian.io/top/?sort=top&t=month
https://www.reddit.com/domain/dlive.io/top/?sort=top&t=month