Steemit.com Dropping in Alexa Rank - Write Posts Reflecting Current Trends to Catch SEO Traffic!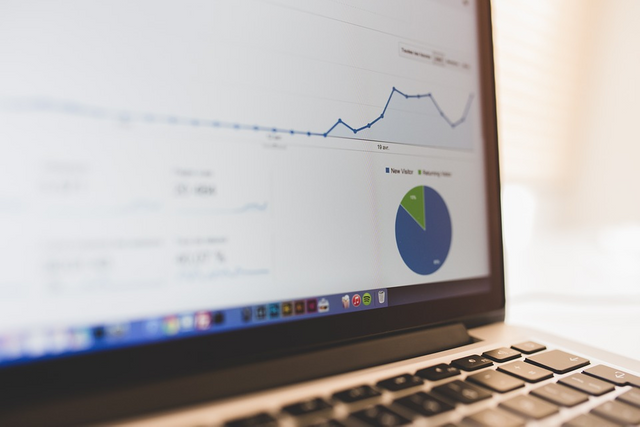 Pixabay Image
Yesterday I was watching the Apple Keynote address regarding its launch of some new products such as Apple Arcade which have just launched now in September at a special offer of $4.99 per month (first month free) where you can play unlimited games, similar to how you would subscribe to Netflix for unlimited movies.
Apple also announced the iPhone 11, Apple TV (like Netflix) for $4.99 pm and 12 months free subscription with the purchase of any new qualifying Apple device. In the keynote, they had stories on how the Apple Watch saved lives by calling 911 if you fall down or tell you of elevated heart rates during pregnancy that can catch a problem early.
Anyway, you get the idea, the point is that when I look at the Steemit trending page I don't see any content there that is capitalising on current trends and most searched keywords. As an example, the snapshot of today's trending page and all I see is Steem and bitcoin-related stuff, which doesn't have much search value outside of our community and the greater crypto community. While SEO doesn't discriminate based on trending page rank on Steemit and other UI's, the composition of trending shows us a small sample window as to what content is mostly produced on Steem, one would assume most of the content is fairly niche and not specifically designed to redirect SEO traffic.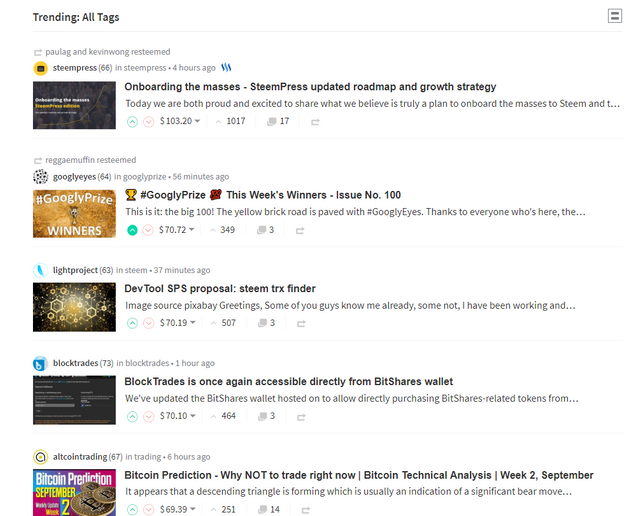 I remember the days when Steemit.com was ranked circa 3000 on Alexa and even better I think, today it is ranked 6720 as per the below stats: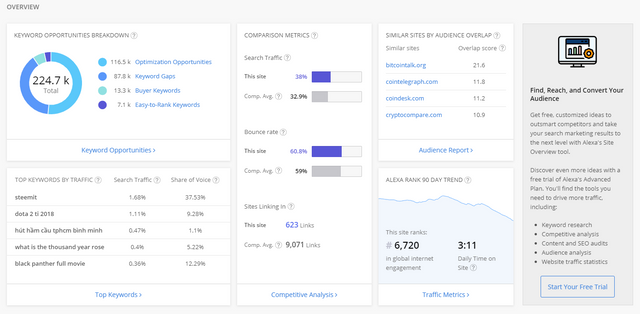 The declining ranking will affect advertising revenue and the ability for Steemit to reduce their stake selling over time if this isn't addressed. Content is not up to Steemit Inc, that is up to the community.
My suggestion for you today is to get out of your comfort zone and write about trendy stuff, we as crypto enthusiasts generally like to write about fringe topics but that won't bring the mainstream audience.
So if stakeholders shift focus to curating SEO trend friendly articles and writers adjust their writing to suit (Don't copy-paste!) and do summaries and reviews of such events for example then we may get more eyeballs on Steem again.


Regards,
Ricardo Ferreira
@thecryptodrive
BuildTeam CEO
Steem Consensus Witness
---
If you like what I do, vote for @thecryptodrive witness with this vote link: https://steemit.com/~witnesses
Or use the quick SteemConnect link: https://app.steemconnect.com/sign/account-witness-vote?witness=thecryptodrive&approve=1

~
---
Beneficiary & Burn Disclaimer: I am giving 20% beneficiary to @pennsif, we had a nice discussion about this today which helped me streamline my thoughts. Also, I will be testing the new MinnowBooster Burn Promotion Service which will burn some of the promotion transfer I send.