We have another SMT project that is going to be built upon the STEEM blockchain.
Steemhunt is a project that allows (and rewards) Steemians for finding innovative new products. It provides incentive for being the first to find them and offers the ability to review. Effectively, these people are being product influencers.
The project is going to be brought on using the ERC20 protocol. There will be 500M tokens total, 250M are available to Steemians. This will consist of a 1:1 Airdop of 100M tokens to SP holders. There will also be 150M tokens used for bounty rewards for Steemhunt contributors.
Here is the breakdown of tokens for Steemians.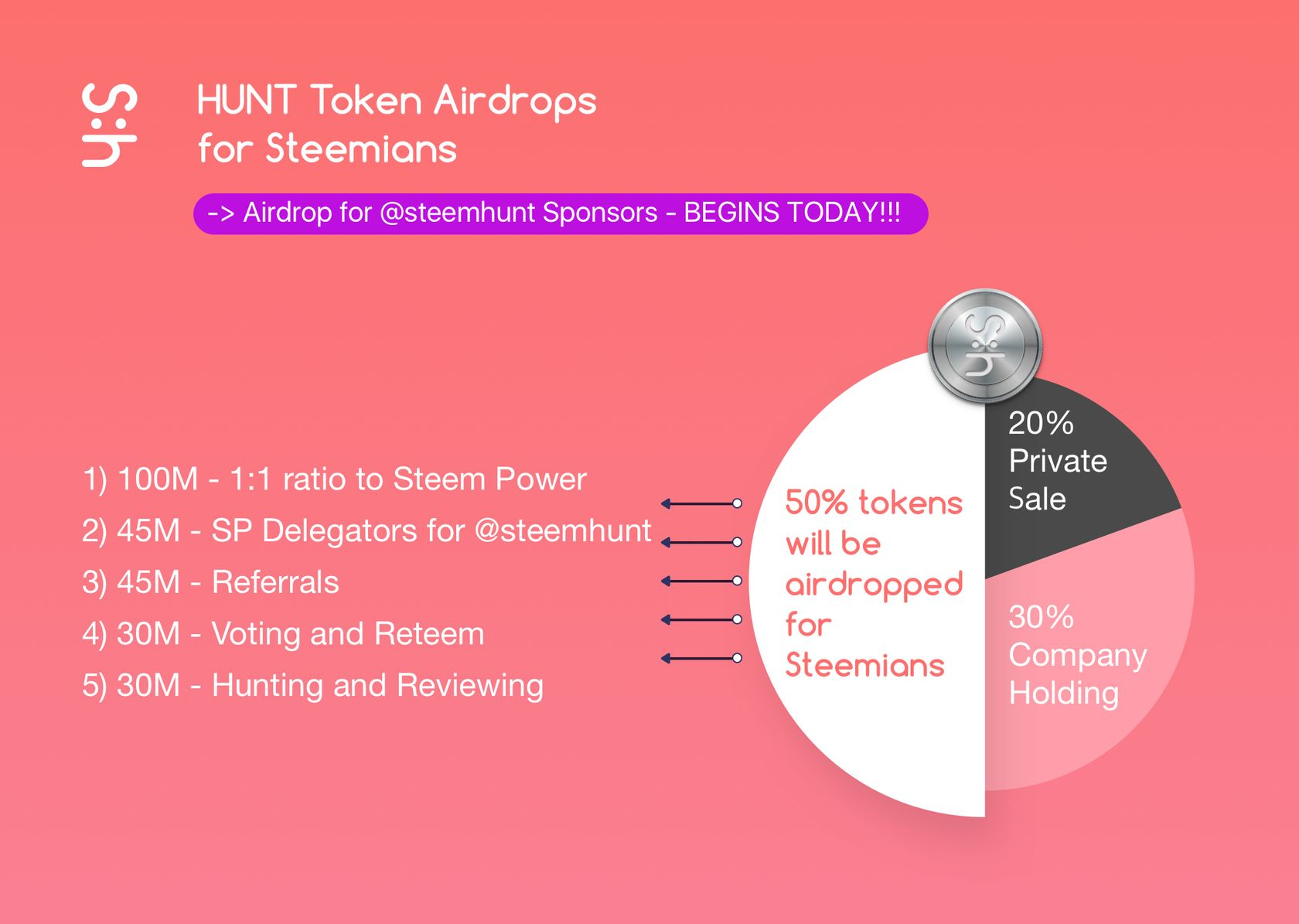 They are implementing a creative three-pronged approach to product discovery. There is:
Steemhunt....People get rewarded for finding innovative product.

Reviewhunt...Companies can establish bounty programs.

Ideahunt....Companies can run a crowdfunding campaign.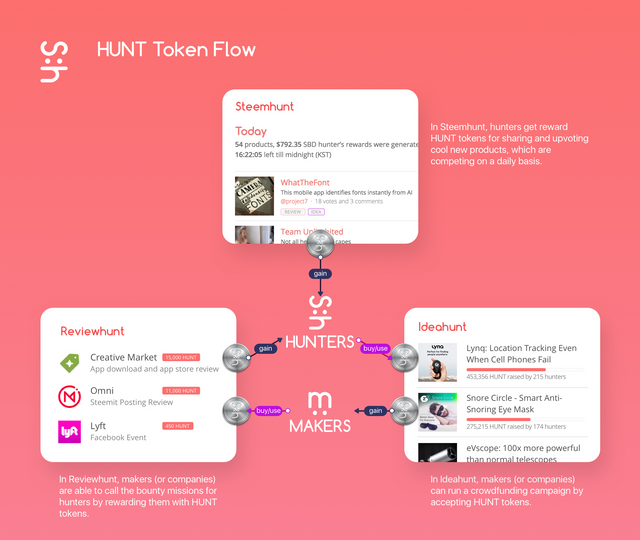 This is very innovative. We could be witnessing the establishment of a new advertising/promotional model. Taking products direct by compensating via bounty and reviewing is a great way to establish the "word of mouth" marketing. Let other people tell your story.
You can read the full announcement here.
https://steemit.com/steemit/@steemhunt/announcing-hunt-token-airdrops-for-steemians-smart-media-token-project
---
There is a lot of focus upon Smart Media Tokens and this is another example of the power that it will provide. Innovative ideas are all over the place. Steemians will have the means to disrupt many different industries with their creative ways of doing things. New approaches centered around direct rewards is what we are going to see unfold. A new paradigm is being created right before our eyes. Those who are holding SP are going to be able to take advantage of it.
The other day I wrote an article about KIK and the process they are going through with their token the Kin. In that article I made the point of how STEEM would be able to offer a much simpler system to them once the SMT protocol is released.
https://steemit.com/steem/@taskmaster4450/do-you-really-understand-the-potential-of-steem-and-smts-i-mean-do-you-really-under-the-potential
While KIK could add hundreds of millions of users instantly, there are a ton of "niche" markets out there which also have a following of hundreds of millions of people. If you look at some of the other sites mentioned in the Steemhunt article, you will see how powerful some of them are.
This is what is exciting about the Smart Media Tokens. Niche markets can create a totally new system build around direct rewards in the form of cryptocurrency. Behind it all is STEEM.
The value of a blockchain, ultimately, is what is built upon it. So far, the popular blockchain, in terms of price, are the ones that received the most publicity. By the beginning of 2019, you will see that shift. Nobody is going to care about the blockchains but what is tied to them. Businesses are being established. It is the applications which will draw the attention to the blockchain. That is where the marketing will enter the picture.
Another day, another example of what this blockchain is going to become. It is only a matter of us exercising some patience until the development catches up with the ideas. Radical transformations in the way things are done is exciting, cutting-edge, and very profitable. All the innovative ideas that are floating around STEEM are going to thrust it into the forefront as one of the better blockchains there is.
I see bright days ahead for Steemians.
If you found this article informative, please give it an upvote and resteem.
---
To receive the free basic income tokens you are entitled to and help end world wide poverty, please click the following:
Click For Manna Coins
In full disclosure this is a referral link

.