Diversity may be the hardest thing for a society to live with, and perhaps the most dangerous thing for a society to be without. - Williame Sloane Coffin Jr.
Human beings love categorization. It helps us to organize our lives, to differentiate between good and bad, right and wrong, and to position ourselves within the world that surrounds us.
One of the great benefits of free societies is that these categories are usually not subject to economical wealth or status. Whether one's opinion can be heard or not, neither depends on their financial background nor requires a special promotion. In theory we have all the same opportunities.
In a theoretical free society, all individuals act voluntarily, having the freedom to obtain the power and resources to fulfill their own potential.
Now having a closer look at the current structure of the Steem eco-system, I wonder if actually ALL individuals have access to that freedom. Certain statements published on this blockchain during the past weeks make me believe that we're gradually drifting towards a two-tiered society where the degree of freedom you might achieve here clearly depends on the status (education, money, culture) you bring with you when joining this place.
It seems that we're not given the same opportunities at all.
It's time to talk about the inconvenient truth!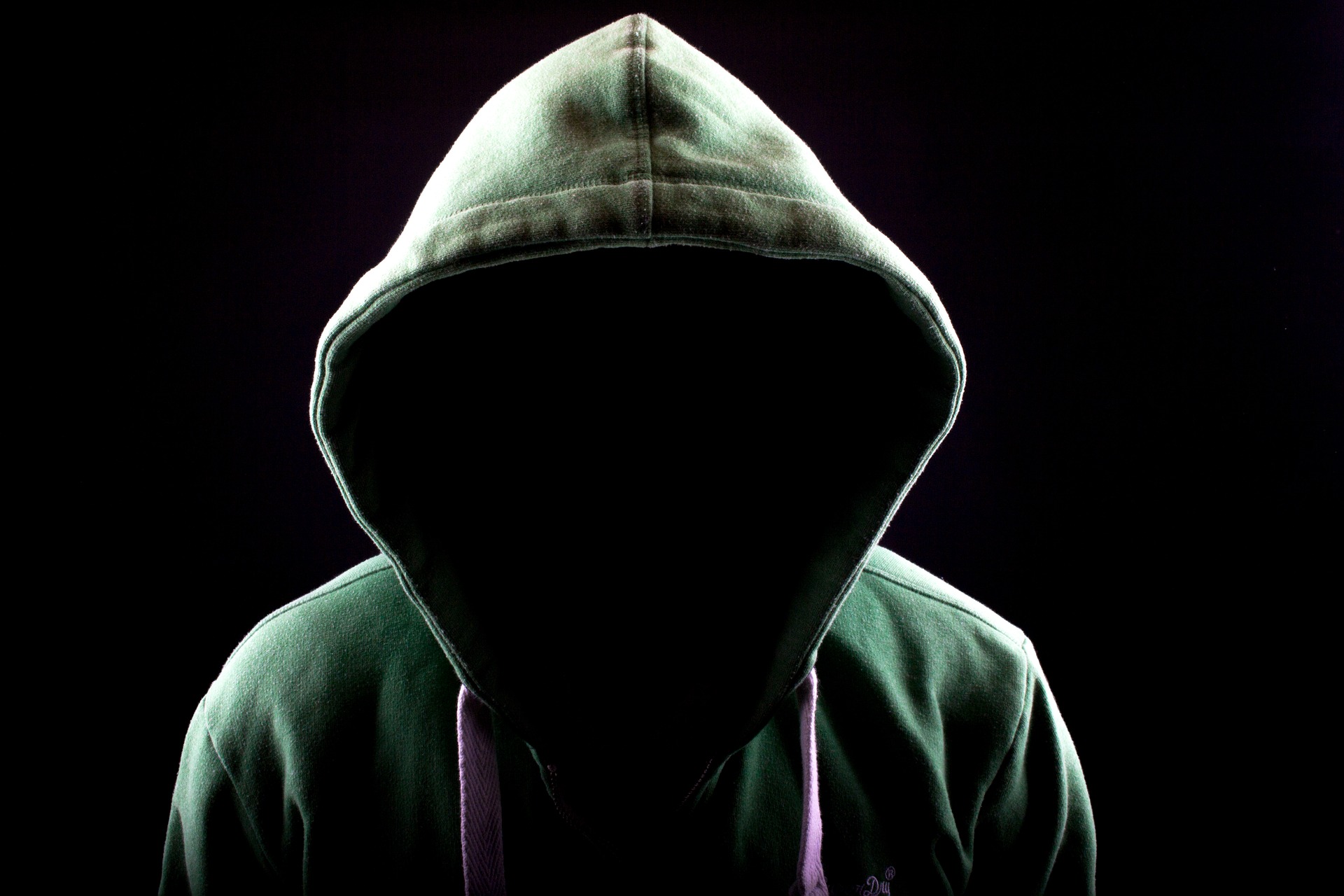 Picture kindly provided by pixabay.com
Are we true to ourselves?
Considering the current structures of the Steem eco-system I wonder how much of the ideological values we originally defined for this community are still valid.
How much of Dan Larimers vision to 'build free market solutions to secure life, liberty and property' are we still living with Steem?
There is a visible trend to equate financial possibilities with value creation, to differentiate between investors and 'normal users' and to categorize community members into developers (= smart) and non-developers (= simple-minded).
Is that really the picture we want to draw?
Statements on the Steem blockchain like the following ones support that assumption:
The content doesn't bring the value to the entire system, it's the investors and speculators.
Re-distribution of power from large accounts to smaller accounts can only happen if small stakeholders power up all they have.
You can follow the progress of Steemit Inc's projects on Github but a normal user would never understand what's written there.
Doesn't sound that like elitism to you?
To be honest, it scares me that these type of statements are apparently condoned by a wide audience.
What about people who haven't had the possibilities to learn how to code, but who know how to use this blockchain in order to create outstanding content? What about people who don't have hundreds of thousands of dollars to invest into cryptocurrencies, but who possess extraordinary skills and talents that enable them to inspire, motivate and support others? What about people who are great community builders just because they have a strong social consciousness?
Apparently we want to keep these people out of our 'free community' because they're not rich or nerdy enough.
Still we need them to brighten our numbers...

Ned Scott on Twitter
The growth of this network is obvious. With the forecast in mind there will be 1 million Steem accounts in the near future.
How many of them will be actually 'valuable' to us? How many will be 'free'?
Let's face it: we're pretending to sell something we can only provide to a small minority.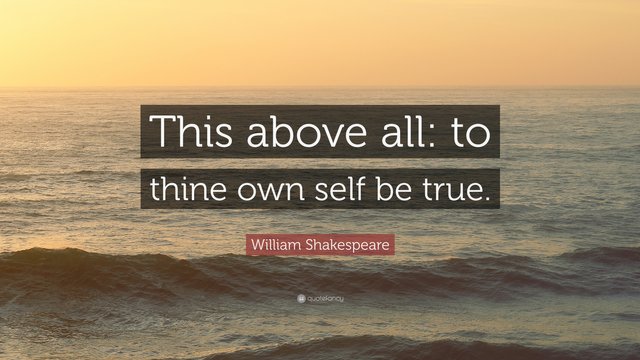 In the Steem eco-system the 0,23% largest stakes hold 91,47% of the total voting power.
In absolute numbers: The 1,719 heaviest stakes hold 345,196 MVESTS.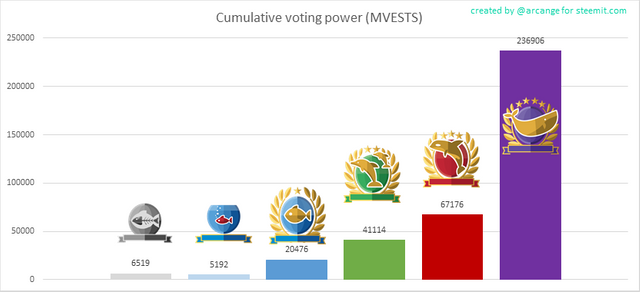 Cumulative distribution of voting power in the Steem network by @arcange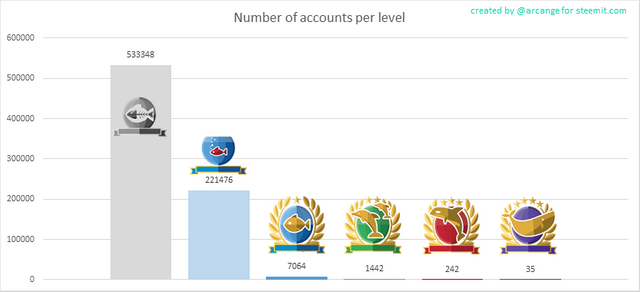 Number of users according to their voting power
I wonder how these numbers would look like if we didn't categorize people according to their financial power?
What if we defined users according to their real contribution to the network?
What if we called them investors, developers, content creators, community builders and curators instead?
Half of world's wealth is in hands of 1% of the population. In the Steem eco-system the disequilibrium is even more drastic. Does that make us feel comfortable?
Money talks.
I invite you take a look at Steemit's marketing claim which has changed a couple of times during the past (almost) two years. In the early beginnings of Steem, people were invited to join the network with these words:
Your voice is worth something.
Maybe some people realized that this statement didn't really apply for the majority of users. Now it faded into the background and made room for a new (more aggressive) claim:
Cheeky question: Does that implicate 'No money, no talking?'
Well considering the distribution of power in this system and assuming that visibility highly depends on financial and educational background, the inverted statement is quite precise.
It really seems that the original vision of Steem has made room for a completely new one.
Do we agree on that direction? Are we fine with a two-tiered community? Do we want a community that is clearly divided into rich and poor? Is that our vision of Steem?
Let's repeat the initial quote now and read it carefully:
Diversity may be the hardest thing for a society to live with, and perhaps the most dangerous thing for a society to be without. - Williame Sloane Coffin Jr.
How important is diversity in the Steem community? Let's talk about it! The comments section is yours.
Thanks for your interest and time,
Marly -
PS: I leave you with the following statement, being pretty aware of the fact that this article is touching a series of unpopular beliefs. Still I feel safe :-)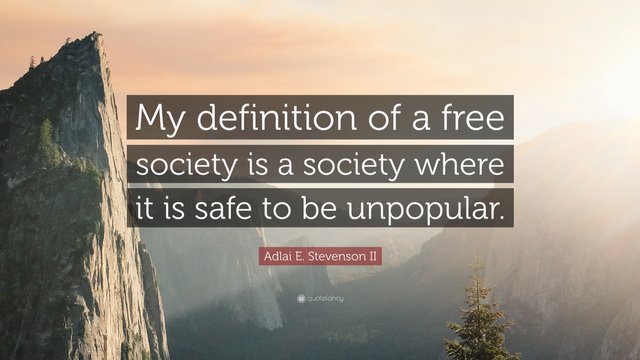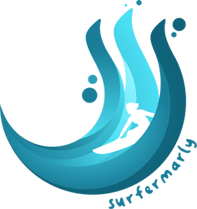 Thanks for your valuable time!
This blog was launched at the end of July 2016
aiming to provide stories for open-minded
people who enjoy living on the edge of their lives,
stepping out of comfort zones, going on adventure,
doing extreme sports and embracing the new.
Welcome to the too-much-energy-blog!

PS: Don't forget that this is a troll-free zone.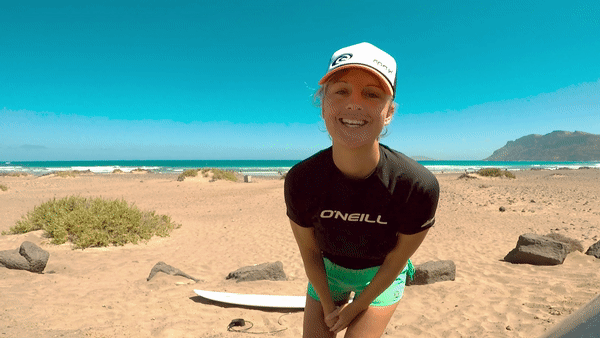 Original content. Quotes both found on quotefancy (1) and (2).