From the Ashes of a DOWNVOTE Emerges an UPVOTE Hero - [steem] [blockchain] [community]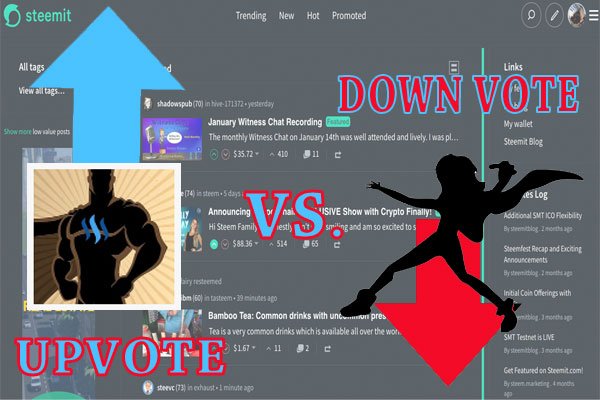 Behind Every Hero is a Little Steem Power
A few days ago I received several Downvotes from a larger Steemian. Prior to that I had read others post about being down voted for no apparent reason. I sympathized with them and tried to help out with an up vote of my own since none of them seemed to have plagiarized or were abusing the Steem network. Since the down voting continued, I looked into which Steem account was doing the down voting.
I found the account @mmmmkkkk311 to be the major account doing the down voting. I looked into their profile and there it boldly states "Vote Buying is Wrong" and it further says that they downvote posts upvoted by SBI. Digging a little deeper, it seems this has been on going for a good while now, maybe a month or more.
The this person finally Downvoted two of my posts, and it hit home. I now knew what those others that had received these downvotes felt like, and it wasn't a good feeling. I was upset, and once I found out why this person was downvoting, I immediately sent $1.80 worth of Steem Basic Income (SBI) shares/levels to @petrarodriguez because I know she can use the help down there in Venezuela. The $1.80 was the amount that was de-monetized from by post by the down vote. When the second Downvote came in from MMMMKKKk311, it de-monetized another post by $1.50, so I then upped my Delegation to the SBI project from 1500 to 2000 Steem.
I have dug my heels in and refuse to be bullied into changing my position. I believe the Steem Basic Income project to be a worthy cause. I understand that it IS NOT 100% altruistic, but nonetheless it does help some that are in need of more STEEM COMMUNITY support but don't receive it. I feel that SBI will up vote someone should I not be present on the Blockchain since I manually curate ALL my voting and I don't plan on using a curation bot or trail.
And yes, I receive benefits from both Delegating Steem to SBI, as well as when I send Steem for SBI levels/shares for other steemians. I think that MMMMKKKK311 has more of an issue with the vote coming back to those like me who send STEEM to the SBI initiative because then SBI will up vote both the Sender (in this case Me) and the receiver. I see this as a win/win because I help someone else via SBI, then SBI will help my posts with Up votes, which will then allow me to Share some more with others here on the Steem blockchain. The way I see it is that the stronger my account gets, the more I can help others.
So after those downvotes, I was watching my account using a pretty good tool to know, called STEEMWORLD.ORG. Using Steemworld.org I saw an upvote from @ilovemk311 which I thought to be odd because it closely resembled the account that had just given me 2 100% DOWN VOTES. When at looked at the account, I realized that this little underdog was trying to make up for the damage caused by MMMMKKKK311. Another Steemian created an up vote bot to specifically up vote those that the MMMMkkkk311 account downvotes.
Seeing this little guy, @ilovemk311 made me smile knowing that someone else was already out there on the STEEM Blockchain implementing their solution or counter to the downvoting. I then proceeded to Delegate 200 Steem to the @ilovemk311 account as well. I know that MK311 continues to downvote, just that his Resource Credits recently ran out so he has taken a break until he regains his Down voting power back.
So at least now we know there is a little hero helper out there trying to make up for the DownVotes, and hopefully others will join me in supporting the UPVOTE HERO = @ilovemk311 with a Steem Delegation so that his up vote can have more weight to counter those pesky Downvotes.
Full Steem Ahead with SBI.
+++ @streetstyle
ps. MMMMKKKK311 if you do read this please reconsider your tactics. I am not angry or have any ill will towards you. I respect your stance but I also believe in mine, but more importantly I believe that You care about the Steem Blockchain as Do I. Unfortunately I and many others, believe that your down voting, based on an opinion versus say a fact of plagiarism, hurts the Steem Network by possibly causing some to quit the Steem network to never come back.
Maybe we could discuss it during a downvote truce? After that things can go back to the way they were if you so chose, but at least you will have heard my point of view and I your point of view. Hopefully you read this and do get back to me. Take care...