SMTs Release Dates!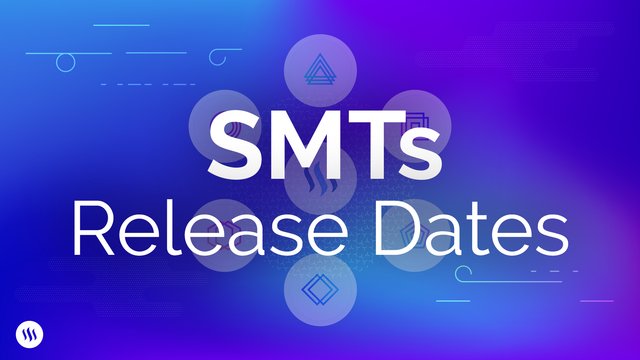 UPDATE, March 11th, 2019: We have delayed the release of SMTs to focus on MIRA, which is software that leverages state-of-the-art database technology developed by Facebook to move the blockchain from RAM to commodity hardware. We expect the release of SMTs to dramatically increase the amount of transactions made to our blockchain (already one of the most used) and as the team behind the largest blockchain application in the world, we understand that the most urgent scaling consideration is not transaction throughput, but the cost of operating high-traffic nodes. That's why it's critical that we complete work on MIRA before releasing SMTs. That being said, much of the work on SMTs is already complete. Be sure to follow @steemitblog if you would like to remain updated on our progress.
Hello Steemians! We have some exciting news to share.
We are about to put the finishing touches on Hardfork 20, thanks to our core development team and your thoughtful suggestions and review. As a result, we can now focus on delivering Smart Media Tokens (SMTs) to you.
SMTs Release Date
We're happy to announce and commit to a release of the TestNet in January 2019 along with a release and launch of the protocol on the MainNet in March 2019:
January 15, 2019 - SMT development complete and live on the TestNet.
March 24, 2019 - SMT fully released and live on the Steem Blockchain. ~~
See update above.
What are SMTs?
Smart Media Tokens are a token-launching protocol similar to ERC20s on Ethereum, but with all the state-of-the-properties enabled by the Steem blockchain, like three-second fee-less transfers. SMTs enable anyone to launch their own STEEM-like token with customizable features including Founders Tokens, Token Emission Rates, Proof-of-Brain, ICO Smart Contracts, and more.
A Post-SMT World
After the launch of SMTs, anyone in the world will be able to create their own cryptocurrency with industry-leading capabilities, and immediate access to the largest cryptocurrency community in the world. To learn more about Smart Media Tokens, check out the SMT whitepaper at https://smt.steem.io.
Steem Blockchain Team