Feedback Wanted: 4 Week Power Down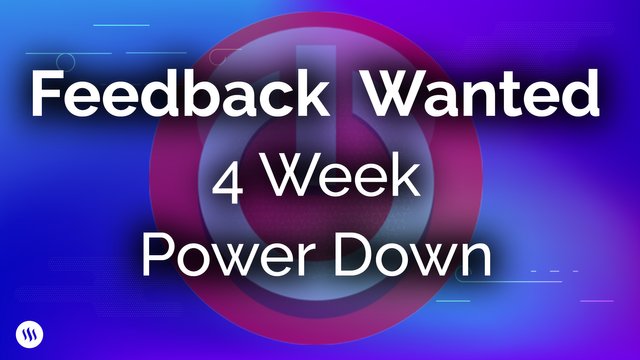 Hello Steemians, in today's post we want to talk about the proposal for a 4 week power down and how we plan to approach this issue. We are very excited about the fact that such ideas are being proposed by the community and we think that use of the Steem.DAO to gauge support is an excellent use case for this innovative tool.

Community Support
There is now sufficient community support that we must seriously consider the change. We have begun internal discussions, and we will soon release additional communications intended to provide the community with more information about the nature of this change, the potential risks/rewards, and alternate implementations.
Primary Concerns
Our primary concerns with such changes is that they represent the will of the community without posing a risk to the chain. The Steem.DAO proposal does a great job of quantifying support amongst large stakeholders, but participation in the Steem.DAO is still quite low and users can't downvote proposals, which limits our ability to extrapolate broad support from these results.
Get Out the Vote!
Ultimately, we will base our decisions on the information we have available to us, and if that is the Steem.DAO proposal, then that is what we will use. If you agree with the proposal, it still helps to head over to the
Steem.DAO and give it a vote
. The more users who do vote on it, the more it becomes clear that support is truly broad. If you do not agree with the proposal then please comment on this article and publish posts clearly stating and outlining your position.
Technical Difficulty
The technical difficulty of this change is quite low because the power down rate is set when the user begins powering down. Currently, when the user begins powering down, the amount they select is divided by 13, and then every week 1/13th of that amount is distributed to the user. To implement this change, all that would be needed is to change that number from 13 to 4. Therefore, this change could be implemented without significantly delaying the SMT hardfork.
Existing power downs would continue on their existing 13 week track, but all new power downs would be for 4 weeks. If you want your existing power down to complete in 4 weeks, it is as simple as cancelling the existing power down and starting a new one! In December of 2016 we reduced the power down time from 104 weeks to 13 weeks. We would follow that pattern and have a high degree of confidence in the simplicity of this change.

Inherent Risk
When it comes to hardfork suggestions, one of our primary concerns is whether the suggested change poses a risk to the security of the chain, or the users of it. We would quantify the risk of this change as "very low." It is a simple change, that we have done before, and would have limited second order or "knock on" effects. It is, however, a change and any change can have unforeseen consequences.
Economic Risk
The largest potential risk factors are likely in the economic sphere. Will this encourage investment or discourage it? We are not able to assess whether the potential economic upside is worth the potential economic downside, combined with the risk of unforeseeable consequences.
Security Risk
An implicit feature of Steem Power is that it time locks funds. If your account were to be compromised, it takes a week for some of your Steem Power to even be available to the attacker and 13 weeks for them to access it all. By reducing the power down time, an attacker could have access to a larger portion of your funds after just 7 days.
For these reasons, it is imperative that you make your voice heard whether it's by voting on the proposal, or encouraging others to vote on the proposal and/or post on Steem about their opinion. We'll continue to release communications about this change so that you can make an informed decision.
Vote!
You can vote on proposals from the Steemit Wallet https://steemitwallet.com/proposals.
We want to give a special thanks to @thecryptodrive for proposing this change and using the Steem.DAO to quantify support.
The Steemit Team