Converting SBD to maintain the $1 peg
I've read for several months about the SBD being pegged to $1 and I knew that the peg was ineffective on the upside: given the fact that the SBD is quoted on exchanges and that the supply is low (only about 15 million in circulation), the SBD proved vulnerable to "pump and dump" schemes.
Back in November - December 2017 when crypto was in a craze SBD was "pumped" to $14! From there it started a slow but steady descent ...
As I said in previous post:
the value of STEEM is proportional to the size (and growth rate) of the community
today, most of the community is made of people who love crypto (in general).
since steem has been around for more than 2 years, it is reasonable to assume that we took in all the "cryptophiles" that we could take in.
Trying to bring yet more crypto people to steem is a "zero-sum game" - they would have to come from other blockchains. Convincing them to drop their emotional attachment to Nxs or Ardor or Ark or Neo or whatever in order to embrace Steem is going to take a lot of effort and generate a very low conversion rate.
Too few people come here from different walks of life (real bloggers, writers, etc.). When they come, they sometime feel estranged because the rules of interaction of this community are not familiar.
thus, we need to expand usage of the steem blockchain outside the crypto-friendly population.
The SBD $1 peg is one of steem's most powerful arguments for broad adoption
Without it, the only people accepting SBD would be those willing to take exchange risks. All those people fall into one category: speculators.
While speculators are useful to a financial ecosystem, they have STEEM to speculate on (and pump) all they like. Speculative interest is unfortunately a double-edged sword as volatility drives away people who would like to have a classical currency ("medium of exchange" + "unit of account" + "store of value")
Thanks to the SBD peg, someone accepting SBD as payment for goods or services could be relatively sure that "tomorrow", when he'll need to replenish his stocks of raw materials (and pay with fiat) his rentability calculations won't be thrown off by a fall in the fiat value of SBD.
Which brings us to our current problem:


On Coinmarketcap, the value of SBD descended below $0,95. Given the price of STEEM, one SBD buys now around 1/0.815 =~ 1.227 STEEM.
However, if you remember what SBD is (a "debt obligation" that promises to pay you "1 dollar worth of Steem") then an arbitrage opportunity appears. Because STEEM is worth about $0.78, "1 dollar worth of STEEM" means 1/0.78 =~ 1.28 STEEM
Which means that it makes sense now to buy SBD in the internal market at around 0.815 and then convert the SBD to steem (thus raising the price of SBD and taking SBD out of circulation)
However, the "convert SBD" option seems to have disappeared from the Steemit web interface (beats me why). So if you want to try this out, I can point you to steemworld.org by @steemchiller where you'll find it implemented under "Balances"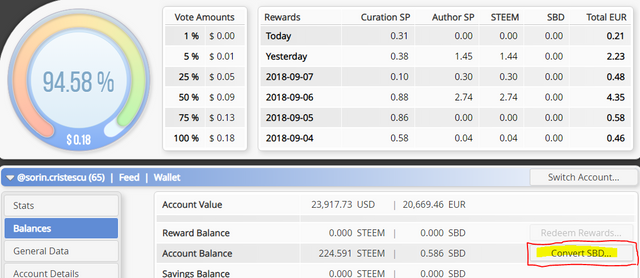 As this is the first time for me that I'm trying this out, I experimented on 36 SBD ... and learned that I have to wait 3.5 days for the conversion to be effective (I knew that from the whitepaper but "knowing" something theoretically is so different from being able to integrate knowledge in your decision-making processes ...)
I went further by buying SBD with 100 STEEM from the internal market and then launching the conversion on the resulting 81.257 SBD. I will see in a couple of days whether I receive indeed more than the 100 STEEM I've spent in the purchase.


yes, I've also approved two great witnesses, @pharesim and @netuoso between two conversions
Stay tuned to find out how much STEEM I'll get from that conversion.
Other posts you might enjoy:

If you know what witnesses are and agree that people commited to keeping this blockchain ticking play an important role ...



(by simply clicking on the picture - thanks to SteemConnect)