@blocktrades has recently started developing a Worker Proposal System with the main goal of allowing users to pitch ideas for developing Steem-based projects in exchange for funding. Then through a stake-based voting system the community can decide which projects get funded and which don't.
Sounds awesome right?
Decentralizing and incentivizing anything from blockchain development, dapps, games, funding marketing campaigns, to paying for professional advertising material and anything else that is geared towards betterment of the Steem blockchain, sounds like a great idea as Stinc is grossly incompetent to provide anything other than empty promises while delivering nothing or the bare minimum, for years on end.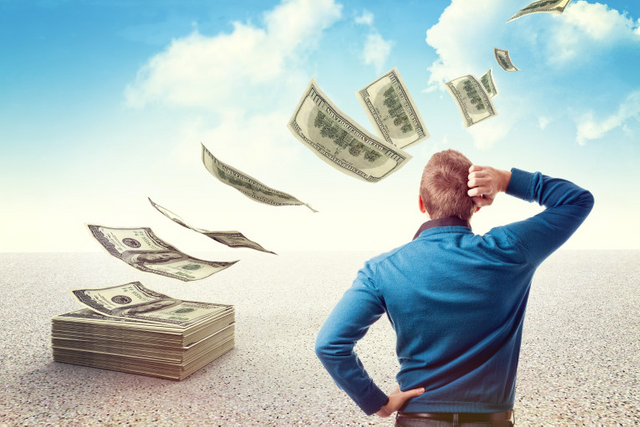 source
Where will the money come from?
Goal is to take 1% of the current inflation and to not, by any circumstance create additional inflation. At least that's the current general consensus.
Now this is where the plot thickens. Stinc will most likely provide a substantial donation to kickstart the Worker Proposals. A part of the funding will come from user donations but that's not going to be nearly enough for long term sustainability and viability of the WPS. Nor will it be enough to fund any serious work. Don't get me wrong, I'm not trying to undermine Steemians generosity, I'm just trying to be rational here. Development, especially of blockchain projects costs a lot.
So, where will we get the money from?
Our plan is to reduce the amount of inflation paid to author rewards from ~52% down to ~41% and redirect this amount to the worker proposal funding account -@blocktrades
52% is how much % of the entire inflation is directed towards our rewards. So, in fact that 52% is 100% of our rewards. Meaning, that if this goes through, all author rewards will decrease by a whooping 20%!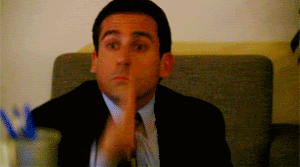 That was my exact reaction when I first read about it and it's probably how most of you are feeling about it now.
Taking such a huge cut out of everyone's payouts could wreak havoc amongst the community members, drive content creators away and overall reduce the quality of content that's being put out on the block. The only benefit I see from this way of funding is that bidbots would quite possibly die. If not completely, then partially for sure as most users wouldn't bother wasting their hard earned STEEM to lose at least 20% if not more, of their initial investment on promotion.
@blocktrades is currently doing stake-based voting to decide how to fund the Worker Proposals. Be sure to cast your vote on the comment which you think offers the best solution.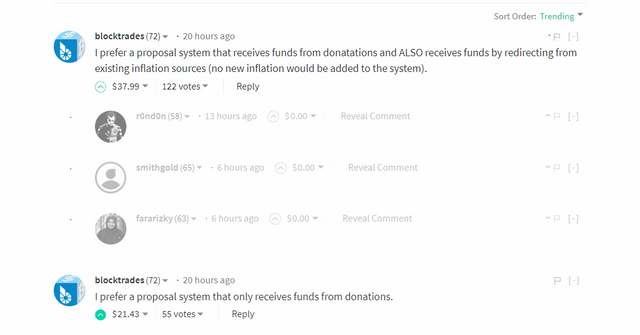 What's interesting about this is that most of the top 20 witnesses voted for the option that takes 20% from authors which is concerning as it shows how they approve that most of the burden falls on the shoulders of content creators.
Of course they support this way of raising funds as most of them have already accumulated a shit-ton of Steem and they don't post very often. They would, by no circumstance want to take a cut in their paycheck, nor do they want other high-stake users to take a hit, but they do want everyone else to pay.
All while they are earning insane amounts of Steem for their position as a consensus witness. I propose that we cut their earnings by at least 20%! If they don't like that, there will always be other witnesses willing to take their position. It's as simple as that.
It seems that Steem world is NOT much different than the real world where the 0.1% elite, in our case witnesses, want to preserve their wealth and amount even more on the expense of the 99.9% which are in our case content creators.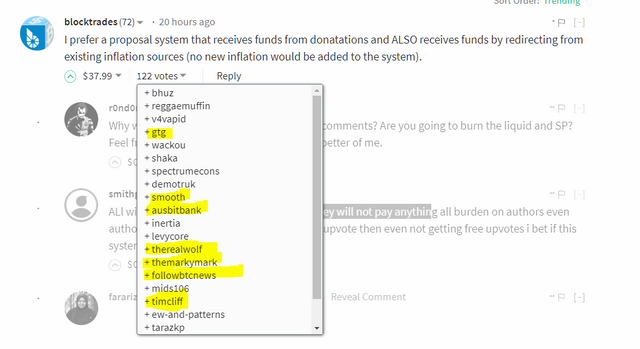 Yellow are the current consensus witnesses all of whom I'll remove my vote from and will award it to deserving low ranking witnesses. If you know any, feel free to make a suggestion in the comments down below!
Alternative solutions

#1. Take a little bit (proportional to their % of inflation) from every aspect - curation, witnesses (only top 20 as they already earn too much), authors and interest
#2. Declined payouts - normally get burned but can be used to fund the Woerker Proposals instead
#3. Funnel a portion of the current inflation to the Worker Proposals in form of upvotes - weekly post which the entire community upvotes
#4. Highly incentivized donation process (donation leaderboard) = rewards for top donators?
#5 Stinc monthly donation - after the initial seed funding is spent, they should provide a baseline of support in form of monthly donations
#6 Stinc delegation - at least 2 million Steem Power to fund projects and ideas that will work for upvotes
#7. "NUCLEAR OPTION": Add new inflation!
#2, #3 , #4 , and #5 alone can't amount to the goal of 1% of the inflation and will only be viable if combined with #1.
My point is that we shouldn't resort to taking such a massive slice of the pie from authors as it could potentially destroy this place, but rather take a little bit from everyone and combine that with one or multiple other alternative means of collecting funds.
This will result in much happier authors and will probably even amount to more than the targeted 1% of the inflation.
As for the NUCLEAR OPTION which everyone is dreading
Let me just say that your concerns about it are completely unjustified and that it may just be the best possible source of funding which won't affect Steemians as much as decrease in payouts, interest and witness rewards will.
Think about it.
Even with 5% additional inflation, do you really think that we can't make Steem worth 5% more in a year? With a budget of 15 million STEEM + whatever Stinc donates, which is speculated to be around 5 million liquid STEEM, if we can't make STEEM worth 5% more in a year then fuck it, we may as well do nothing about it and let the current inflation eat up our stake.
But of course, don't take my word for it. I'm just a random guy on Steem.
Let me know what you think and let's discuss this in the comments!