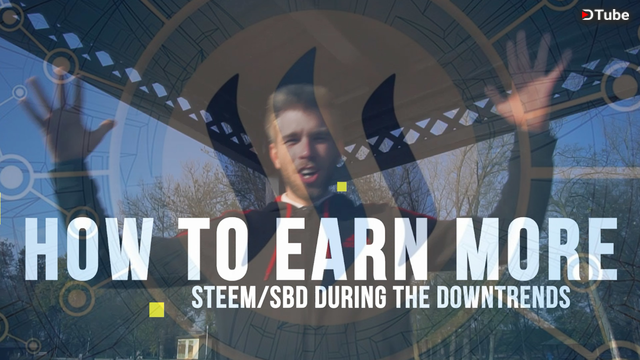 ---
Almost trashed this video because of the wind noise but the information is crucial so I'm going to post it anyway.
While everyone is in a bad place because of the downtrends in the crypto markets, I'm going to teach you how to appreciate them and actually earn a little just by knowing a little neat feature of the STEEM blockchain.
It always sees SBD as it's worth 1 USD
SBD is currently worth 0.93$ on the internal market and other crypto exchanges while, the Steem blockchin will exchange SBD for STEEM at the price of SBD being 1$!
Meaning, that every 3 days you can make a couple % profit on any SBD you exchange in this process.
The process lasts 3 days and removes that SBD out of existence. It reduces the circulation of SBD and drives its price upwards.
#1 Blockchain SBD conversion through SteemConnect
https://steemconnect.com/sign/convert?owner=runicar&requestid=1&amount=1.000%20SBD
Change runicar to your username and value 1.000 to however much SBD you wat to exchange for STEEM.
If you do more than one conversion, increment the requestid number by one every time. It must be unique.
In 3 days you will receive STEEM with which you can buy more SBD than you started with thus, turning a profit. It all depends on how low the price of SBD is though. The lower it goes the more you make.
#2 100% Power Up!
Does the same thing. The part you were supposed to get in SBD while taking a 50/50 payout is converted to SP at a price of SBD being 1$.
By using the 100% Power Up option, whenever SBD is lower than 1$ this extra % is funneled into more SP for you! Take every single bit of it and use this opportunity while it's still awailable.
By now you should be praying for bears!
I have always enjoyed the bear markets on STEEM as its the perfect time to accumulate more tokens easily. There is just much less competition for the same amount of rewards there is in the pool. Thus, those who stay during the "hard times" are greatly rewarded for their commitment to the platform.
Those that have the rght information in the right time, benefit even more. Knowledge is power, and we all know what power is. Money!
While you might be chasing dollars, the right information is what you should be seeking to get first!
The two tips I shared with you today are just a piece of it. Other parts will fit in as the market shift and turn.
I'll share any new ones I come across!
Cya in the next one!
---
▶️ DTube
▶️ IPFS