Come and Support Steem Mentor Teams - Donate 1 Steem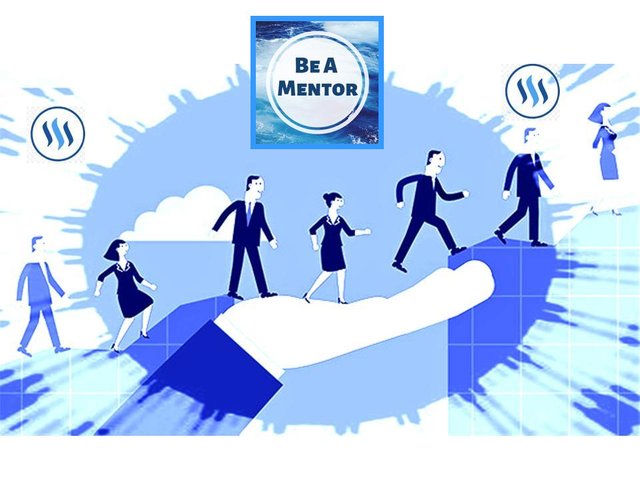 Dear Steemians,
When I first came on Steem in 2017, I was quite lost in the blockchain. I had to find out everything by trial and error. I thought to myself: "It would be so good if there were a mentor to guide me in the beginning."
Do you remember a teacher, a coach or a mentor who said or did something that empowered your life?
This is the reason why I intitiated the "Be A Mentor" project in January, 2019 to build up Steem Mentor teams to make Steem blockchain the greatest!
There are more than 50 DApps (Decentralized Applications) created on the Steem blockchain in the past year. The ecosystem of Steem is just so huge that more and more new ones are coming on the horizon each month. All of this is working towards the good of Steem. On top of that, many DApps are reaching out to new people via social media such as Facebook, LinkedIn, Instagram, Youtube, etc. With this, I can foresee an influx of newcomers coming onto Steem in 2019. Never had there been such intense development of DApps than in the past 6 months. More new DApps are coming on board each month.
How will newbies find their success on Steem when they first come in? If they get lost, they will get discouraged and eventually lose interest on this Steem journey. We don't want this to happen.
A 'gap' is there!
Steem Mentor Teams - Filling in the Gap
The newbies need a hand of friendship to give them the initial boost of early success. A hand of friendship goes a long way for newcomers! If someone can take a newbie by the hand and guide him/her in the beginning, he/she will not lose interest so quickly and can eventually find their path of success easier because of the guidance of a 'mentor'.
I have worked in entrepreneur business and know the importance of guiding clients in their first month on our platforms. In the same way, I believe having a mentor taking a potential newbie by the hand and coaching the person for 1 month will certainly make a big difference for him. Because of this initial help, the newbie will be able to sail along on his own with his own skills and initiatives.
Steem Mentor Team #1
To start building Steem Mentor Teams, I started from the Partiko Community. Qualified mentors were recruited to come on board to welcome newbies on the Steem Blockchain. For one month, they mentored newbies to participate in the Partiko community in using the Partiko app effectively.
February 2019 - Results of Steem Mentor Team #1 Round 1
In February, 2019 we on boarded 6 awesome Partiko mentors to do the work for 1 month.
They spent the entire month using the #introduceyourself and #introducemyself tags to welcome the newbies and friends to use the Partiko app.
In the following table, you can read their "Report post" and the mentees they successfully brought on board.
"Steem Mentor Team" Fund
As you can see, a lot of hardwork has been done by our 6 awesome mentors.
**For this reason, I opened an account "Be A Mentor" to push this program forward to make Steem Blockchain exciting for 2019.
As the founder of the "Be A Mentor" initiative, I want to set up a "Steem Metor Team" fund to reward our mentors.
Steem Mentor Team Program: March to June, 2019
We are recruiting qualified mentors on board for different communities, either country specific (Chinese, Greek, Filipino, Vietnamese) and DApp communities in the coming days.

Steem Mentor Team #1 Round 2 has begun in March and will end in April. A report will be given when the mentorship round 2 finishes.

Steem Mentor Team #2 is in the pipeline and will start in April. (A Big surprise for all of you! The announcement will come soon as we work out the details. Can you guess which community this will be?)

Steem Mentor Team #3 will start in May.

Steem Mentor Team #4 will start in June.
This is how the Steem Mentorship program will run this year.
As you can see, we are all working towards the good of helping the Steem blockchain grow. In engaging mentors to help new users, we are building warm and lively communities on Steem.
---
Call To Action - Donate 1 Steem to @beamentor
I have been running this program tirelessly since the beginning of 2019. It has taken a lot of time and energy to build up the program.
The qualified mentors that are on the team now are doing such an awesome job.
I want to set up a fund to reward each mentor for their hard work that they deserve, this this post.
For this purpose, I set up a new account: @beamentor
Let us show our support to the mentors by donating 1 Steem to @beamentor account.
Yes, all you need to do is to donate 1 Steem to move this program forward!
Let's see how strong and supportive our Steem community can be during these hard times.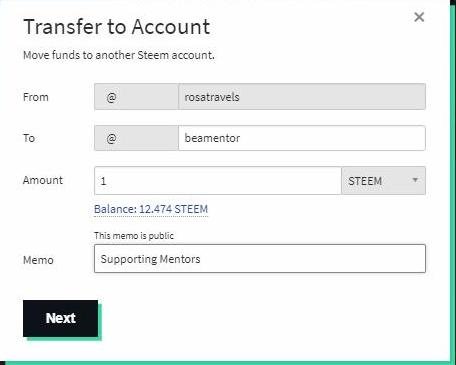 The First 60 Steem
The first 60 Steem that I collect for this fund will be given to our first batch of awesome mentors for their hard work in the 1st round of the Mentorship program:
The left-over funds will be given to the upcoming mentors in April to June.
A report will be given after the payout of this post so that you will be kept informed with our progress.
You can also support the mentors by delegating to @beamentor account.
Thank you for your donation,
Rosa
---
Thank you for reading this post! If you like the post, please resteem and comment.
谢谢你的阅读!希望你喜欢。如果你喜欢我的分享, 请点赞并跟随我。