Where in the World is Steem? #9 - Europe (revisited)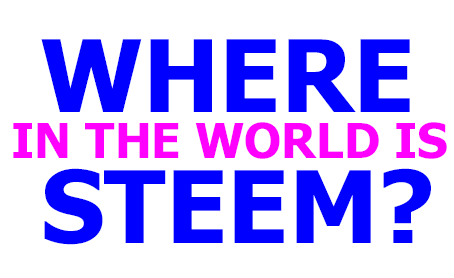 The first post in this 'Where in the World is Steem' series covered Europe.
Now that the rest of the world has been covered I am revisiting my home continent of Europe.
This is partly to incorporate Belarus, Russia and Ukraine which were going to be covered in a separate Eastern Europe post.
And partly to accommodate important extra information received from @chriddi about the German speaking community.
With a few new Steem faces starting to appear in the UK I am also wondering if the time is right to kickstart @steemclub-uk again and turn it into a fully fledged Steem Community.
Anyone in the UK interested...?
---
---
EUROPE


My first post on Europe covered mainly the western half of the continent...
The only fully active Community in western Europe was identified as being in Italy led by Country Rep @girolamomarotta along with @sardrt and @mikitaly...
---
There is also the Steem-Turkey Community led by Country Rep @alikoc07 but that is not so active yet...
---
I had also identified the Deutsch D-A-CH Community but long time Steemian @chriddi pointed out in a comment on the last post that this community does not represent the German speakers currently active on Steem.
The German speakers of Steem (primarily from Germany, Austria and Switzerland) do not currently have a 'Steem Community' but they can be located through the use of the #deutsch tag.
---
In Norway there is the very active @xpilar but there are no other known Steem communities in Scandinavia.
---
---
In eastern Europe there is a very active Russian speaking community based in Russia, Ukraine and to a lesser extent Belarus.
There are two Country Representatives from Russia - @filinpaul and @knopka145 - and two from Ukraine - @antorv and @olesia.
@filinpaul regularly publishes lists of active Steemians in Russia and Belarus...
@antorv has published a list of active Steemians in Ukraine and Belarus...
@olesia has recently updated this list...
---
The Steem-BRU (BY-RU-UA) Community gives a home to Steemians from Belarus, Russia and Ukraine and is run by the four Country Reps...
There is also the RU Steem Community run by @qwerrie and @avoicest that focuses just on Russia...
---
---
SUMMARY OF STEEM ACTIVITY IN EUROPE


Country Representatives


---
Communities


---
Witnesses


There are a number of Steem witnesses based in Europe such as @marcosdk in Spain and @italygame.
It is believed @justyy may be in the UK, and @steemchiller may be in one of the German speaking countries.
---
---
Have I missed any other Communities in Europe?
With the continual growth of the platform I am seeing an increasing number of newcomers from various European countries.
Hopefully some of these will be able to come together in due course to form Country Communities in so far unrepresented nations.
---
---
Thank you
Pennsif