OnePageX.com ~ News & Updates ~ Convert Cryptocurrency Quickly & Easily!
Hello Steem community!
It has been a few weeks since we have implemented STEEM on
OnePageX.com
We will start with a quick recap, and present some updates as well!
Instantly Convert STEEM With Over 140 Cryptocurrencies!
For those that don't already know, OnePageX.com has added full support for STEEM.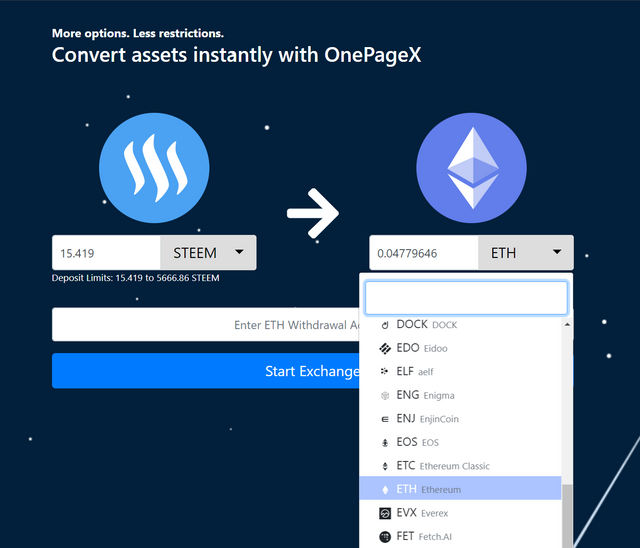 This means that whether you want to use BTC, XMR, DASH, GRS, LTC, BTG, BCHABC to get STEEM or use STEEM to get any of the over 140 offered cryptocurrencies, OnePageX.com has you covered!
Mobile Friendly Cryptocurrency Exchange
OnePageX.com has always been mobile-friendly but we have made some improvements to make the experience even more seamless! You are welcome to try us on mobile and let us know what you think! After all, there is no reason that converting cryptocurrencies should only be done on a desktop computer!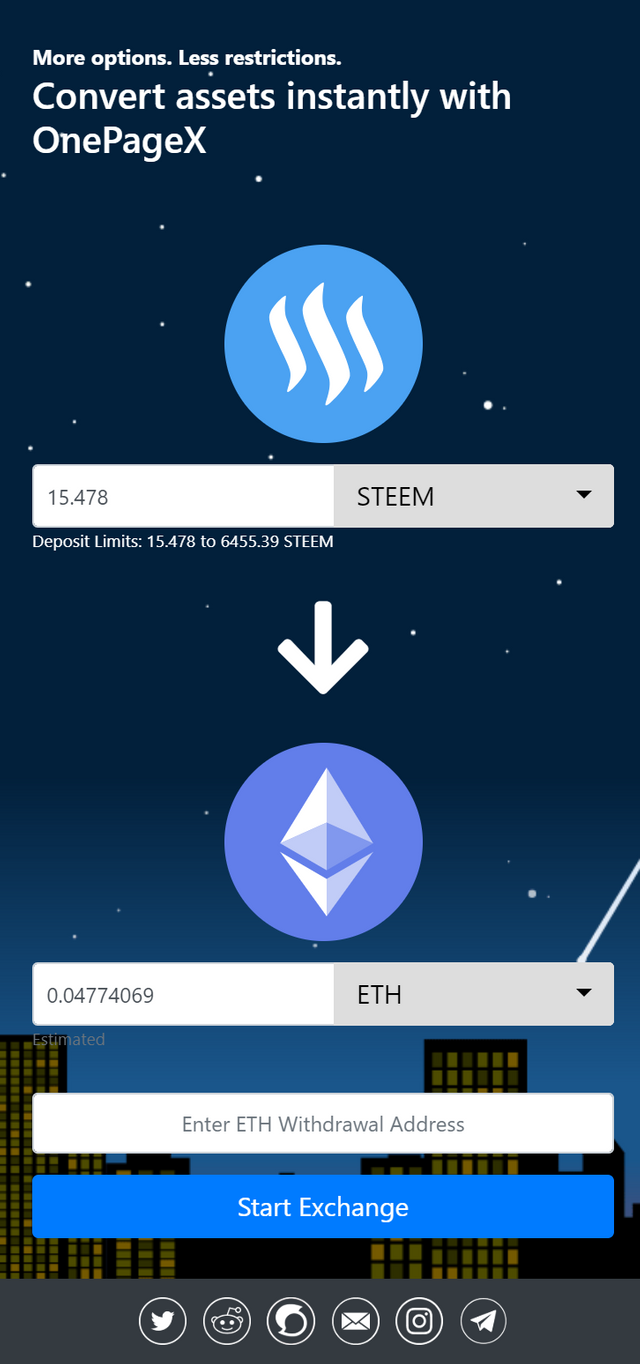 More Incoming Cryptocurrencies - Coming Soon!
Those of you who have used OnePageX.com may have noticed a steadily increasing number in the incoming crypto assets. We are continuing this effort in order to further improve OnePageX.com!
Our philosophy was always to offer the widest selection of cryptocurrencies with the simplest crypto exchange experience a user could ask for.
Social Media Share Buttons
Did you buy some STEEM and you want to let your friends know? The social media share buttons are a fun way to let your friends know that you just exchanged "X" for "Y". No personal information is attached, it is just a fun way to engage with your followers! The buttons appear only after an exchange is complete.

We have been, and are continuing to add features and improvements to the OneBox Cryptocurrency Exchange Widget.

As of now it is fully functional and ready to be implemented on any website! The OneBox will continue getting more cryptocurrencies as we add assets to the main OnePageX.com website!
As some of you may know, we held a graphics contest here on Steemit. The event was amazing, and we loved the community participation we received.
Another thanks to all the amazing Steem users who participated! We really loved watching the creative minds at work here on Steemit!
Here are the top three places:
https://steemit.com/contest/@mirzantorres/the-most-fun-animation-for-onepagex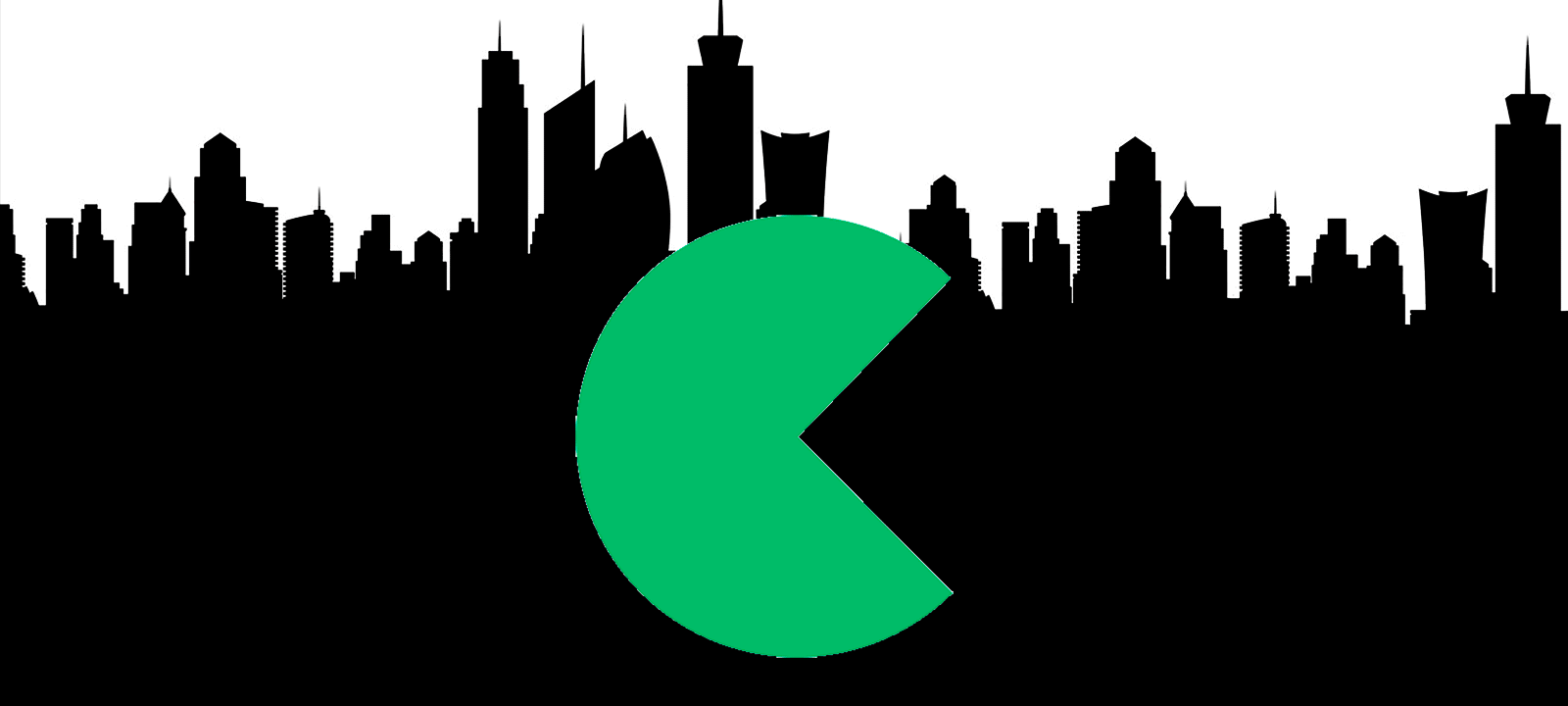 https://steemit.com/opx2019/@bidesign/onepagex-com-introducing-gif-by-bidesign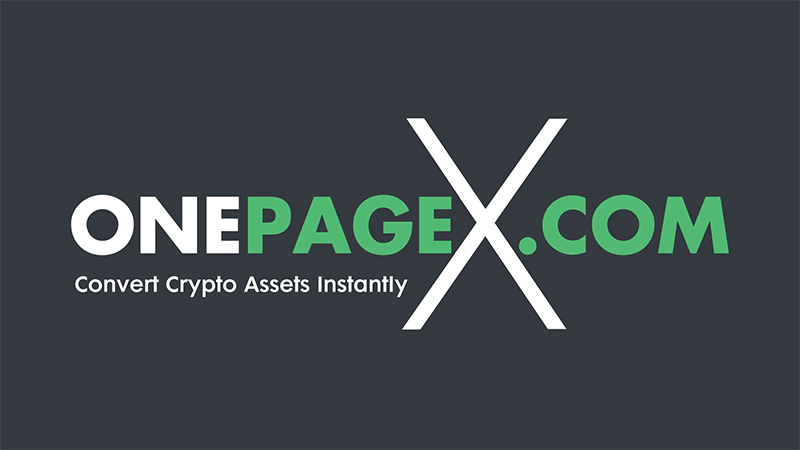 https://steemit.com/art/@ferjart/onepagex-graphic-design-contest-2nd-entry