As I said yesterday, bankruptcy is here STEEM = $ 0.12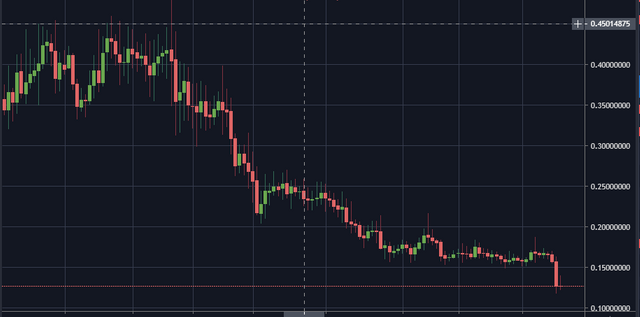 In today's graph we can clearly see the price drop of STEEM against the USD, reaching a value of $ 0.12 and going down without a brake.
Why does STEEM fall?
For the same reason that the envious did not vote yesterday's forecast, because they believe they know what will happen, and it is not so in bsolute. BitCoin is falling and as is well known, STEEM follows the race, this is because the AltCoin does not have a value by themselves, but as simple copy monkeys follow the trail of the worst cryptocurrency that exists, but at People love shit and swim in it, this is a given.
Tobacco kills, everyone or almost everything smokes; Car smoke pollutes and kills cancer even more than tobacco, everyone has a combustion car; Precooked foods are bad for your health because of the amount of chemicals they carry, everyone eats precooked foods; And so we can continue ...
More than 80% of the western population is silly in the ass, so the tremendous world population expansion will soon be solved.
In short, you warn people to take action, and they do the opposite that you tell them, they even go from reading the truth.
They are cheating you, if you don't believe it, you are a fool