Doodle + Thoughts on @steemalliance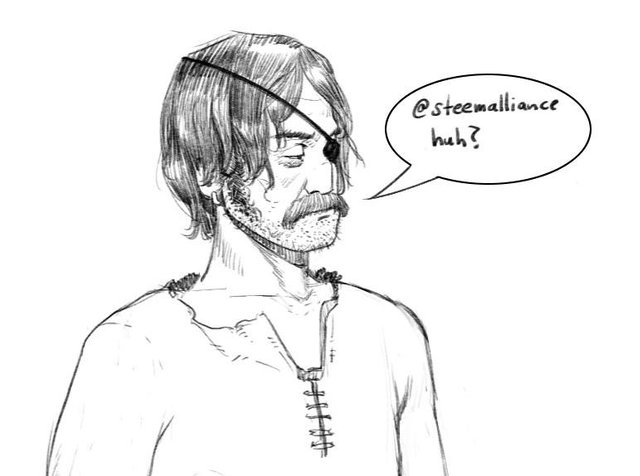 This is my doodle of a pirate who's "seen some shit". These days he questions his life choices, wondering if he could have been more than a lowlife murdering thief, if he could have been loved, stupid thoughts...he'd like to believe he was beyond naive lowlander drivel, but deep down, he wonders if he's the naive one to think this life would ever bring him anything but bitterness and sorrow. 😀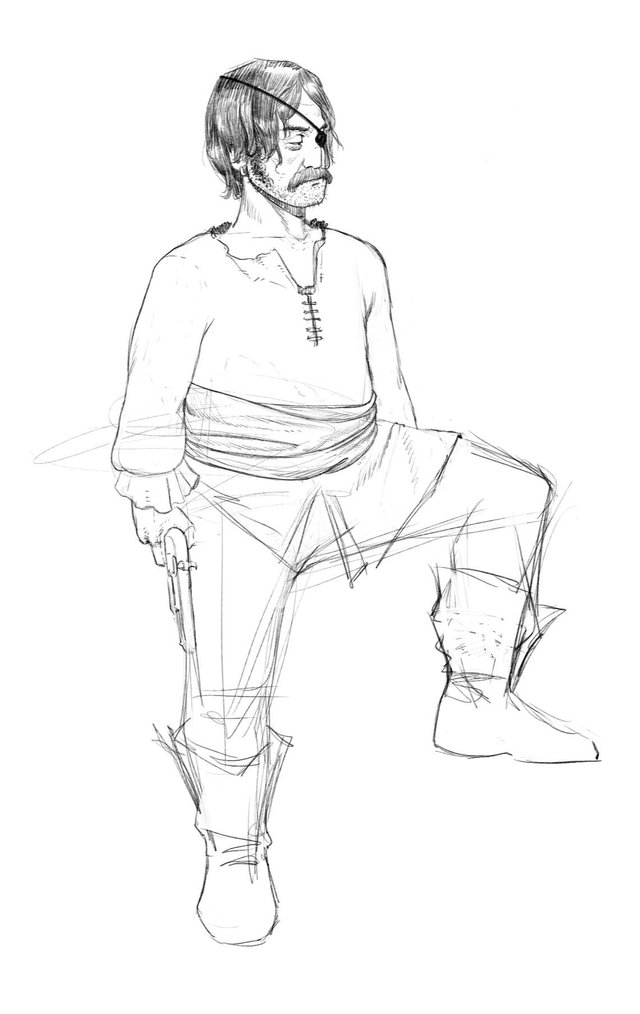 Well enough of that, earlier tonight I dropped into a chat on discord discussing the @steemalliance project. You can read up on some details about it here. But basically it's a Steemit backed community foundation. Basically an organizational structure run and operated by the community to do "tbd stuff for the betterment of Steem".
My first impression...this is gonna be rough.
As a blockchain decentralized community, there are some common values that we all share here that sort of bind us. Decentralization, transparency, inclusivity, and for a lot of people, the "f" word..."fairness". Hmmmm.
Listening to the discussion it was a bit chaotic, which is to be expected, and there was a lot of what I like to call "worrying about gentrification on Mars". This is a totally made up by me analogy that I use. The idea is say we work at NASA and we decide we want to put a man on Mars. During the brainstorming of how we're going to do this someone says "how are we going to avoid gentrification in Mars real estate???" and it's like dude, we haven't even designed a shuttle, or decided who's going to go, or figured out a thousand other problems before we need to worry about something like that. That's random, but I've been using that for years now I think and it's what popped into my head listening to the chatter.
I thought that because just figuring out how you're going to even approach designing the organizational structure is a huge task. Currently the roadmap is that the current group of people working on this are working towards figuring out a way to vote for the people that are going to focus on designing the actual structure, which won't necessarily be the members of the organization, just the ones who design how the actual members will be voted in, replaced, etc. Sound complicated? Yea, that's because it is.
So some concerns that were repeated a lot were about making sure that the organization was not centralized, looking out for people having conflicts of interests, making sure everyone has a voice, and things of that nature it seemed like, at least to me, were some of the primary concerns.
Well, I might be on a lonely island by myself with my opinions, but honestly for me those things are at the bottom of the totem pole. For me, the greatest priority with this would be as soon as humanly possible, shipping SOMETHING. It doesn't have to be the next killer dapp, it just needs to be something. What is the minimum viable product for this organizational structure so that it can function well enough to actually complete a task and achieve a goal. Not necessarily an amazing goal, just some sort of product or thing, whatever. Once we have made SOMETHING, we can tweak the organization, we can tweak the members, we can tweak whatever needs to be tweaked, but in the process of doing that, we're working on the next thing we're going to ship.
We can tweak and polish all aspects of all of the parts of this, but we do that as we are actually focusing on shipping "products"(whatever it may be, maybe not a product, but some goal).
So for me a concentration in the beginning on decentralization, or making sure everyone has a voice, or any of that stuff holds the risk of things becoming stagnated by too many cooks in the kitchen, or basically just having all the multitudes of opinions constantly cancel each other out and us losing the current momentum we have because of all this recent drama. I feel like this is the silver lining that's come from that drama and we need to strike while the iron is hot. If this group/organization could produce some results, ie an actual product/feature in the next 6-8 months, it would be a HUGE win for the Steem community.
If I were you "insiders" working on this, as @ned likes to say, that would be my north star. Priority numero uno, everything else I would worry about secondarily. That's just my two satoshis.
What do you all think???