GEMINI is a technology that shifts cryptocurrency from the abode of investment and speculation towards real usability.
---
Please respond to the below Tweet and say why Gemini should add STEEM
https://twitter.com/gemini/status/1127995832870084608?s=21
And resteem this post to get to other Steemians.
---
About GEMINI
They are a licensed digital asset exchange and custodian built for both individuals and institutions. They are a New York trust company regulated by the New York State Department of Financial Services (NYSDFS). Gemini is a fiduciary and subject to the capital reserve requirements, cybersecurity requirements, and banking compliance standards set forth by the NYSDFS and the New York Banking Law.
Sourced from https://gemini.com/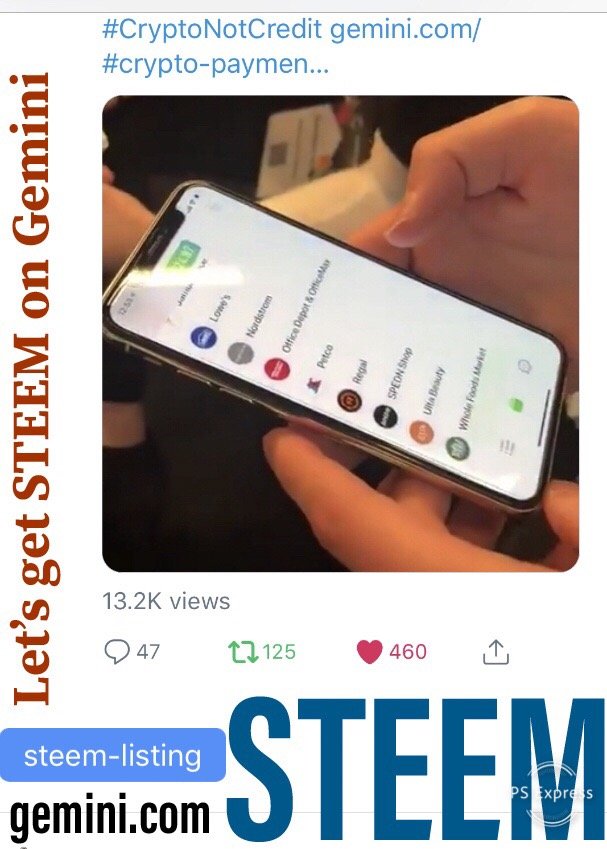 ---
Technology is taking beautiful shape on the interest of cryptocurrency, and one of them is gemini.com.
I stumbled upon a blog post from our brother @nathanmars this morning calling on every Steem member to help get Steem on Gemini, for me, I believe it's a lovely way to let the world know more about the unprecedented power and ability of Steem in solving multitude of problems for humanity.
If we succeed in getting Steem to Gemini, it means that people all over the world will have Steem as one of those crypto currencies which are used in really life buying and selling, settlements of bills and online purchase settlement method.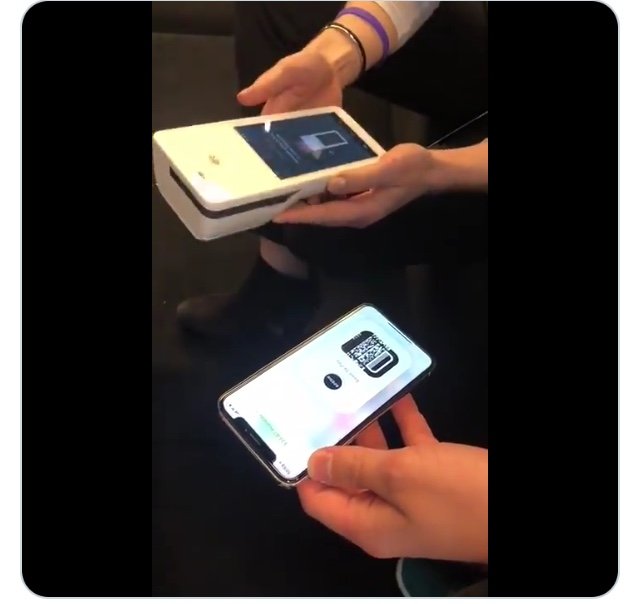 ---
We can finally buy a cup of coffee ☕️ with Steem and other crypto currencies just at a tap on your phone screen.
This moves the broader ecosystem to realizing the promise, the speed and the power of STEEM and its blockchain technology.
When I saw that technology like Gemini is already here for us, I quickly render my candid reasons why they should add Steem to their tech.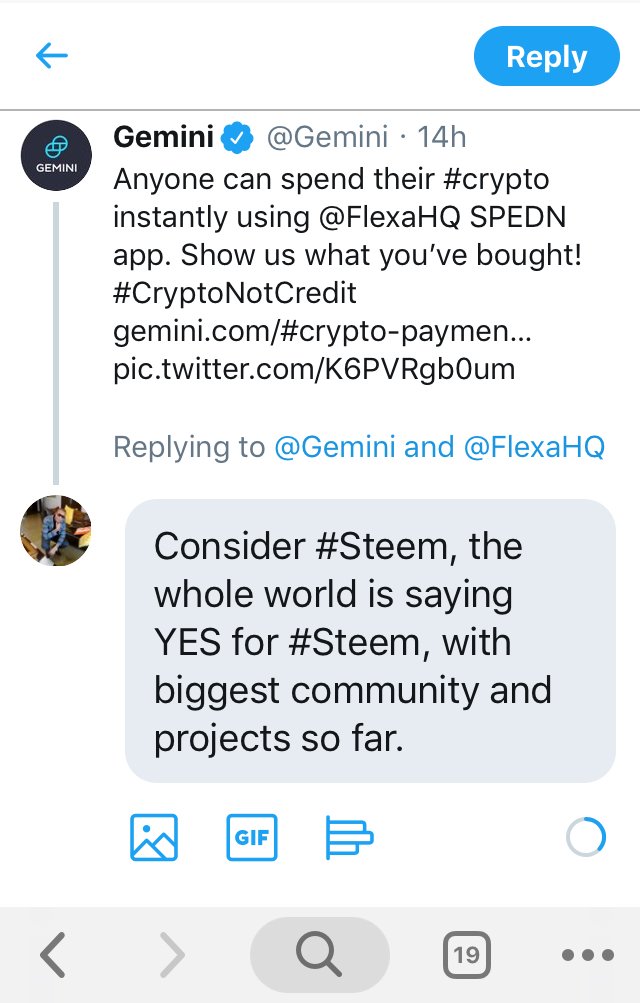 Please take a moment to respond to the below Tweet and say why Gemini should add STEEM
https://twitter.com/gemini/status/1127995832870084608?s=21
Please my friend, permit me to mention your name here, I'm doing this because this is a post that is written for the interest of our Steem and it's blockchain.
@alchemage, @abrockman, @amymya, @anarchy999, @ArtisticScreech, @awesomevolcano, @batman0916, @battleaxe, @billmega, @Bluntsmasha, @cannabiscurator, @cyemela , @darkprince66, @davedickeyyall, @deanpiecka, @derekrichardson, @dynamicgreentk, @dynamicrypto, @d-vine, @ELAmental, @elderson, @ericwilson, @fatkat, @foodforestbot, @fracasgrimm, @futuremind, @fknmayhem, @greencross @goldendawne, @hotsauceislethal, @jonyoudyer, @kid4life, @kimmysomelove42, @k0wsk1, @krazypoet, @luegenbaron, @mandyfroelich, @marksheppard, @mayb, @movingman, @msp-creativebot, @olafurthor, @pataty69, @pharesim, @paradigmprospect, @phusionphil, @prettynicevideo, @rakkasan84, @rawpride, @realkiki85, @runridefly, @SammoSK, @sgt-dan, @soluce07, @talhatariq, @tauras, @thelogicaldude, @underGRound, @qwoyn, @dylanhobalart, @yogajill, @wxzurd
@jonyoudyer, @Bluntsmasha, @conradino23, @ELAmental, @netgodbeerus, @cannabiscurator, @realkiki85, @doctorspence, @darkprince66, @cannaqueen, @hiatus, @tilestar, @naturalfox, @canna-collective, @deary, @foodforestbot, @nikema, @Tafgongthe1st, @loryluvszombies, @spicedlife, @gjones15, @mrunderstood, @benzeta, @stoned2thebone, @cannafarms, @thegreenhouse, @cultivar, @brockmorris, @ganjagirl, @MadPotters, @chey, @growingassets, @the-haze, @skylinebuds, @gingy710, @growroom, @kootsmedtree, @cowboyblazerfan, @suheri, @imammudarifqi, @grow-pro, @winnerchris, @twirlspin, @pdxlove, @cannabis-news, @cannuration, @steem420, @socialmisfit, @ambiguity, @phoenixwren, @batman0916, @greenfooteCO, @ceattlestretch, @njweedman, @superwoman916, @movement19, @bengiles, @growroom, @elderson, @hemp-lord, @deadisdead, @coffeebuds, @gregorypatrick, @asonintrigue, @freedomtribe, @bembelmaniac, @mango-juice, @oh-high-mark, @stonerfeed, @kaz2305, @veteranforcrypto, @rebeccaryan, @bigriffsbongrips, @spicedlife, @kiefpreston.com, @dilwhosaskin, @argenisapaz, @sapphic, @paradigmprospect, @vegangod, @qwoyn, @borofreak, @sunnydays-r-over, @kawa23, @caperf35, @yogajill, @dynamicsteemians, @khackett, @zuculuz, @soundwavesphoton, @cannajess, @theywenttojareds, @moniroy, @offgridlife, @mjgeeks, @cannabisrawuncut, @cannacannacanna, @koh, @ghro, @kennyboobs, @forstellaford, @eatmeat, @ssdgm, @too-short, @turd-ferguson, @npcvegantifa, @sharkmonsters, @uptoker, @theduskinus, @highdoulikememes, @buysmoke, @em3di, @vaporrhino, @prettynicevideo, @props4crops, @mary-jane, @badasshomelife, @highroadseeds, @cody758, @fixedbydoc, @pennsif, @samuelbooth86, @twistedcheshire, @hashkings, @tyler-ai, @annitakoxx, @midgeteg, @steemitsmokeout, @moneymind420, @appalachain, @stickyfingerz, @girlsofgreen, @guysofcannabis, @cheaphomegrow, @thehempinghand, @heatherhemp, @chey, @seeker214, @goodcontentbot2, @justinashby, @holysmoke777, @hippyman, @ogmike, @tribe-alive, @peace-love-happy, @GanjaGrrl420, @bjseedcompany, @smoke-grow-cup, @thehempcoin, @drutter, @steinz, @dejan.vucovic, @trevado, @melanson, @anarchy999, @cryptohustlin, @steemvpn, @natha93, @mondoshawan, @artaxx, @exterminio08, @ghosthunter1, @qwoyn-fund, @tribevibes, @dracusone, @greencross, @jeffjagoe
@steemcafe @joepate47 @daveonarrival @larrymorrison @prettynicevideo @kenmelendez @jongolson @captainbob @coruscate @nathanmars @jaynielea
@dswigle
@vempromundo, @steemflow, @andrewgenaille, @ferrate, @d00k13, @darkflame, @palikari123, @bitcoinwolf, @mazzle, @kimzwarch, @akomoajong, @msena, @moghul, @nigelmarkdias, @miniu, @olivia08, @carredaniel89, @nathen007, @californiacrypto, @neohope97, @jilljoyl81, @iaf29, @timothyallen, @stackin, @pandaparker, @ikemsamuel, @marblely, @michaellamden68, @dkid14, @guruvaj, @vander, @littlenewthings, @verasj, @stuffbyspencer, @taffel, @mcoinz79, @otom, @philiprenelee, @terrybogan, @csharma, @oldtimer,
@kiokizz, @tonygreene113, @teenagecrypto, @rishi556, @niallon11, @kstop1, @runridefly, @aiyub99, @yasu24, @hafiz34, @abbak7, @arabisouri, @stay-actifit, @holoz0r, @sanashaikh, @gracefu, @broxi, @javirid, @lichtblick, @shashiprabha, @khussan, @bluemist, @gungunkrishu, @fruityexplorer, @alokkumar121, @chunkysoupsvc, @hranhuk, @shitsignals, @babarakas43, @sergiomendes, @f21steem, @phoenixwren, @cmplxty, @skrjifen, @streetstyle, @bboyady, @clockwork777, @darrenfj, @gohtian, @flaxz, @elizacheng, @tixinhacapitinha, @oadissin, @engrsayful, @sharpshot, @practicaleric, @kenny-crane, @dumitriu, @the-bitcoin-dood, @blueeyes8960, @mdaminulislam, @benedict08, @salimbur, @blockcryptochain, @frankcapital, @usstockmarket, @kaminchan, @ragnarhewins90, @detlev, @kiryck, @imealien, @robmojo, @ericburgoyne, @rufusfirefly, @johneyreacko, @chrisparis, @j85063, @mzsocialssmit, @dwiitavita, @patrizius92, @gungho, @blaogao, @whtchpl, @crypt-skip, @dillagr, @bluengel, @yur7429, @offgridlife, @eddiespino
I believe in Steem, what about you?
---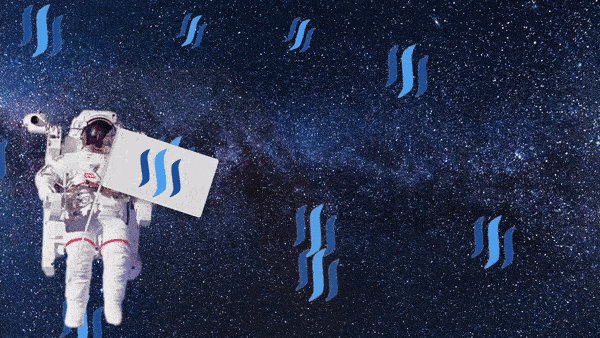 Great visionaries are already investing on #Steem!
---
If you still want to know know why Steem should be in every exchange, please look at the lists of marvelous projects on steem blockchain:
StemQ
Q&A about Science, Tech, Engineering and Math...
APPICS
We turn Likes into Currency
Steemeum
Virtual mobile miner app and community
cXc Music
A global map of user-shared music
Steem Ocean
Rare insights and statistics into the steem eco-s…
DaieSthaiWar
Team vs Team battle game
Utopian
Empowering Open Source
Let's Eat
Restaurant & Café Review Application
Dporn
Adult Content Hosting
steemwallet
Fast, secure and open source wallet for Steem
TERADEX
DEX with free listing
BravoCoin
Earn Crypto For Writing & Rating Reviews
Scripsio
Social site respecting freedom and privacy
TIMM
Uniting experts and novices for mutual profit
Steem Slot Games
Slot games platform on Steem
Memestagram
In meme we trust
Dcontest
Daily contests
3Speak
Free Speech Video Platform
steemmonstersdb
Steem Monsters Trading Market and Stats
STEEMGIGS
Everyone has something to offer
Ulogs
Write and publish your content
The Magic Frog
Continue the story
MyDiceBot
Cross-Platform dicing bot
cupz
Provably fair multiplayer game of chance
RemindMe
Bot sending reminders
DrugWars
The drugs are virtual, but the money is real
Steemit
Social blogging platform on steem
Nextcolony
A last days space simulation RPG
Partiko
The easiest way to earn crypto
Steem Monsters
Collectible trading card game
Actifit
Rewarding your everyday activity
Busy
Next generation social and communication platform
eSteem
Blog, vote, share pictures and get paid
Steemhunt
Daily ranking for cool new products
Dlike
Share what you like - get rewarded if people likes
DTube
Video sharing with respect for its users
SteemPress
From blog to blockchain - Wordpress plugin
Share2Steem
Monetize your social networks
MinnowBooster
Steem Power delegation and post promotion markets
Smartsteem
Investment and promotion-service
DCLICK
Incentivized advertisement platform by Proof of C…..
nTOPAZ
Shine Your Light 💡
dPoll
Poll application to get feedbacks
SteemPeak
The intuitive way to experience everything Steem
Wherein
A social media payment platform
Fundition
Crowdfunding and collaboration platform
DSound
Sound Platform for audio discovery and monetizati….
TokenBB
Forums incentivized with crypto rewards
Engrave
Create your Steem powered website in a few clicks
Tasteem
Your Own Guide to Taste
Vimm
Stream your way
steem-bounty
Put a bounty on it.
Musing
Ask Questions. Write Answers. Earn Cryptocurrency.
Peak Monsters
Trading Market for Steem Monsters
trips.teem
Travel trip rewards
Steepshot
Share moments and earn coins
HashKings
Canabis farming and trading game
Steemauto
Curation Trail, Fanbase, Scheduled Posts for Steem
Steemitalia
Italian blogging platform
Steeve
AI-powered Steem interface
dlux
AR + VR social network with NFT and DEX sidechain
Magic Dice
Provably fair and transparent dice game
steemblr
moonSTEEM
Moon your steem everyday ! Instant Dividend payou…
SteemSTEM
Steem interface for STEM communication
knacksteem
A place to showcase your talent and get rewarded
Oracle-D
Building communities by finding talents and giving them full support!
DTrip
Share travel experience, meet up, get rewards.
Discutio
Debate and discussions platform
SteemNova
Space Strategy Game
coogger
Social knowledge content
Steem Ninja
Fast and efficient services for Steem
Swapsteem
Peer-to-peer Steem exchange
https://www.stateofthedapps.com/rankings/platform/steem?
WE ARE STEEM!