Can STEEM take the next leg up?
STEEM is starting to look very good on the charts
With STEEM hitting (and now holding) $.24 several times over the last week, it now looks like STEEM might be ready to make the next leg up to next resistance area.
That area is interesting because it would also be an area where SBDs would start printing again.
There seems to be some discrepancy as to what price SBDs would actually start printing again, but it's safe to say that number is somewhere between $.25 and $.27 with the most likely number around $.26.
With the recent bullish momentum it looks like STEEM might be ready to make the next surge higher...
Check it out: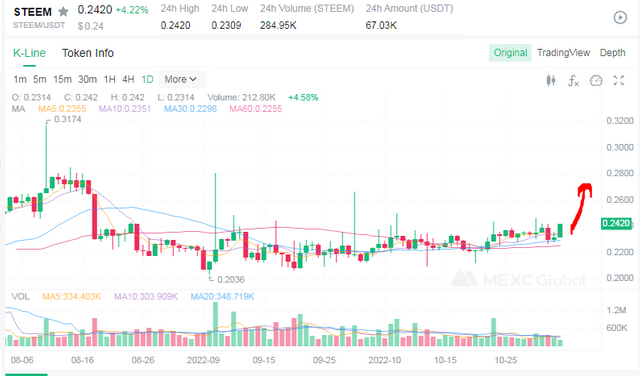 (Source: https://www.mexc.com/en-US/exchange/STEEM_USDT)
As you can see there is some resistance in the $.25-$.28 range dating back to early August.
We spent roughly 10 days in and around that range before dropping to the current range of $.21 to $.23.
Normally a 10-15% move up doesn't sound all that exciting, though it is nice, but this move would get SBDs to start printing again and with them trading well over a dollar for more than a year now it would be a nice increase in earnings for Steemit.com users.
Interestingly enough, earning SBDs again will also push the price of STEEM higher as well as people earn $2+ SBDs they then sell those for STEEM and grow their STEEM Power very quickly.
Which means...
One of the best ways to push STEEM higher is to get SBDs printing again (and have them trade for more than a dollar, which they are) and the higher they are priced for the better!