Hi, this is @giftgiver, a project by @rishi556 to help with part of the on-boarding process for new STEEM users.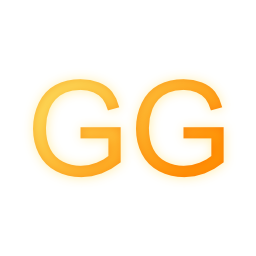 The Issue
Many new users will run into RC issues pretty quickly. Just after making a few comments, a user can run out of the RC they get with the 15 SP that Steemit INC. delegates to them, an amount which can be even less or temporary if the account was created in other ways.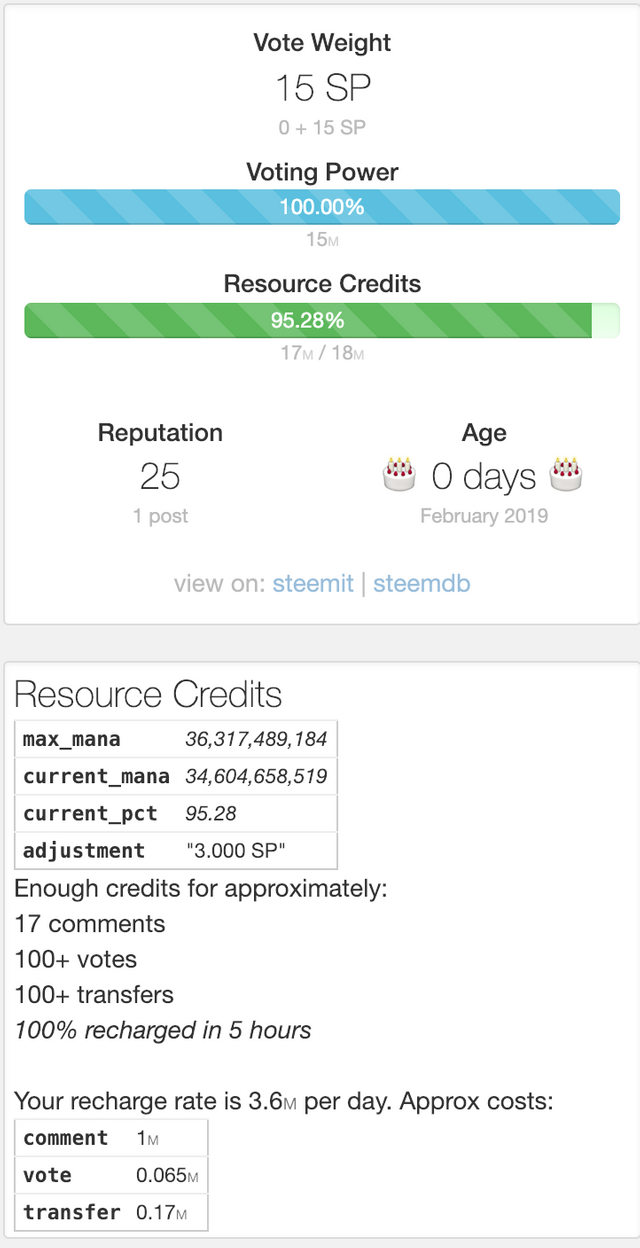 Screenshotted from steemd.com
Just taking a look at a newly created user with 15 SP, who has used up a small % of their RC, they are left with only 16 comments. 16 comments distributed over the 5 days that it takes to refill is just 3 comments a day, which is nowhere near enough to use the chain normally. We can also use beempy to check out the current resource cost of interacting with the chain: https://www.beempy.com/resource_costs. If a user was just playing STEEM Monsters, they could only send out under 180 coustom_json operations before having to wait for their RC balance to start filling up again. Distributed over five days, thats 36 per day, which for someone who wants to play hardcore as a new STEEM user and has no intention with using the other parts of STEEM is too little. A new user might just give up after seeing the not enough RC warning message pop up.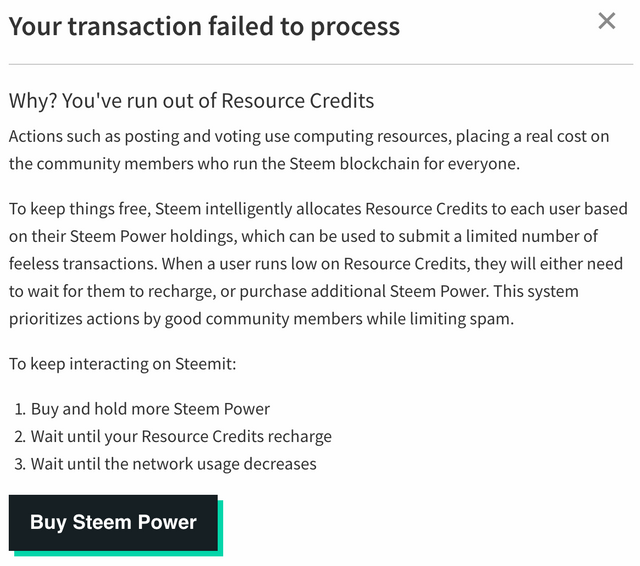 Screenshotted right from steemit.com
Telling users to buy more SP doesn't seem like the smartest thing to do, and someone new who just wants to test out STEEM will possibly give up. There has to be a better solution.
Other chains have had to deal with this too.
How Other Chains Have Handled Similar Issues
Most other chains aren't free. They have a cost to send each transaction, but the Steem chain is different. There are no fees for transactions. When the other chains get busier, the fees go up and it can take longer for transactions to get confirmed, remember bitcoin during December 2017?
EOS is another feeless chain, created by the same mind as Steem. They too have had the same issues with not having enough CPU power for users. So a few people set up cpuemergency.com, a site that delegates EOS users 3 EOS of CPU for them to transact. While not the perfect solution(something called Rex is in development right now which I don't know much about), it does get the job done for now and is what most people(including me) use when they are going over the CPU limits.
The thing with CPUEmergency is that its set up by just a few guys who wanted to help, and with that I believed that something similar could be achieved on the Steem blockchain.
The Solution
Quite simply, the solution is something like CPUEmergency for Steem. While some users and witnesses(@gtg) and dApps(@partiko) were doing this manually, an automated tool really is needed to give delegations to the new users(or existing) who don't have enough RC to interact with the chain.
With that, I worked on my project, known as Giftgiver. I first set out and created the basic plan and then got it working. A user simply needs visit our site, type in their username, and they will then receive the delegation. The delegations expire after two days, but can be requested once a week(might later be configured differently after seeing how initial results go) as well as delegating 30,000 VESTs. We chose 30,000 because currently its close to the 15 SP that most onboarding platforms provide users. While in beta, we are choosing to do 20,000 VESTs which is closer to 10 SP due to a lack of funding.
You can visit the site by going to giftgiver.me.
Our site right now, you can access it at giftgiver.me
What Are The Requirements To Get A Delegation
We can't give a delegation to everyone, that just would be a terrible idea and would deplete the amount we could delegate rapidly. To get around this, we have set a few restrictions. First, we use the universal blacklist created by @themarkymark. If your name is on any of the blacklists, as well as our internal blacklist, you won't be eligible for delegations. Secondly, we have a maximum RC requirement. If your current RC is set to above that, you won't receive the delegation. We've been pretty liberal with the max so even if you can still make posts, you should be able to get the delegation. The goal was to let users who can't interact and aren't spamming to be able to get more RC and this was the best solution.
Any of these can change at any time for us to make Giftgiver better for everyone.
Initial Testing Period
For the next little while, we will be in alpha, adjusting settings to get the perfect balance. While testing, we are doing delegations of 6,000.000000 VESTs which will slowly increase as time goes on until we reach the 30,000.000000 VESTSs that we plan to delegate normally. aIf you have any issues, don't hesitate to report them to us on our discord.
Sustainablility
We expect to grow and sustainability is a major factor for this. Giving free delegations without gaining VESTs would not work. For that, we've decided to put an ad on our page, right above the delegation part. Anyone can rent out that space to get more users to their app or whatever while supporting a project that gives users free delegations. The space will be sold to one user at a time and sold in one week chunks. All ads must be approved manually and will be implemented manually. If you'd like to advertise with us, contact us on discord.
Future Plans
We've got more planned for the future to help users out even more. Promo codes that allow for longer and/or bigger delegations are in the works, as well as the possibility for direct integration to dApps(which are are already in talks with a dApp about) so you won't need to access the site. If you are a dApp owner who wants to integrate Giftgiver to your site, contact us on discord and we'll let you know more about how it'll work when its released.