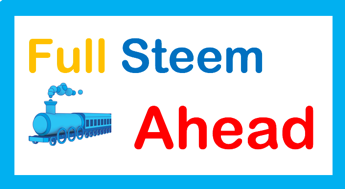 It's no longer news that hard fork 21 is underway on the Steem blockchain. As you probably know, with every hard fork comes some key changes.
A fine post by @timcliff have done justice to the proposed updates that HF21 will bring. I will advise that you find time to read those posts.
While it is left for the witnesses to either vote in favour or against many of the proposed changes, today I'll be discussing what seems like a radical change - the 50/50 curation model.
This model is a subset of the Economic Improvement Proposal. It will see a radical adjustment in the post payout as we presently know it.
Under the current regime, the author gets 75% of the payouts on posts while the curators get to share the remaining 25% depending on their voting weights.
However, the proposed 50/50 model, which has already been introduced on https://palnet.io, will give curators equal earning power as the author. Under this regime, the author will earn 50% of the payouts on posts while the curators will have to share the remaining 50% - of course, depending on the voting powers of the curators.
The proposal above, frankly, is the most controversial update of the forthcoming hard fork. And it has been received with great resistance in many quarters.
Majority of those who kick against the proposal have argued that the model will give more power to the whales and take away reward from the authors who add value to this blockchain.
Another argument that has been put forward is that a 50/50 curation model may end up demoralizing authors, quenching their interest in Steem and moving their blogging activities to other rival blockchains.
A Different Approach to the Matter
Personally, I agree that a 50/50 curation model will indeed give more powers to the whales because they will earn more. However, this is a deserved power, deserved because the whales are investors. And for things to progress on here, the investors ought to get reasonable returns on their investments.
One important point we often ignore here is that neither Steem, Steemit nor any other dapp on here can exist without dedicated investors, investors who have a long term perspective. And who are such kind of investors? They are those who hold Steem power.
Therefore, as a way of providing incentives to SP holders, a 50/50 curation model is necessary. If investors can earn more from holding Steem, it is likely that more investors will come into the scene. And that could do some magic to the price of Steem in the long run.
Also, it is less likely that content creators will leave Steem because their rewards have been slashed. For now, there is no known competitor of Steem. With the whole hype about Voice, it is still not an alternative to Steemit yet.
Still on the above point, there is a strong likelihood that if author rewards are cut while curator rewards are increased, curators will likely vote more on posts to earn more reward. Of course, all parties (both curators and authors) will benefit from the proposed 50/50 economic model.
Finally, I believe that the proposed model will reduce, if not eliminate, the use of bid bots - which many have rightly pointed out as the major problem confronting engagement on this ecosystem. If the 50/50 model pulls through, any Steem sent to bid bots can NEVER be profitable. We may see many bid bot owners closing shop in the coming days.
Until I come your way again, I wish you a FULL STEEM AHEAD.
SUPPORT CORNER

Kindly follow the peerless vocabulary lessons presented by @majes.tytyty, and get rewarded with upvotes for your participation.
          Vocab-Ability – "Introduction to Vocab-Ability"  

Are you a minnow and you're already thinking of giving up on Steemit? Please don't quit. Kindly follow @Steemitcentral and use the steemitcentral tag in your posts to get some upvotes.

---
I am @gandhibaba, the young man who goes about carrying his magical pen, not his gun, in his pockets.

Gif courtesy of
@artzanolino
---
Thanks for visiting my blog. I appreciate your precious time.