Forget my last STEEM update for now - I think it has begun
Volume is increasing again! The last downtrendline is already broken. If we see a higher high and a backtest of this trendline from above, this might trigger the buying frenzy... We will find out soon.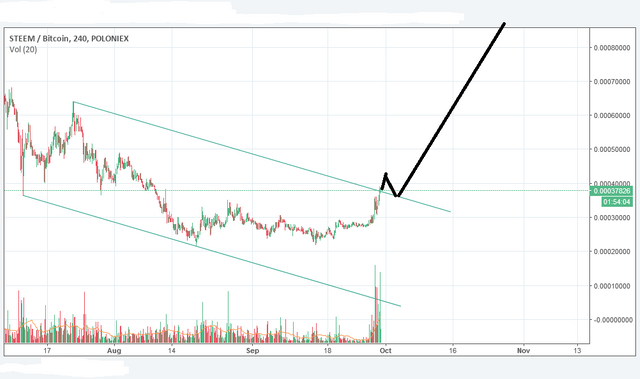 What an exciting weekend this will be. What will we see in the coming days? Big drop or big up? Tell me what you think.

SPECIAL OFFER!!! I want more visibility, you want free money. win-win.
I'll upvote your comment 100% if you resteem and have 800+ followers.
I'll upvote your comment 50% if you resteem and have 400+ followers.
I'll upvote your comment 15% if you resteem and have 100+ followers.
requirements:
You need to follow me.
You need to resteem this post and afterwards indicate in the comments that you did. I will check both ;-)
My 100% upvote is worth approx. 1$. It will be first come, first served. I won't upvote under 80% of my VP. Worst case you might have to wait 24 hours for the upvote. I will change theese numbers, if I can't keep up with the demand, so act quickly!


If you think this to be useful information:



DISCLAIMER: I provide trading ideas using EW and Pattern analysis. The material in this post does not constitute any trading advice whatsoever. This is just the way I see the charts and what my trading ideas are. The author of this post is holding positions in this market at the time of this post.
If you make any trades after reading this post it is completely in your responsibility. I am not responsible for any of your losses. By reading this post you acknowledge and accept that.
Tell me what you think...
Have a nice day :-)