Steem Santa is here. Free STEEM accounts for your family and friends!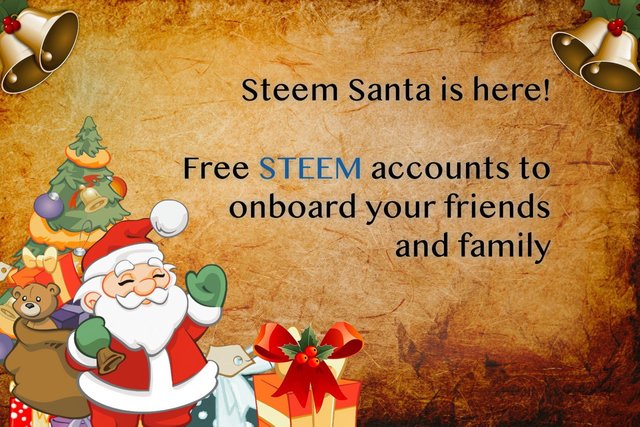 ---
Looks like free sign-ups on Steemit's official registration makes people wait a little bit longer than usual.
I have been accumulating discounted STEEM accounts in the last three months and the christmas is always the perfect day to give back to the community.
That being said, I am giving away 90 free STEEM accounts. The only requirement is that your STEEM account's reputation must be at least 55.
Claim your gift code
Go to https://freeaccounts.dpoll.xyz/login.

---
After the login, you will see your gift code(s) if your account is eligible.

Create your account
After getting your gift code, you can create your account at http://freeaccounts.dpoll.xyz.
Notes
Make sure you read the F.A.Q section in homepage for the service limitations.

There are only 90 free accounts in the pool. Hurry up! Gift codes become unusable when there are no accounts left in the pool. You can check that figure at steemd.com/@emrebeyler. (Pending claimed accounts field.)
---
I wish you all a Merry Christmas. You can cast a witness vote for me if you like what I do on STEEM blockchain.