Bitcoin, security, entrepreneur, coder, hacker, author, humanist, pacifist. Working on cryptocurrencies, author of Mastering Bitcoin & The Internet of Money, Andreas Antonopoulos is for me one of the most brilliant mind and public speaker on the Blockchain, Bitcoin and cryptocurrency space.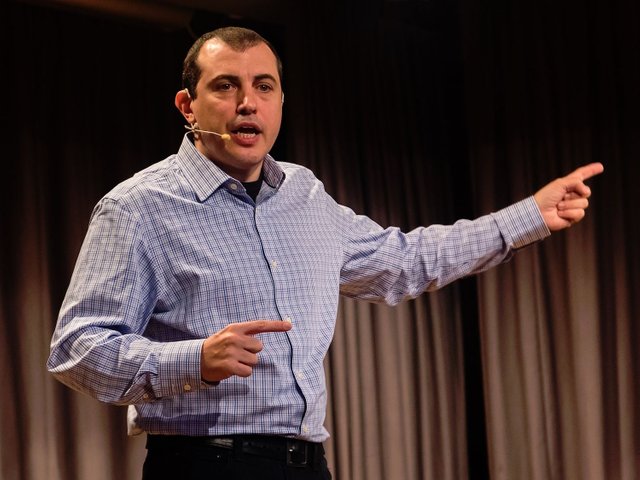 Consultant on several bitcoin-related startups and permanent host of the Let's Talk Bitcoin podcast. He served as head of the Bitcoin Foundation's anti-poverty committee until 2014 then joined Blockchain.info as Chief Security Officer and after that, Advisor of the board.
On October 8, 2014, Antonopoulos spoke in front of the Banking, Trade and Commerce committee of the Senate of Canada to address the senators' questions on how to regulate bitcoin in Canada (read more on his Wikipedia)
I can tell that this guy gives the most compelling analysis on the power of Bitcoin, blockchain, and cryptocurrencies, can be very persuasive with strong arguments, deep-understanding of the issues and clear vision for the future.
If you don't know him just watch these few videos :
"Blockchain" or Bitcoin: Understanding the differences
In this talk, Andreas explores the rise of the term "blockchain" as a counterweight to bitcoin. The term blockchain does not provide a definition, as it has been diluted to be meaningless. Saying "blockchain" simply invites questions, such as "what is the consensus algorithm". Meanwhile, bitcoin continues to offer an alternative to the traditional financial system. Andreas looks at the value of private ledgers, which he sees as having a small impact on finance, versus open, global and accessible payment and currency systems such as bitcoin which he sees as fostering a global revolution in finance and access to financial tools.
The Future of Cryptocurrencies
In this talk, from Texas Bitcoin Conference in 2014, Andreas explores the rise of cryptocurrencies and share his vision for the future of cryptocurrency.
---
In this talk, Andreas answers a public question "What's your opinion on STEEM ?"
Bitcoin Q&A: Steemit, Yours Network, and future social platforms
Keywords/Phrases :
I get suspicious when I hear the sales pitch that I "will make thousands and thousands of dollars very quickly and easily." I don't like that it revolves around making money fast instead of focusing on the quality of content or building a community organically. There is a set of parameters combining social media, micropayments, behavioural incentives and disincentives, that would make for a very interesting platform. Using money not as a system of remuneration but of quality discovery backed by game-theoretical models at scale; wisdom of the crowd + micropayments + behavioural science = fewer trolls. This is an emergent area. Social media platforms require a very high critical density of adoption before they're effective, where you know enough people who have access to the underlying infrastructure and are willing to engage in it. Bootstrapping social media and digital currencies, where you have a very limited community, is going to be difficult for the next decade as it experiments, fails, and builds momentum.
I do believe the Steem blockchain is taking the good direction, but we must draw the necessary conclusions from the Beta, and the inflation debate, advertising/pay-for-attention strategy, marketing strategy & business development, to figure out what is the best way to bring new users/investors, work on user retention, to the mass adoption..
Now that Steem value is almost back to the start, A new history begins to be written.
---
---
Bonus : More interesting content from Andreas