DTube Coin Airdrop: Claim your account now with your Steem username!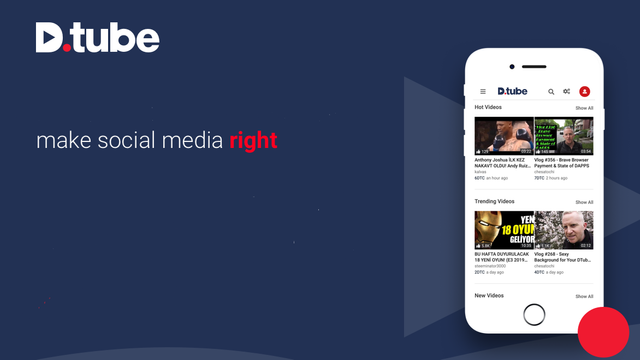 DTube Coin Airdrop: Claim your account now with your Steem username!
Thanks to our wonderful community, the DTube Chain experienced a really strong start with more than 3,000 accounts already created!
Because we value your work, we wish to distribute 50% of the initial token supply to our community, i.e. Steemians who will have claimed their DTube account.
DTube is currently in testnet, but you need to claim your DTube account to participate to the DTube Coin Airdrop at the end of the trial period!
DTube Chain account creation is presently reserved to Steemians. Past this trial period, you won't be able to participate to the airdrop.
Plus, your Steem username won't be protected anymore, someone could claim your username on DTube.
New rules, new DTube blockchain
Last week, DTube v0.9 introduced a ton of exciting updates:
Post from URL: you can now post videos and livestreams from a URL
For curators: share a video from any platform on the web
For creators: double your earnings with tokens and advertising
New blockchain : get a DTube account and try our brand new decentralized economy on the public testnet
Vote on tags: tags now accounts in the tokenized monetization
Promote: burn your DTC to rank up your posts
Search engine: search, related videos and tags navigation is fully functional again
Read the full update: here
Launch your own tokenized video platform for your community
A few days ago, @heimindanger and @aggroed announced the release of an awesome partnership between DTUBE and STEEM ENGINE, the SCOT project:
Create your own SCOT Tube: you can now launch your own version of DTube and it's very easy to set up!
Power it with you own token: create a Steem Engine Token, customize its economics and launch you own economy
5 projects already live:
PAL on tube.palnet.io
LEO on tube.steemleo.com
WEED on video.weedcash.network
BATTLE on battletube.io
SPT on tube.splintertalk.io
How to get yours? Read the How to create my own ScotTube
Claim your DTube Account and sucbscribe to the DTube Coin Airdrop
DTube Chain is currently on testnet mode. This means at the end of the test, DTube will "reset" the Chain to block #0 (though, you won't have to re-create an account).
At launch, DTube will send DTCs to all DTube Chain account holders through an Airdrop event.
DTube Chain accounts can be claimed for free by all Steem users for a limited period. After that, usernames won't be guaranteed anymore.
Why claiming a DTube Account
DTube Chain is a new blockchain with a new coin (the DTC) and new economics based on sharing and curating content with 100% of curation rewards.
With your DTube account, you are able to publish and curate videos like with Steem. You can also spend your DTC to promote your posts.
What is the DTC? Is it live? Does it hold any value?
DTube Coins (DTC) are testnet coins with no real value and that are not fungible nor tradable.
At the end of the testnet, when the technology is stable enough, we will reset the testnet chain and launch the real DTC economy, starting with 100 Million DTCs.
50 Million DTCs will be distributed to all DTube Chain account holders and the coin shall be easily tradable in the future.
How to claim my DTube account
Thanks god, claiming your DTube account is FREE and SUPER EASY:
Go to https://d.tube and click the "Claim account" then follow the 3 steps carefully.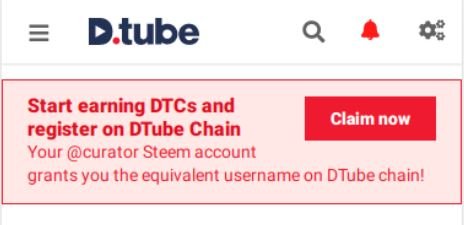 What if it didn't work ?
If you don't see the popup above, follow this procedure:
1- Clear your browser cache
2- While on DTube, log out your steem account and refresh the page. Then log again to Steem, the pop-up should appear
The process on a smartphone might not work well (we are working on an update). If you don't see the pop-up, please try it on a desktop computer.
If you are using Steem Keychain it might also not work smoothly. If so, try connecting directly using the Sign In button on DTube
If it hasn't worked or if you see an error message, please refresh the page and verify if your account has been created before doing the process again.
For support from the team and the community, please ask for help on our discord channel: DTube Discord or by commenting this post.
FAQ
ACCOUNT CREATION
I don't see the claim button
Clear your web browser cache and log out of your Steem account and refresh the page. Sign in again to your Steem account and the pop-up to claim your Dtube Account will appear. If on smartphone, try it on a desktop computer.
I went through the process but it didn't work
Try refreshing the page and redo the above procedure
I've lost my keys
DTube Chain uses cryptographic keys as logins. While much more secure than a password, we can't do anything to retrieve your keys if lost.
However, check your "download" folder or file directory if it isn't stored there (look for a .txt file named "dtube_key")
I've created my account and all my videos disappeared
You just need to update your profile with your steem username:

POSTING & VOTING
I posted a video via DTube but it doesn't show on Steem
It is because either of the following reasons:
-You are not logged on Steem. If so, sign in to your Steem account
-You haven't updated your profile with your Steem account (see above)
-Check this video to see how it works

How do videos rank now ?
Rewards are activated on for all economies (Steem, DTC, Steem Engine) and videos are now ranked only by upvotes on the DTube Chain.

I don't want to post or vote on both Steem and Dtube Chain at the same time
Just click on the Steem or DTube logo to put an account on hold


I want to vote with different % on Steem and DTube Chain
On the left menu, click on litlle arrow of the account (Steem or DTube) and choose independently the % of Voting tokens you wish to spend on posts and votes


I don't have enough "bandwidth"
Check if your account shows 100 DTC and just wait, it reloads over time. If you haven't received your initial 100 DTC, please ask the team on Discord

What is the difference between Posting a URL and uploading via IPFS
Both ways of publishing a video will activate the token reward mechanism. Posting a URL is
-for curators who want to share content from other platforms
or
-for creators who find it easier or want to activate ads on content they have published elsewhere.
Thanks to its decentralized network, uploading a video on IPFS is for Original Content creators who wish to protect their content from abusive censorship.

What platforms are supported for the "Post from URL" feature
Most current video platforms: Youtube, Twitch, Facebook, Instagram, Vimeo, Dailymotion ...
TOKENS
Will I still earn Steem tokens?
Of course, you can post, vote and earn Steem tokens as usual with DTube. Just verify that you are signed up to your Steem account on Steem
Is DTube leaving Steem ?
Not at all, DTube is just adding new blockchains to Steem on the interface: DTC but also Steem Engine tokens such as PAL or WEED.
We have been working pretty hard to ensure both chains (DTube and Steem) interoperability :)
More questions? Read the full FAQ: Here
Token generation event roadmap
DTC economy launch will follow these 4 steps:
1- DTube Chain testnet (live since June, 25): Launch of the testnet. Account creation is reserved for Steem account holders and everyone receives 100 (test) DTC.
2- Open account creation (August): After this period, account creation will open to everyone in and outside the Steem community
3- Token Sale (Q3): DTube will conduct the sale of 25 Million of DTCs through several Initial Exchange Offering (IEO) rounds. This will be your chance to purchase real DTCs
4- Token Launch (Q3): At the end of the token sale, DTube will reset the Chain (keep the accounts) and distribute the initial circulating supply (100 Million DTCs) to DTube Chain account holders (50%), IEO Investors (25%) and Dtube team and contributors (25%)
Read our whitepaper for all details: Whitepaper
Spread the word and contribute!
DTube is going to the moon!
Help us onboard Steemians first, and then the whole world by sharing this article and following our channels:
Discord
Twitter
Telegram
Reddit
Github
Linkedin
Medium (new)