DTube 0.9: Doubling up your rewards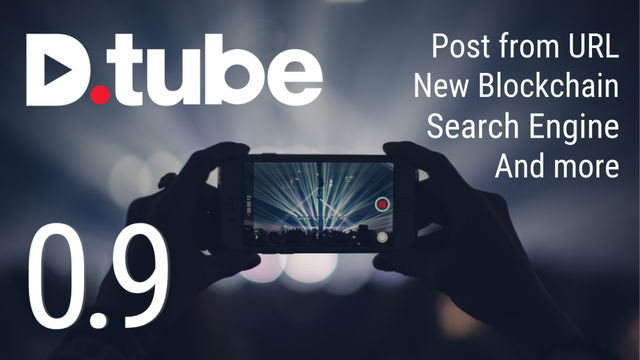 The DTube team has always been focused on creating a real usable product before doing any fancy announcements.
After so many months of research, developement and testing, DTube 0.9 is upgrading the concept of decentralized social media.
In this article:
Post from URL : you can now post videos and livestreams from a URL

For curators: share a video from any platform on the web
For creators: double your earnings with tokens and advertising

New blockchain : Get a DTube account and try our brand new decentralized economy on the public testnet
Vote on tags: tags now accounts in the tokenized monetization
Promote: burn your DTC to rank up your posts
Create your own DTube: in partnership with Steem Engine
Search engine: Search, related videos and tags navigation is fully functional again
New Feature: Post a video from a URL
Starting today, DTube is making a drastic change by allowing any user to upload almost any existing video from the web.
Instead of forcing you to upload a video file, re-encoding it and sending it on DTube's IPFS nodes, we now allow you to simply paste in a link of a remote video to get it included in DTube's video catalogue.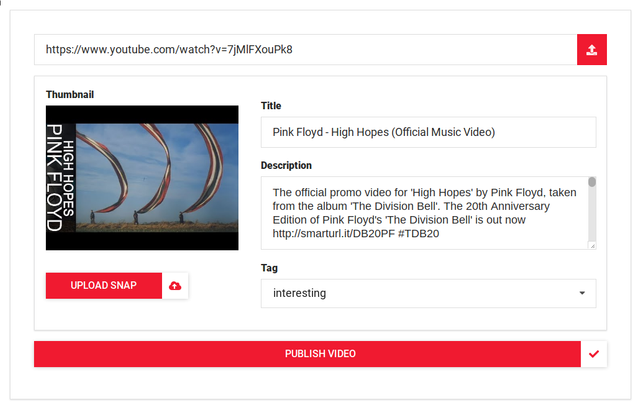 The currently supported platforms are numerous: YouTube, Twitch, Facebook, Instagram, LiveLeak, Vimeo, Dailymotion. This change can seem very counter-intuitive for a 'Decentralized Video Platform' at first glance, but it actually has too many pros to be ignored:
IPFS file upload remains the same
A big chunk of DTube's user-base cares about decentralized file storage. These users love us and support us, so we feel bad when we see complaints about queues for our IPFS uploader in our discord.
However, most of our users don't need anti-censorship features. These users are very often already using centralized video platforms. By allowing these users to offload some storage from us, we will actually have more space and less queues for whom it matters.
It becomes easier to publish on DTube now
Everyone reading this knows the pain of a new user on STEEM or DTube. A new user being able to try DTube without having to go through the pain of a full upload will increase users retention.
It works with livestreams
We disabled our own livestream feature a while back when we realized associated costs and maintenance required. If you put a YouTube live or Twitch stream link, you can now have it displayed and ranked in DTube.
Ads
Many centralized video platforms offer monetization via advertising services. As DTube is now compatible with these platforms, it indirectly enables our users to monetize their videos with ads if they want to.
Sharing also creates value
While STEEM has originally focused on original content, most likely thanks to the high percentage author rewards in the distribution mechanism. But we want DTube to be a place where anyone can feel welcome and participate, not only video creators.
@dtube will keep voting on original content
@dtube is a powerful account in the ecosystem, and it is our duty to use our stake to influence our users behaviors. We do not want DTube to become a site full of reposts, and we want to reward our real users. This is why our upvotes will keep going on original content, while we observe the changes in behavior associated with the new features.
Introducing a new economy focused on content curation
We are introducing the public testnet of a totally new blockchain codebase in this update. The DTube chain is strongly inspired from STEEM, but is actually a totally new codebase. It's open source and available on GitHub.
The Why
Our experience running a successful Decentralized Application (DApp) on the Steem blockchain and gathering feedbacks from our users gave us valuable insights on the limitations of this technology and on how to improve the current model.
Introducing DTube Coin
In our model, the token (DTC) that generates voting power is fully liquid and tradable, and the Voting Power never caps, even if you go inactive for five days or more!
DTube chain now powers DTube's content discovery
DTube 0.9 requires you to have a DTube account to have your videos listed in any content discovery mechanism (new/hot/trending/search/feed/notifications).
Long story short, we believe STEEM's rankings to be stale and easily manipulable (bidbots, curation guilds, etc).
The whole purpose of this new economy is to have better rankings and overall quality, so keeping the STEEM rankings would make little sense.
That means everyone is reset at 0 subs!
It's a harsh change, but it's easy enough to re-subscribe to your favorite content creators. It makes sense to have a separate subscribe system, you might like someone's blog or memes, but you might dislike his videos.
DTC monetization is instant and infinite
On STEEM, your videos can only generate rewards for 7 days. This discourages creators to go for the long term rewards. Not all video contents are made to become viral, think about documentaries or tutorials. These contents rely on long term monetization to be able to exist.
On DTube chain, monetization of contents is infinite through time, and the DTC rewards associated with a vote are distributed instantly.
100% curation !
The DTC is 100% distributed via "curation rewards". The way these rewards are calculated is slightly different from STEEM, taking into account the popularity of the content before the vote. For example, if @bob upvotes a content now, and @alice has already upvoted this content before. @alice will only earn curation rewards from @bob's vote if her vote was cast when the content was less popular than now.
Forced self-upvote
On DTube chain, you are forced to self-upvote your own content. It will not self-vote on STEEM of course.
You can do a very small vote if you wish, but then you would earn less curation rewards for your content.
You can now spend 100% of your VP in 1 vote
Be careful while using the VP of your DTube account. On your DTube account, you will spend your whole VP in one single vote if you at 100%. If you want a similar experience to steem, we recommend setting the default vote at 2% for your DTube account. If you want to visit DTube less regularly, 5-10% should be good.
New Feature! Voting on tags
Instead of creators having control over the tags of their videos, it's now curators who control them.
If you are logged in with a DTube account, you should discover a new button on the video page.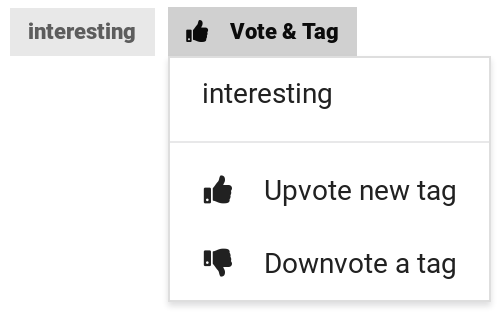 As this tagging feature is associated with your vote, you can only tag once per content.
The original uploader can also choose one tag, but more tags will have to come from different people.
This feature should create a lot of dynamism in the search engine and tags navigation, and create a new way to use voting power 'for good'.
Burn DTC to promote a video
Similarly to STEEM's promote feature, you will be able to burn your DTCs to promote your videos. The amount of burnt DTCs will increase the power of your self-vote, increase the position of your content in the rankings, as well as increase your future curation rewards for this content.
This feature has been tuned down a lot during the testnet, as the DTC is a testnet coin and virtually worthless.
Sending DTCs
You are able to transfer DTCs to any other account, either by going to the channel of the user, or by clicking the 'Gift' icon on any of his videos. Transactions are fully validated once included in a block, about 3 seconds.
Becoming a DTube leader
In the side-menu of DTube you will discover a new 'Leaders' page. This is the equivalent page of the witnesses for STEEM, except these leaders rule the DTube chain. To become a leader, you will need to run a node, and collect enough votes to reach the top X. X is currently set at 7 and will grow as time passes and real leaders show up. If you are interested, feel free to join our discord channel and send us message in the #chain-leaders room.
Get your own account from Steem
You should instantly spot the difference from before, but you can now login with a DTube account.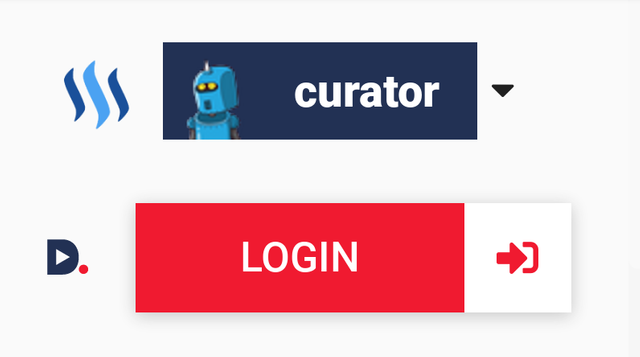 To get a DTube account, you need to:
Login with steem
A message will appear asking you to claim your dtube account
Do the 3-step procedure
You will get 100 DTC
The DTC is the DTube Testnet Coin. Holding more of it increases your voting power and influence in the network. However there is no need to 'power it up'. We want everyone to be able to try our new economy during this public testnet, so everyone can get 100 DTC by doing the claim procedure and start generating voting power.
The search engine comes back
Since the shutdown of AskSteem.com, our search engine for DTube has basically been down. This meant that tag navigation, the related videos, and the search were all completly broken.
Starting from today, all contents posted on dtube chain will be included in our self-hosted elastic search engine. It should also work better and give out better results than before (especially for tag navigation).
What about STEEM then?
If you stopped reading the article here, you'd probably think DTube is doing a 'LINO'... We could have, but nope.
Interoperability
DTube 0.9 is compatible with both chains. As you publish a video, a vote, or comment, your action will be posted on both chains. The only removed part from steem is the content discovery.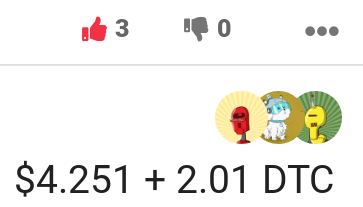 You will earn both STEEM and DTC in parallel and your video will still show up on all other STEEM UIs as usual. You will also keep earning author rewards of course!
This is a unique feature for our DApp. Most other DApps seem to focus on using a single blockchain and a single model. The future is a multitude of blockchains (or other techs) with different features and properties, combined elegantly into powerful UIs.
STEEM brings in a lot of features (much more than dtube's new chain). And we need some of them, such as author rewards, a semi-stable coin, the staking mechanism, etc...
Empowering Steem-Engine tokens with ScotTube
A preview of what is to come very soon is available in the top-right menu. If you are a member of the PAL community, you can try using DTube with the PAL token. This will serve as a quick beta of this feature, the real pal-tube website will follow, as well as details on how to get a scot-tube with your own token for your own community. This mean you can not only earn STEEM and DTC with DTube 0.9, but also any steem-engine token with proof-of-brain distribution.
Steem Onboarding is limited up to 31st July 2019
The DTube chain is reserved and limited to Steemians until this fixed date. Until this date, only the @dtube account will be able to create accounts, in order to prevent malicious users from stealing popular steemian's names and impersonating them.
After the 31/07/2019, anyone will be able to create a DTube account for someone else by burning some DTCs, directly from the DTube UI.
This is why you absolutely need to claim your DTube username now, while no one else can, otherwise you risk losing your username and channel.
Deprecations
We are deprecating SteemConnect login, we recommend using private posting key or the keychain extension instead. We are also deprecating DTalk (the private message feature) and the live streaming feature. These experiments brought us valuable information on what needs to be done to make these features possible in the future. They are likely to come back in a different fashion sooner than later.
The road to mainnet (DTube 1.0)
Our team has redacted a complete whitepaper with every single detail you could ever need. If you think this article is a bit too light, feel free to read the full thing here
Another blog article will follow in the upcoming week. Explaining the complete details for the DTC token generation event.
We expect this update to come with it's share of bugs or annoyances. Please report any bug or suggestion, either in the comments or on our discord server.
As mentioned previously, 0.9 is a public testnet for DTube's chain. We estimate this period to last for about 1 to 2 months total, depending on how it goes. This is a unique chance for you to be able to try a new crypto game before the DTube Coin becomes tradable on markets, seize it!
---
Discord
GitHub
Twitter
Telegram (new)