What is dlike?
A decentralized social media platform where people share what they like with their friends and family.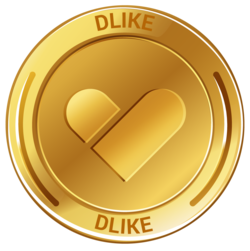 How dlike is different form other social media platforms?
Dlike is built on steem blockchain to give users more secure and personalized environment in their social life. Dlike rewards the efforts of its users to do "proof of brain".
Dlike developments and future plans
Dlike is continuously improving its platform to give its users more secure and easy to use platform. Introducing dlike browser extension and smartphone apps is some of these efforts. Dlike will be implementing IPFS and will allow video sharing for its users in further developments. 
What are dlike tokens?
Being one of the social media platforms based on blockchain, dlike is introducing its own ecosystem based tokens which will serve to ensure better social economy. We see dlike as a tool for users which gives them same features they are enjoying on other social media platforms but without getting any reward for their efforts. This is where dlike economy comes into play by empowering the concept of decentralization.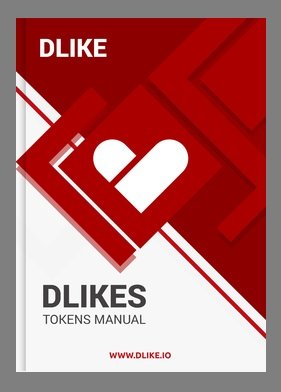 How dlike ecosystem will work?
Dlike tokens are made to be built on SMT platform. As no ETA is yet provided by STEEM Inc for the launch of SMTs so we will be launching our token on ERC20 for the time being. With our ERC20 based tokens, users will get 1:1 ratio of their tokens as we move on to SMT-based dlike tokens (once SMT goes live).
What are total number of dlike tokens available and its economic allocation?
Total number of available dlike tokens will be 800M. Out of these 50% (400M) will be air-dropped as per given manual in 1. Remaining 400M will be divided into 2 parts. 250M tokens will be given through private sales and 150M tokens will be reserved for company.
Off-chain wallet 
As a first step towards dlike tokens, we have already launched  off-chain wallet for our users where they will receive all tokens earned through activities on dlike platform and airdrops of bounty programs. Once our Ether wallet is ready, you will be able to transfer all reserved tokens to your Ether wallet. 
Below are details of dlike tokens distribution.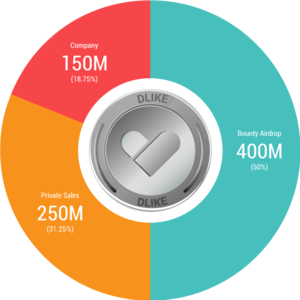 1. Airdrops
Out of total 400M tokens will be air-dropped as per the manual given below
1.1 80M Token for Steemains.
Dlike will be doing an airdrop for all steemians who have SP with a ratio of 1:1. These tokens will be served on first come first get basis until all 80M tokens are claimed by steemians.
1.2:  80M Tokens for Delegators
Dlike will be rewarding all sponsors who delegate their steem power to dlike. SP delegation program has already started and from the announcement of this official token manual we will be distributing 10K daily (70k weekly) tokens among all delegators according to their share  in total SP delegated. This number of 10k daily tokens will be increased gradually as we get more SP with a maximum distribution cap of 100k per day. This token distribution will be done on weekly basis.
1.3:  100M Tokens for Commenting and Posting
Dlike is reserving highest number of tokens for dlikers. These 100M tokens will be rewarded to users of dlike for doing actions on dlike platform. Most part of these tokens (65%) will go as commenting reward and (35%) as posting reward. This is our dedication and commitment to ensure more proof of brain on steem blockchain through our social media app. These rewards will be distributed on daily basis for all the approved comments and posts (moderators and curators check all the activities to ensure no spamming or ill-use of platform is done).
1.4) 40M Tokens for Upvoting
Dlike will be rewarding users for upvoting posts on dlike platform. This includes all curation trails as well. Users will be getting rewarded as per their voting power (100% vote gets more value) not the voting value. We will be counting total votes made by users and the VP at which vote made, proportional to total pending payout of all posts on dlike  for the day will give the amount of tokens a user gets. This distribution is still in development and will be started soon. 
1.5)  35M Tokens for Dlike Promotional Program
This will be a bounty airdrop to get dlike exposure on internet globally. We will be rewarding users to promote dlike on social media, writing blog posts, making promotional videos, posting in forums, writing in journals and any such activity that dlike team feels is a solid promotion for its platform will be rewarded with tokens. This promotional plan also include dlike promotion on discussion channels. Reward value for these efforts will entirely depend on dlike team to see how much worth the promotion was.
1.6: 30M Tokens for dlike team
Dlike is working with a very strong moderation and curation team which is responsible for all good work on the platform. Without these humans we can not ensure quality of actions on our platform. These awesome people include moderators, curators, coders, designers, advisors, ambassadors, social media experts and guardians. Dlike has reserved 30M tokens for its team members to acknowledge their efforts.
1.7 20M Tokens for dRanks and Dlike Contests
Dlike has introduced dRanks system on its platform where users win for doing actions and taking part in contests specifically made for specific days and social occasions. Users can enjoy these tokens by taking part in these activities.
1.8 15M Tokens for Dlike Partnership Programs
Dlike is always open for partnership with any opportunity that comes on steem blockchain or out of steem blockchain to make dlike a better social media entity. For this 15M dlike tokens have been reserved.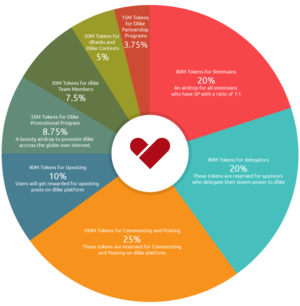 2. Ownership Program
400M dlike tokens are reserved for dlike ownership as per given manual
2.1  250M Tokens for Private Sale
Dlike will not be doing any ICO so 250M tokens are reserved for private sales.
2.2  150M Token for Company
150M tokens are reserved for dlike company.
Conclusion
Any user can participate in multiple programs as there is no limit on how many number of tokens each user can earn. Burning excessive tokens in any of the above given category at the time of SMT launch will be entirely decided by dlike community with majority consensus. Our first priority will be to have SMT based tokens but in case SMTs are delayed or cancelled our tokens will remain on Ethereum platform or if dlike team management decides we will go to EOS platform. In this case of shifting between platforms, all tokens will be swapped accordingly. 
You can delegate your steem power to @dlike by clicking the delegation options below: 

Follow @dlike for all future updates!
Join our Discord channel for feedback & questions.
Web: dlike.io