Deegram dev update 003, the past and the present, changes and features coming to the alpha
Greetings Steem!
We hope you are all doing well, and to those on the alpha of Deegram, we are very thankful for your participation. Some of this post was already covered in our dev update
, but there are some fresh news on development in this post.
A summary of the past few months
Legal battle
As mentioned before, Instagram LLC came knocking on our door with a cease & desist letter last fall. We trademarked our name with patent authorities, and Instagram's response was to sic their lawyers on us. Long story short we said no, and told them that we respect the decision by the patent authorities to grant us our trademark. Instagram took the case further, and their grounds are primarily that "you are a social network, you have the word 'Gram' in your name, this means people will confuse Deegram for Instagram". Our grounds are that Gram is a generic word you can't contain the rights for, as the word itself is a measurement of weight, and is in our case a shortened word for 'telegram'.
Half a year later there's been several rounds back and forth, and the Norwegian patent authorities are now making a final verdict.
This took time and resources, but we are not going to ask "how high?" when Instagram asks us to jump.
Regulations
GDPR and the recent "Article 13" are both examples of regulatory initiatives that will affect not only Deegram, but all DAPPs and social networks. Whether one agrees with the regulations grounds or measures, it's still important to be in compliance while they are in effect. These have and will continue to affect system design and development, while also requiring customization of privacy policies and ToS-agreements.
Alpha status update
But enough about the challenges in the past. Time for some news!
The alpha is rolling, see our last development update here
.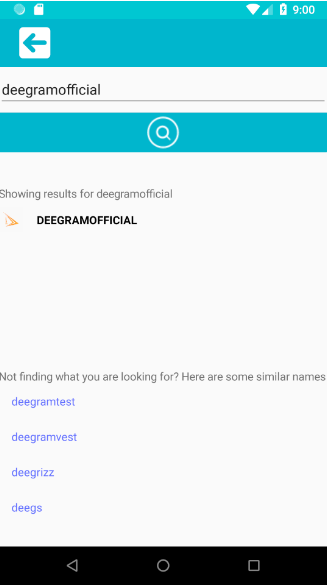 Right now we are internally testing the next build of Deegram, and will launch this to the alpha test group soon.
Thanks to good feedback we have been able to fix some bugs and instabilities, and added some new features in this build:
User search (test module)

Navigation from results to profiles
Suggested search/similar usernames

Followers

You can now see followers by clicking on followers on profiles
Can navigate to profiles from the followers list

Following
Full post view

Posts now have a "read more" option to open the full description body of posts, friendlier towards blog-style posts and posts from other DAPPs

Double-tap to like

Can now double-tap posts to upvote/unvote, with a simple animation appearing

Other minor UX improvements

Loading/spinner icons for voting, navigation to profiles, etc.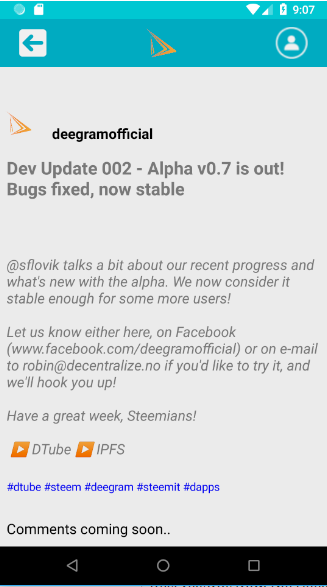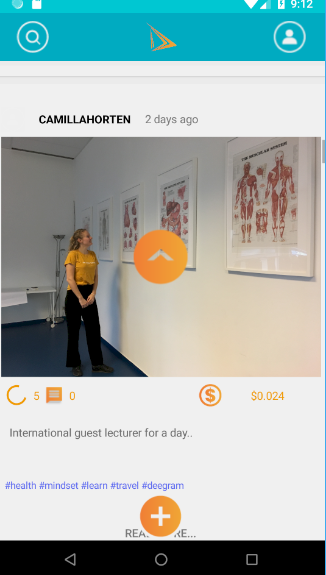 The next features
While testing this build internally we are now starting to work on the next iteration and new features. Some of the plans we have here are:
Seeing comments on posts
Commenting on posts
A simple wallet view to show account balance
Profile settings
Thank you, any suggestions?
Thank you for reading our update, and we appreciate you took the time. Are there any features or functionality you would like to see in Deegram? Or would you like to participate in the closed alpha? Let us know in the comments, and we will get you set up!
Have a great weekend everyone, and we will let you know when the changes are live!
Best regards from the Deegram team.