Steem To The Moon – But Not The Way We Wanted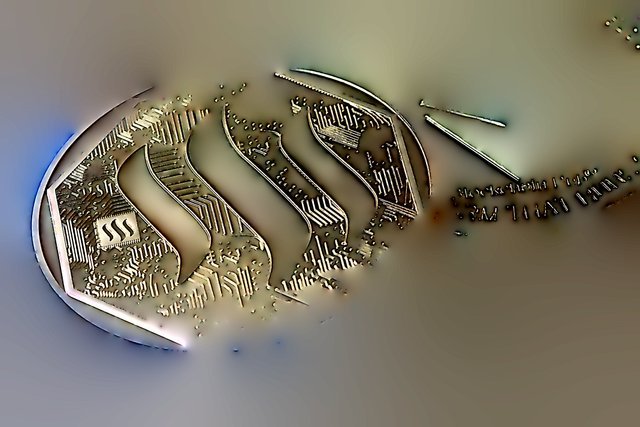 Steem price flew to the Moon. But not in USD or euro terms, no. The price of Bitcoin in Steem, historically below 10,000 – often below 5,000 – jumped this year first to 20,000, then, this week, to 30,000. That means, if you sell a bitcoin for Steem, you get more than 30,000 Steem for it.
I made the wrong call
In Ether terms, more than 400-450 Steem for an Ether was already near extreme in the past. I called "selling Ether for Steem" by approximately 550 Steem/Ether before. I was wrong, now it is more than 800. I'm not sure if I want to buy more. I have too much exposure to this inflationary coin already.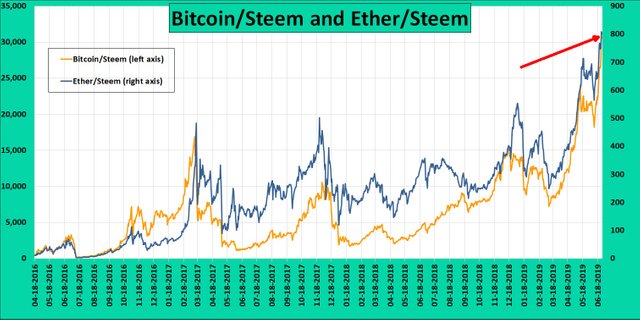 (Click here for higher resolution)
With 50,000 Steem, you are an "orca", not a whale, but the second most important category in the Steem hierarchy. Although, I'm not sure why would you want to do that now. Nobody knows how the planned hard fork (HF21) will end.
Downvote wars?
Maybe the Steem world will sin in chaos and anarchy, for example in downvote-wars. Whales leaving the system, powering down and pushing the price deep to the ground. Changes are always risky, and stock exchanges don't like risks. That can be a reason why Steem is losing value compared with Bitcoin. But that is not the whole story.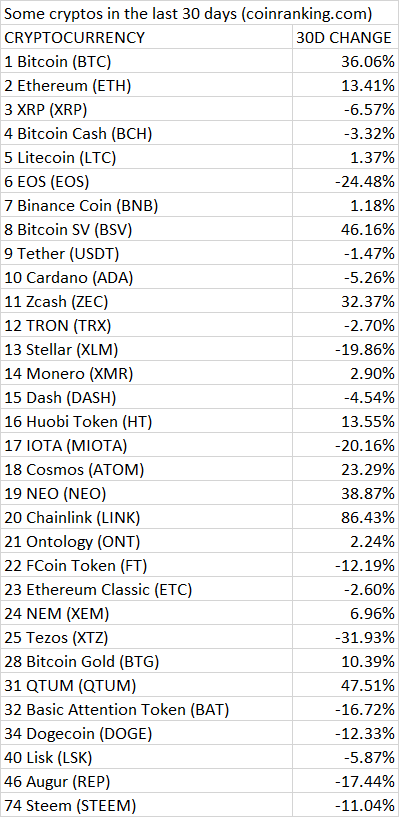 If you look for more data you see the actual Bitcoin price explosion didn't reach most other cryptocurrencies. Or, I would say, it seems to be absolutely random which ones participated in the price jumps, and which not. Bitcoin is not the only one which skyrocketed but many others were only stagnating or falling in the last 30 days. (See the table.)
Any logic?
I am unable to find out if there is any logic behind it if any. The smart contract-oriented cryptos? The larger ones? The newer ones? The Asiatic ones? Nothing seems to be clear.
Bitcoin is the best-known cryptocurrency, Bitcoin's system can be very reliable because of the technology (proof of work). Bitcoin is a good start for newcomers and a relatively safe choice for institutional, or greater investors.
In the crypto bull market before, Bitcoin began the run and altcoins followed. The alts left the leader behind, surging mostly much more than Bitcoin. This time, the second stage is missing.
(Photo: Own work)