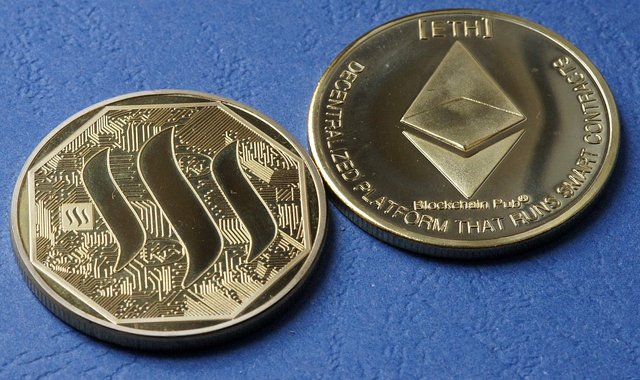 BTC/Steem: 20 000 – Steem Halving Is Here…
Some people are calculating Steem price in dollars and cents, some in satoshis (the fraction of Bitcoin). In satoshis, it looks better*… But we can calculate however we want, Steem price is nearing the December lows of 21-22 cents. Sad, because Bitcoin is surging nice. It reached 6300 USD today morning, by the Coindesk price index.
The sad reality
But Steem keeps falling in last days, too. I like to watch the Bitcoin/Steem price, the reciprocal value of the more common Steem/Bitcoin, and this price crossed 20,000 yesterday. (As Steem fell below 0,3 USD, and Bitcoin jumped over 6,000.) Bitcoin/Steem was never so high. At the last all-time high, in March 2017, when Steem fell to all-time lows near 0.07 USD, you could buy only 16,900 Steem for one Bitcoin. At the time of writing, you receive 20 800 Steem for every piece of Bitcoin.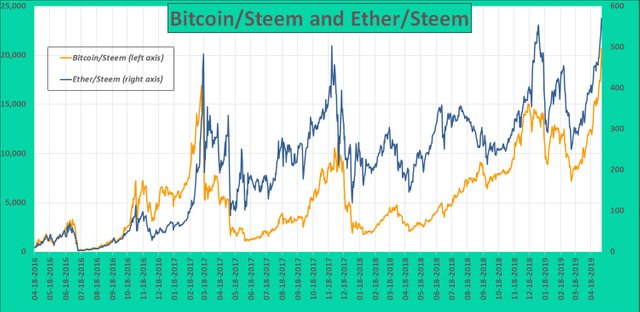 (Click chart for higher resolution. IPFS hash)
Ether/Steem showed three high spikes in the past, with prices near 500, or over 500 Steem for one Ether: in March 2017, in November 2017 and the first days of January 2019. But the actual price is also an all-time high here, you get 570 Steem for every Ether today morning.
Mea culpa?
"So, if you ever reconsidered to exchange some Bitcoins to Steem, this may be a good moment" – I wrote 22 days ago, the April 18th. It wasn't. If you changed Bitcoin or Ether to Steem you lost a lot of money. The Steem value in Bitcoin terms is less than half of what it was two months ago, in March.
But look at the chart again. After every similar big spike in BTC/STEEM or ETH/STEEM, came a big recovery. (After the highs, came big falls, which means, in this case, the value of Steem jumped measuring in Ether or Bitcoin.) If history repeats itself and you change Bitcoin or Ether to Steem now, it is very probable that you will gain.
The right time is now
But not sure. I failed with my prediction last time. But I insist, I think the time came NOW. I will change at least one Ether to Steem today. If Steem falls more in the next days or weeks, maybe I will touch my "family gold reserve", and I exchange some Bitcoin, too.
Update
I did it, some hours later. I received 552 Steem for one Ether. The margin of Blocktrades was aproximatelly 2.8 percent, quite a lot, but I had no time to struggle with the crypto-exchanges.


(*One satoshi is 0.000,000,01 Bitcoin, or 1/ 100,000,000, or "one hundred-millionth" part of a Bitcoin. One Steem is 0,00004808 BTC today, so 1 Steem is: 4808 satoshi.)(More units here.)
(Photo: Own work)