Steem Technical Analysis 16 September 2018.
Dear followers, in the previous posts I just write technical analysis on Bitcoin and Ripple. One of my friend @gungunkrishu ask for steem analysis. So specially for gungunkrishu and for all steemit community Technical analysis on steem is present.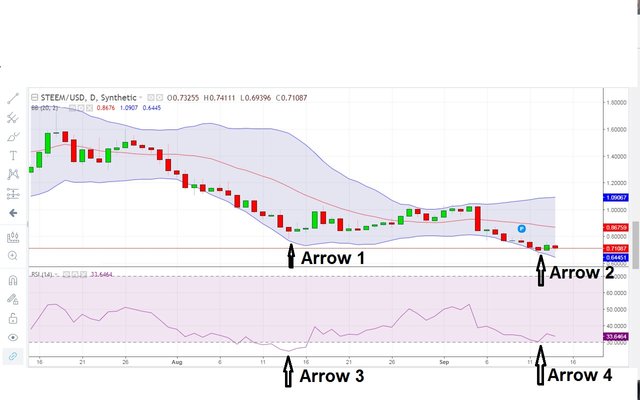 Dear friends, look at the chart. One good news is steem is not currently in strong downtrend. So all steemit community should not worry about it.
Look at Arrow 1 when last time price was near at Arrow 1. At that time Relative strength index indicator was at below 30 ( look at Arrow 3) which was indicating that steem coin is in downtrend. It means price will not reverse from this point. So same thing happened. Price goes up and then turned down again.
Now look at Arrow 2 when price reach at the point of Arrow 2, now keep an eye on the Arrow 1 it is the same price. But at this time Relative Strength index did not cross below 30. You can check Relative Strength index indicator at Arrow 4. It just touches the 30 line and turned back. It is the indication that Price is not in downtrend which is the good news for all steemit community.
Now main question is What will happen next.
Dear followers sorry to say that price did not show Reversal Pattern here. So in the next many days price will not bounce back sharply.
Second option from here is price will change itself from downtrend to sidewave trend. So wait for the sidewave trend then I will be update you again.
Follow me @cryptoexpert79 for more technical analysis of cryptocurrencies and much more.
https://steemit.com/cryptocurrency/@cryptoexpert79/ripple-analysis-best-time-to-buy-hurry-up
https://steemit.com/cryptocurrency/@cryptoexpert79/bitcoin-analysis-5-september-2018