Community advertising campaign: Week 1 - Let's explode old social networks.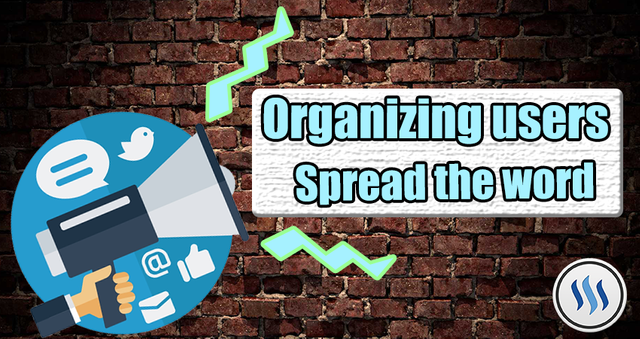 ---
With all its activity, development, creativity and immense community it is inconceivable that Steem will remain in the underworld.
Lack of a collective goal. Our network remains isolated. There is an immense mass of workers and content creators. But all are immersed in projects that remain within Steem's sphere.
Analogue social networks fall under their own weight, obsolete. Steem does not take its rightful place and it is our fault. Social networks should be plagued with material related to Steem. We have the designers, we have the programmers and we have thousands of committed and active users. We have many valuable brains.

Is it too much to ask that eventually the world talk about Steem?
I want to ask you for 5 minutes of your week. Only once a week.
It is free advertising and would show the world that we are a strong, solid and organized community. If every week we were a global trend. The positive impact on the steem prince, the increase in users, the new investors...
Everything to gain and nothing to lose. The investment to achieve this goal is insignificant. A few minutes to put an image with a phrase previously thought between everyone.
And that' s it.
---

---
But on the other hand, it would be ideal also to have paid campaigns, although I would not know the legal implications of the last one. Not to mention that money always has to come from somewhere.
---
But for doing this
We don't need RC
We don't need SP
We don't need to edit Markdown
We just need to get organized.
Twitter, Facebook, YouTube, Reddit, Pinterest, Instagram EVERYWHERE! In unison.
Several voices, one word, ringing all over the world.
---
---
Let's overthrow this idiotic corporate monopoly. Let's play in enemy territory. We have a fantastic product. We can monetize our leisure time in a social network.
Projects like musing.io - steepshot.io - Share2Steem - drugwars.io can be pillars for our advertising.
Steem doesn't deserve to write a Twitt?
Doesn't he deserve a picture in instagram?
Ideas are welcome. Any kind of support of the communities also, not economic, but for the diffusion of this post.
Tomorrow I will be posting the "Phase 1 - Twitter".
It consists of images in Spanish and English (translators needed for more languages), images adjusted to the size of twitter, with the text to be copied into the twit. Needless to say, there are no rules, you can make your own images and attach them to the comments to insert them in the next post and enlarge our promotional tools.
This would be the image that I propose that we use, I don't know if anyone would like to improve it.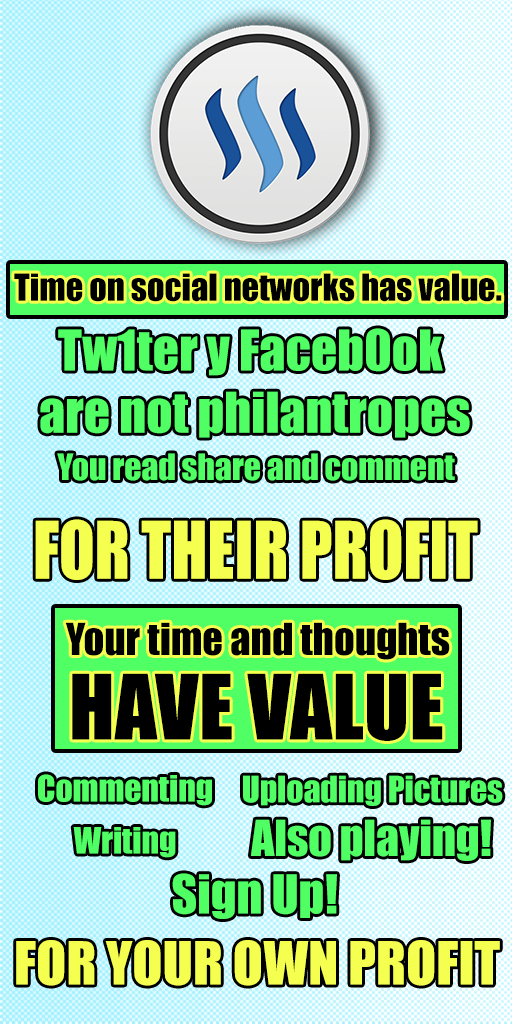 Do not worry about the size, I know it seems strange but the image has the ideal size for twitter. It would look exactly like this.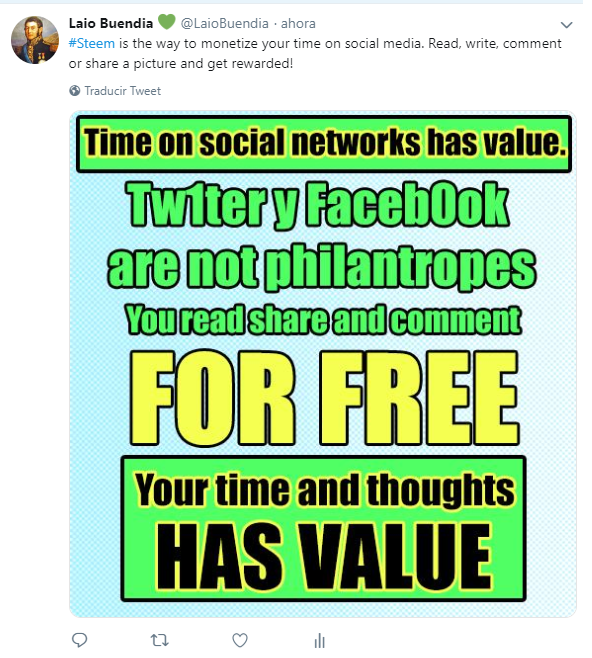 Screenshot from my own twitter.
I'm open to suggestions on how to monetize the initiative, I'm open to donate the profits in SBD from tomorrow's post among those who participate in this! I just doubt that it will be enough and I don't have SP amounts to promise anything in return.
But if we make Steem grow, it's an investment in the future. And much more valuable than a handful of SBD!
Let me know on your comments what do you think and if you want to participate! Let this viral! Feel free to comment and resteem my post to reach more people!
Update Operation Trending Announcement