Steem Is Done, Dan And Ned Don't Cooperate, This Is What Traders Think
Hello steemit, 
Steem is loosing value since weeks, from more than 3.00 USD to less than 0.96 USD, is steem going to die, are whales don't care about steem value, will steemit survive if steem loose value, is steem going to be like Qora, is that a trick to make people investing in steem power? A lot of questions need answers.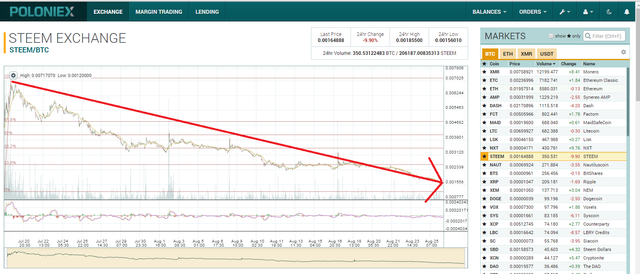 Steem is done, Dan and Ned Don't Cooperate:
This what traders think about steem due this value lost of steem, is that true?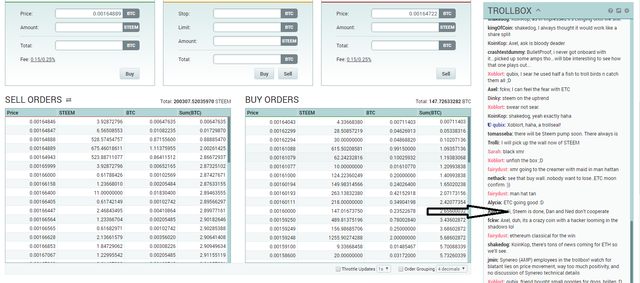 No it's not because all coins developers and owners try to save their coins and make it valuable, more value means more money and more respect but most of traders stop buying steem, yesterday the buy wall was more than 200 Bitcoin waiting to buy steem, by the end of the day it hit 50 Bitcoin means people are afraid to buy when they see miners selling steem like crazy and people who have buy steem panic and sell also their coins.
Yesterday I saw also some one buying steem at 178k satoshis with ~ 68 bitcoin, is he a whale trying to save steem, is he a trader is buying at the bottom? I don't know really but I believe he save steem to go under 1 usd yesterday or worst.
Losing value is very bad for the future of steem and specially steemit because people panic easily and they don't loose money so some one need to act to make steem more valuable, there is many solutions to save steem for example:
Ask whales to invest more in steem power.
Ask whales to not sell coins for the moment.
Stop mining steem for couple weeks.
Buy more steem and hide it from the market.
Make steem difficulty mining more high.
Is steem going to die:
No of course not because even steem loose value, it's bad time for steem right now that's true but it will never die, here is some reasons:
Steem meetups: when people heard about coin meetup means there is developers and owners working behind, the coin get more trust and means this coin is growing up.
Steemit: there is a lot of people who are trying to make steemit successful and valuable means the coin will be known, popular and get more buyers.
 Steem power: people who are invest in steem power can't take back all coins immediately they need 2 years to get back the coins so they can't dump steem, the system is smart
After the dump there is always a pump: all coins without any exception has good and bad times, look at this: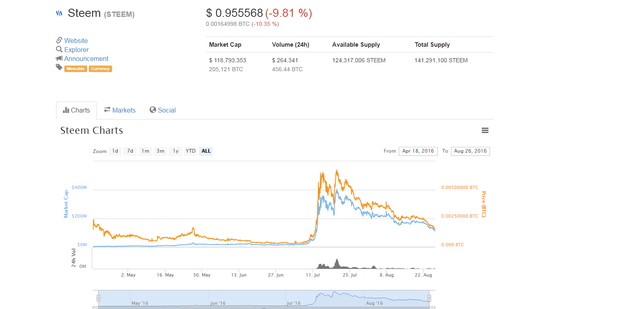 There is always up and down it happen to all coins not only to steem and whales will never make steem die because they will loose a lot of money so nothing to afraid it just need time.
Will steemit survive if steem loose value:
Steemit is a social network paying authors for posts in steem and SBD, that true they are related but steemit will never die and it will survive even steem lost value in the market, bloggers care about articles and posts, traders and miners care about prices it's completely different but owners and developers care about both steemit and coins and they are doing what they can to make this project success.
Steem must have more traders:
Steem need more ads, more good news and more work to have the trust of traders, when steem was added to Poloniex the value go up like crazy and most of traders are trading steem on Polo, here is the proof: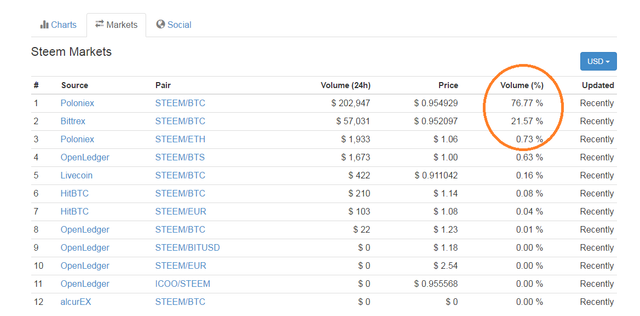 more than 75% of volume is only on Poloniex, that why steem must be advertised more with new and innovation ideas, if steem go famous the value will be multiplied of course, I will try to make banners in my next post to advertise steem and steemit for people who want to advertise on their blogs and other social networks.
Hope this post was valuable and thank you so much for reading.