Easy steeming for 55 million blog posts per month
A project enabling friction-free steemit rewards for the blogosphere
With over 409 million people viewing 55.8 million new posts each month using WordPress alone, providing a simple, friction-free method for these bloggers and their readers to receive steemit payouts could lead to viral exposure and use of steemit.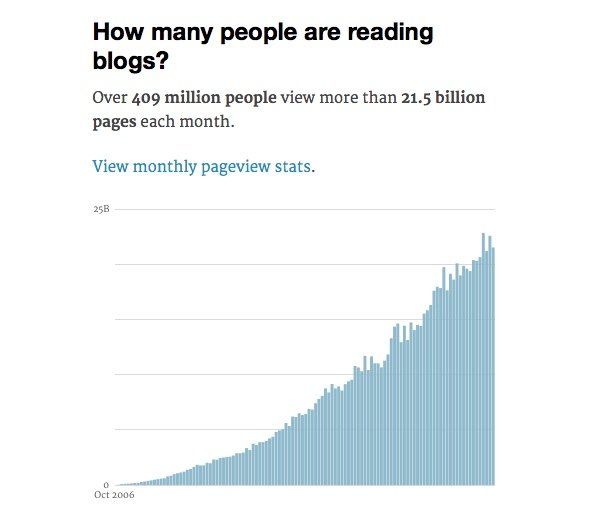 Source: https://wordpress.com/activity/
Continuing from my previous post reducing-friction-for-critical-mass-adoption-of-steemit, I'd like to introduce a new witness sponsored project that aims to do exactly this.
Instead of asking well-established bloggers and sites to abandon their investment in their current blogging platform and take a leap-of-faith jump to steemit, SteemFeeder aims to make it easy for bloggers to automatically replicate their original content on steemit and start receiving payout rewards will very little effort.
Introducing SteemFeeder - "Feeding Steemit the worlds content"
SteemFeeder will leverage a mostly overlooked feature that most content sites and blogs such as WordPress provide – RSS web log feeds.

Using these feeds, the SteemFeeder platform will automatically post new blog content on Steemit whenever a new post is created on the bloggers native blogging platform.
As the blogger or site starts to recieve steemit payout rewards, it's likely the blogger will encourage their readers to use steemit to up-vote their content to increase the bloggers payouts.
Their readers will then discover steemit and soon realize the benefits that they themselves can receive as authors and curators.
The rest they say, could be viral history!
Your Call to Action
If you believe this project could make a real impact for steemit adoption here is how you can help:
Share the sites with RSS feeds that you would like to be able to consume and support on steemit.
Reach out if you or someone you know has the right blend of skills to help develop for this project.
Share you comments and ideas on improving the project or it's effectiveness
Up-Vote this post to help fund and accelerate development of the project.
Below is the plan on how I intend to break the project into three distinct development phases, each of which will deliver incremental value to the steemit platform and community.
Development, platform infrastructure and ongoing maintenance and operations costs for SteemFeeder will be funded from witness au1nethyb1's block producing proceeds.
Regular project progress reporting will be provided as part of my responsibilities of running the steemit witness au1nethyb1.
SteemFeeder Project Development Plan
Phase I – SteemFeeder Backend development
The aim is to develop the functional backend platform that enables a pre-set list of feeds being published on steemit with rewards being attributed to a single pre-created steemfeeder blog/site account. Focus is on feed monitoring/management and then translation and publishing to the steem blockchain.
Success in this phase would allow steemians to say which general public sites syndicated content they would like to see in steemit. i.e. CNN, CoinDesk, AnandTech, ZeroHedge etc.
Phase II – Reward Attribution for Content Owners
The focus in Phase II is to develop the framework and supporting code which will support and allow bloggers to setup/link their own steemit accounts to receive attribution for author payouts for their published blog feeds.
Success in this phase would allow early steemit bloggers such as recently introduced MummyImperfect to provide feedback and refinement of the platform.
Phase III – SteemFeeder front-end development with public signups
This phase is where it all comes together in a public facing web-front-end making it very easy for bloggers and content sites to feed their content to steemit and start receiving rewards!