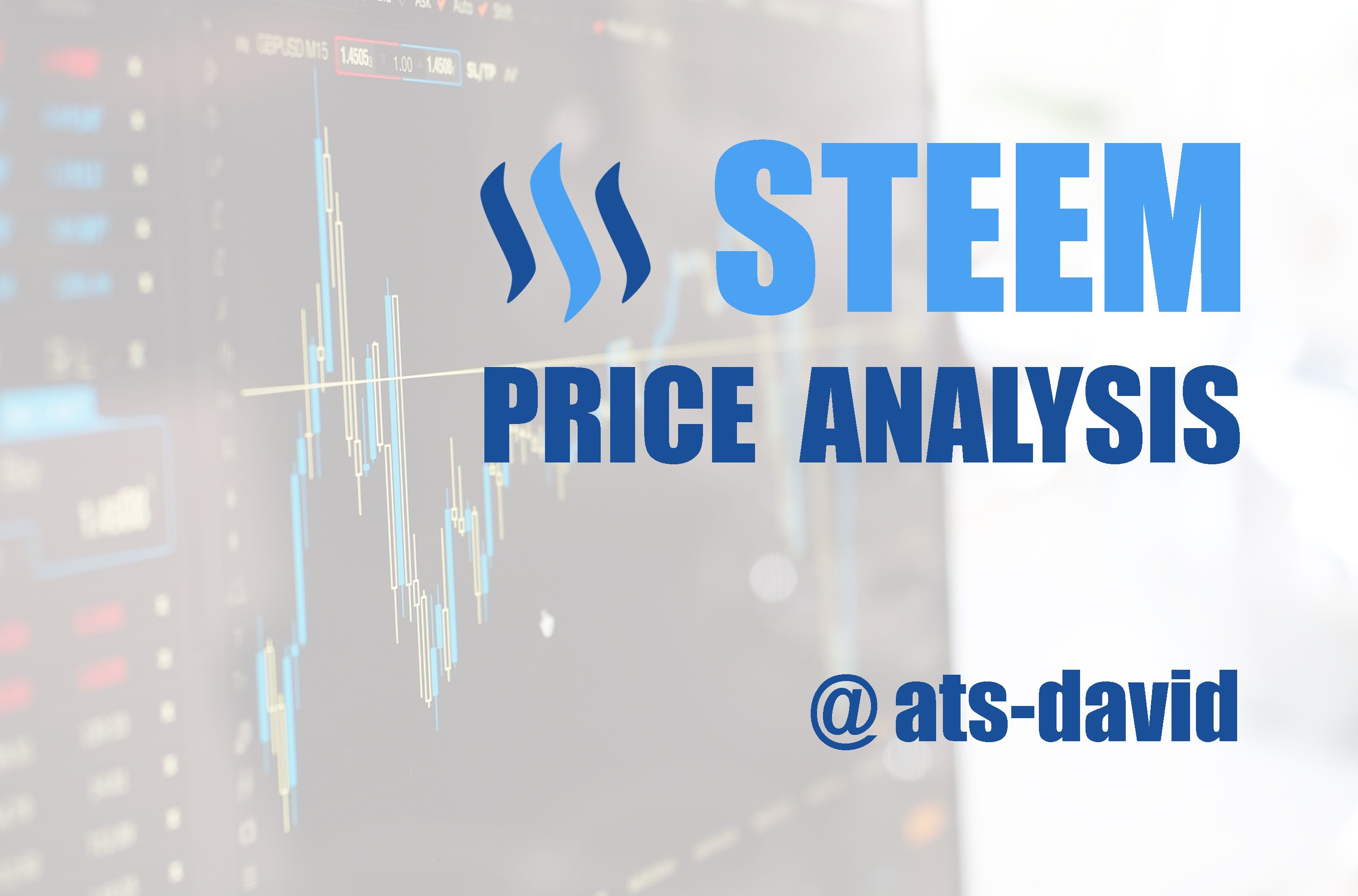 The STEEM-BTC price looks like it is content with being range-bound for now.
In my previous analysis post, I identified several different price targets for STEEM-Bitcoin. Based on the charts at the time, I believed that the price might break below the 40K satoshi line and head down for what would likely be a quick bounce off of 37K satoshis. That didn't happen, but it did do what I thought the other possible scenario was:
If the price can clear 43K satoshis, then that would be a good indication that the STEEM-BTC price is building strength at current prices and may end up range-bound for the near-term.
Once the price broke the downtrend line from ~58K satoshis, it made a strong run from 43K to 52-53K, then up to 57-58K. But there are several things that we need to consider now, so let's take a look at the charts and identify our current targets and possibilities.
First of all, we need to remember that the STEEM-BTC price is currently in an uptrend on a longer time frame that dates back to mid-March. So long-term, the price is still bullish and will remain in a long-term uptrend unless the price crashes below 22K satoshis (red line). The short-term uptrend line (blue) was previously breached in the last 24 hours (the chart below reflects the new line), but it shouldn't be too much of a concern as long as the price doesn't fall below those lows at 42K satoshis.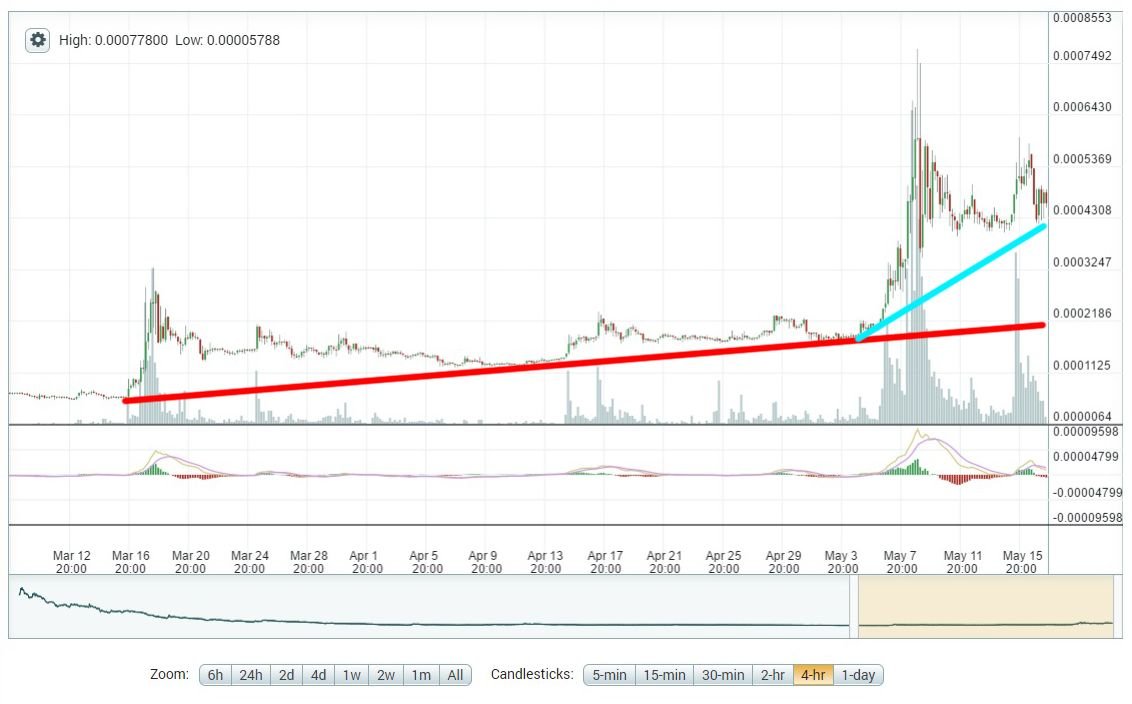 Here we can see the uptrend line (red) and the break right around 43-44K. The blue line shows a double-top around 58K satoshis, which usually indicates a trend reversal, as we see on the chart. Please note that this double-top was contained within the short-term range, so the reversal does not affect the long-term uptrend. We were looking at 58K as the top of a likely range in the short- to mid-term, so this shouldn't be surprising.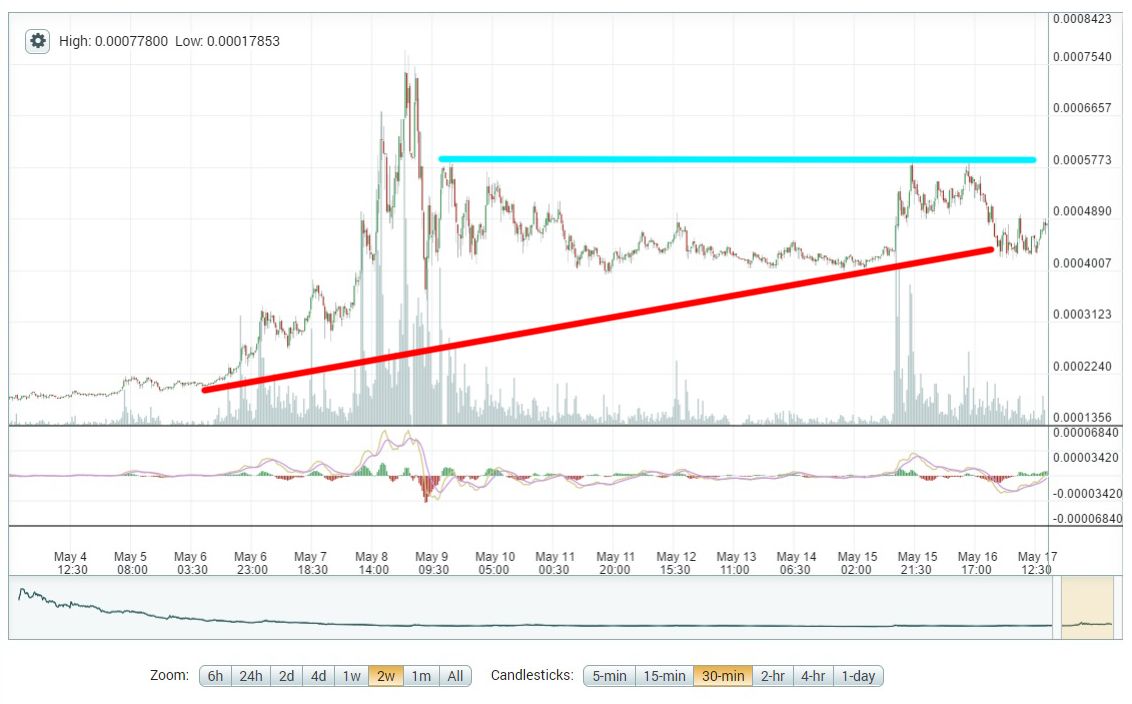 What is the range?
This is my interpretation of the charts and what I believe the price may likely do in the short-term.
The blue line is the top of the STEEM-BTC range at ~58K satoshis.
The red line is the bottom of the range at ~43K satoshis.
If the price were to fall through the red line, it could be caught at the black line, which is ~40K satoshis.
A breach of the black line could send the price to the orange line at ~37K satoshis. At this price, there is only a small amount of support, so you would need to be very cautious about making any trades there. A break below the orange line would likely send the price down to 30-33K satoshis.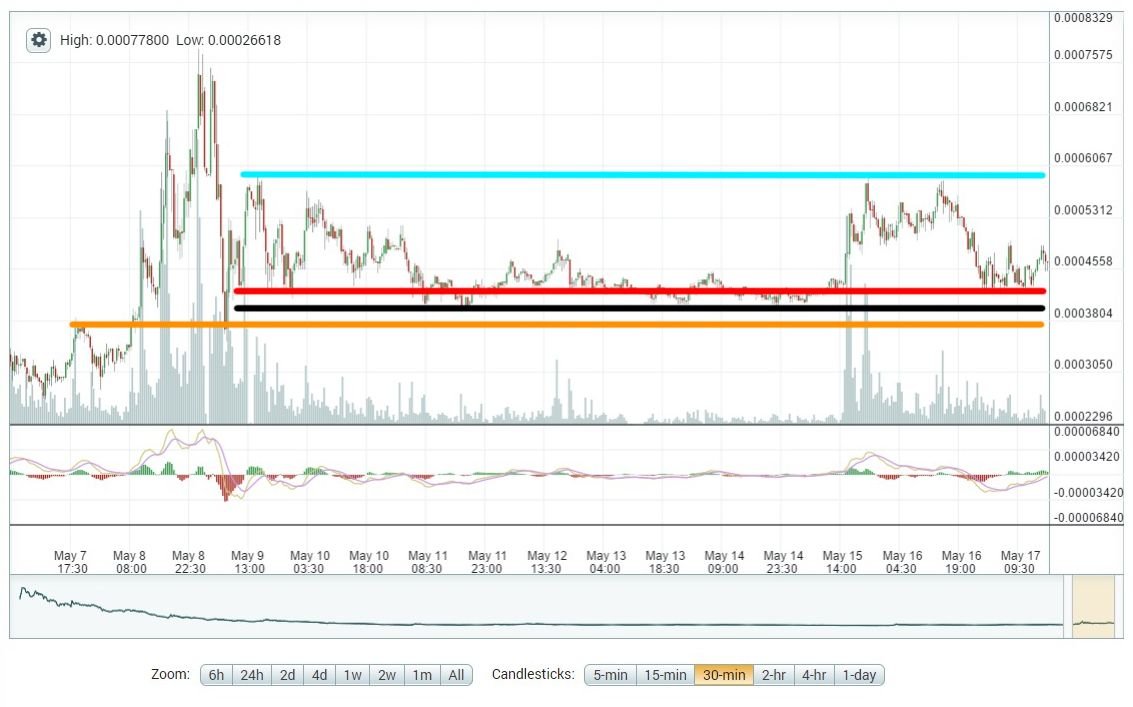 Other notes
Coinmarketcap.com has the current STEEM-U.S. Dollar price at just under $0.84, which indicates the strength of the current Bitcoin rally.
Power down statistics for Steem stakeholders is looking good for this week, with essentially no new power downs scheduled.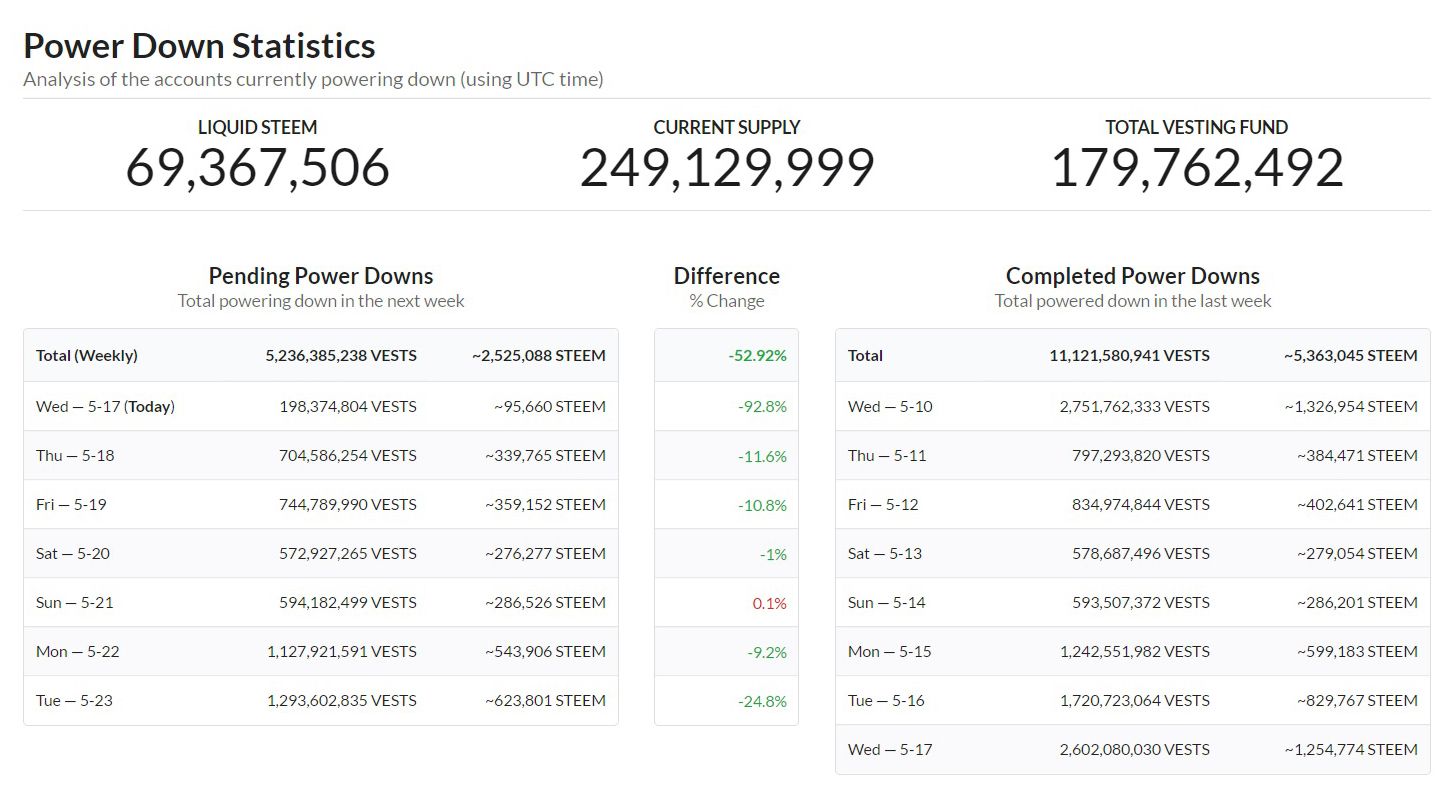 ---
Trading the range
This is for more experienced traders and those who have a higher appetite for risk. If you are neither of those, then you may want to skip this section.
If I were to trade this market, I would use the following strategy as a guideline.
The red line in the chart below represents 42-43K satoshis and the blue line is 57-58K satoshis. Between the black lines is the No-Trade Zone. I would not buy above 47-48K and I would not sell below 52-53K.
As the STEEM-BTC price trades below the 47K line, I would start putting in my buy orders. If the price trades above the 53K line, I would put in my sell orders. As long as the 42K low or 58K high is not breached, I would repeat this process.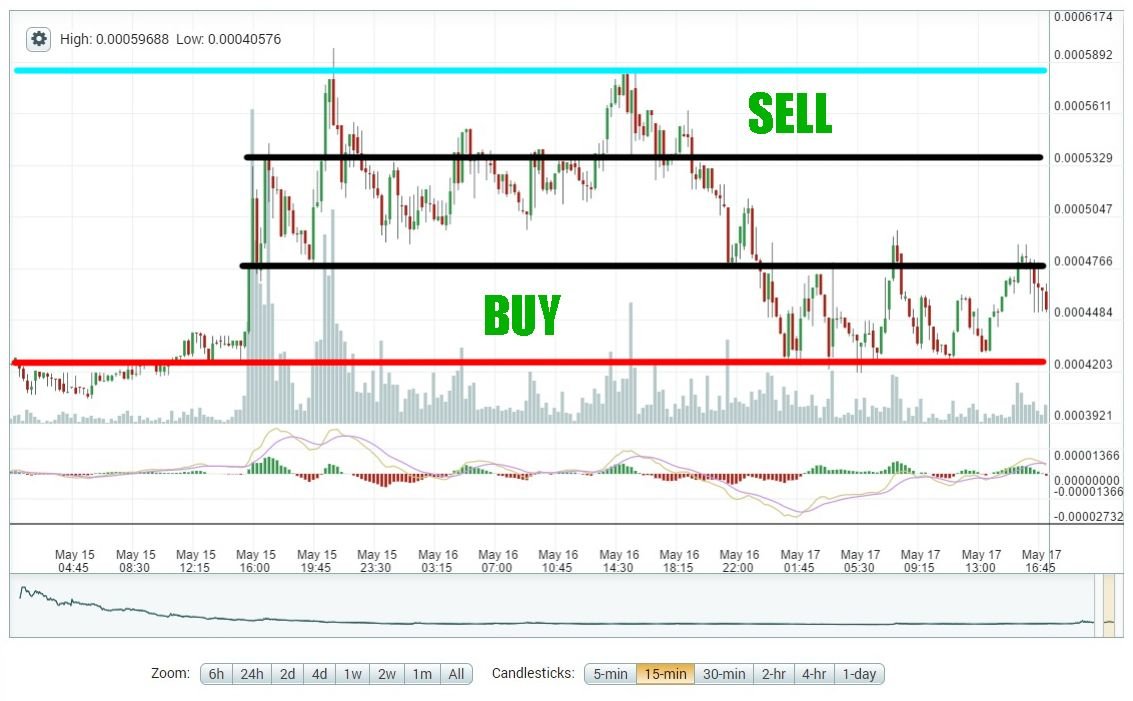 Each trade, if I bought under 47K and sold above 53K, would yield approximately a 12.8% profit...or more. Keep this in mind if you do decide to trade. The price may not bounce frequently between these two extremes of the range, so it's imperative that you remain disciplined and patient. Knowing when not to trade is just as important as picking your targets. Don't execute a trade simply because you feel like you may be missing out on an opportunity. Allow that opportunity to present itself...and keep your money for another time if it doesn't.
---
If you're trading, always remember:
Never invest or trade what you cannot afford to lose and put tight stop-losses in when prices creep lower towards the support lines.
As always, if you have any critiques or comments about my non-professional analysis, please let me know. If you decide to trade this market, good luck to you!
---
Disclaimer: I am not a professional adviser and this info should not be used for trading. These are only my interpretations and opinions, and while I would be flattered that you think so highly of my fairly basic analysis, it would not be prudent to use this for transacting/trading with real money.
*Charts are from Poloniex. Analysis is current as of approximately 2:45pm EST, May 17, 2017.
---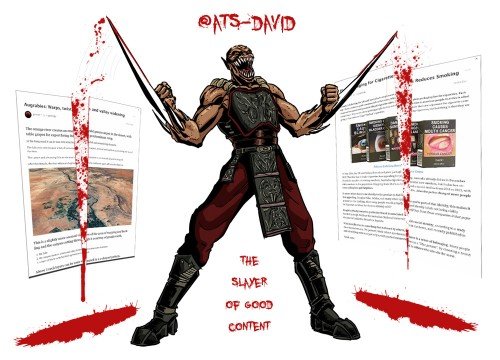 Image courtesy of @mynameisbrian
---
Follow me: @ats-david