This is my analysis of the design constraints I have concluded the designers of Steem faced w.r.t. the author reward algorithm(s). I am not covering the curation rewards in this post, except for a brief mention w.r.t. whales.
Note this derives entirely from my own thought process and I'm not privy to any discussions the developers may have had, except for what is in the white paper and what I've read on Steemit, e.g. @theoretical's blogs. So I might possibly have mistakes. If anyone can find any errors in my thought process, please offer your ideas and corrections in the comments section.
Even if this post makes you sad, you might consider to still respect my research and effort. Lying to ourselves won't help us achieve our goals of transforming the world to a better place. I remain devoted to striving to reach those ideals.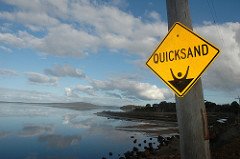 Trade-offs of Available Design Options
Steem computes how the votes divide the pot of money for author rewards.
Weighting each vote equally, i.e. linear weighting, would enable at least two egregious vulnerabilities:

Voters could vote for their own posts as the maximum profit strategy because the imparted reward per voter is not tied to any risk of popularity, so those who vote their conscience would eventually over time have their wealth redistributed via debasement to those who always voted for themselves.
The ban on transferring STEEM POWER could be subverted by voting on whom you wanted to transfer to, without any risk of loss of (proportional) value (in the money supply). This would enable consolidating free signup balances to meet the theshold for powering down without earning any rewards from blogging. Fake Facebook accounts can be obtained for pennies and even for free if they are resold after employing them to signup free Steem accounts. So attackers could drain the 40% (i.e. ~$80 million) of the Steem money supply that is earmarked for free signup rewards.

Weighting each vote according to its share of the square of the total number of votes on each blog post, i.e. quadratic weighting, nullifies the vulnerabilities from #1 if each blog can't be sure to receive a sufficient¹ share of the total vote, but it enables at least two (arguably tolerable) vulnerabilities:

A maximum profit strategy for the case where sufficient voters are able join together in a pact to upvote each other's blog posts so these blogs receive a sufficient¹ share of the total vote. For example, an attacker's legion of free signup accounts (a.k.a. the result of a Sybil attack on free signups).
The existence of whales make it unlikely for pacts of the lesser fish to achieve that sufficient¹ share of the total vote.
Steem Chose Whales With Quadratic Weighting
Steem appears to have had no choice but to choose #2 and accept that the existence of whales is absolutely necessary to nullify the other vulnerabilities which lead to degenerate outcomes. But the necessary existence of whales is in itself a (perhaps tolerable) degenerate outcome.
Deviant whales could maximize profit by voting for their own or blog posts that provide kickbacks, because a whale's vote has such a great influence on the total vote of a blog post both in terms of the whale's vote power and the increased ranking visibility creating a vortex of upvotes. Although we assume whales are benevolent and motivated to protect the long-term value of Steem, at some future juncture some (perhaps new takeover investors) whales might instead see the mature Steem system as ripe for harvesting both by capturing maximum units of STEEM while also shorting the price to offset any decline due to their abusive activities.
Additionally for blogs that (and especially if whales vote them early) garnish sufficient¹ share of the total vote (which they normally do with regularity), then whales' share of the money supply can be always increasing (not counting the free signup air drops), i.e. the GINI coeficient can worsen. Note the curation reward algorithms are complex and not fully documented, so perhaps something was done to minimize this effect.
Which Means Rewards CAN'T be widely distributed
But another ramification is that whales can't dilute their votes too much else they open the vulnerability for pacts to form to enable the first vulnerability in #2. Thus blog rewards CAN'T be widely distributed both for that reason and simply because it is too much cognitive load on the whales to be the deciders for millions of blog posts in a diverse ecosystem of preferences.
Onboarding is the Goal
My understanding from the white paper is that rewards were not intended to be the supreme feature for Steem. It is an onboarding marketing method, with bigger plans to come once the users are onboard. The exaggerated rewards for a fewer number of posts is stated in the white paper to be an advantage because it will cause users to overestimate their potential for earning on the site, i.e. it will cause excess enthusiasm.
The challenge for crypto-currencies has always been how to distribute them to the masses, so we can jump-start an ecosystem that includes more than just male cryptonerds. Steem is offering its imperfect onboarding paradigm and so far it is generating enthusiasm.
---
¹ By sufficient I mean that a vote is cast for a blog post which garnishes enough votes such that the imparted rewards weight of that casted vote is proportionally more than that vote's proportion of the total systemic voting power. It is easiest to understand with a simple example. Imagine we have only 101 voters each with 1 unit of voting power in Steem, so each voter has 1/101th of total voting power. If 100 of the voters vote in groups of 10 each on 10 different blog posts, and the remaining voter is the sole voter on a blog post, then each of the 10 impart the square 10 × 10 = 100 rewards for a total of 1000 rewards, and the remaining voter only 1 × 1 = 1 reward. So the sole voter has 1/1001 of the total rewards, but the each of the other voters has 1/10th of 100/1001 rewards (i.e. 10/1001) which is 10 times greater. So we can say all but the sole voter participated in sufficient vote totals in order to receive outsized rewards compared to their proportion of the systemic voting power. The more egregious example would be if all of the voters each voted alone on a separate blog post, except for 10 of the voters that formed a pact to vote on a single blog post. So the pact of 10 would impart 100 times greater rewards (i.e. 10 times greater per voter) to the blog post's author as compared to other voters.