Click image or read it here: https://steemit.com/steem-bounty/@steem-bounty/new-voting-service-by-steem-bounty
Just in case you missed this in your feed, here's a new service that makes sense and dispenses with the gimmicks (i.e. 'quality content' voting circles and category-specific requirements). It's a matched voting circle. Well-intended organizers are kindly helping to ensure we all mind the boundaries of our rank and order here on Steemit.
It's similar to apartheid, where you get to socialize with your kind and class, but not with the wealthy ruling class, or visa versa. I'm glad to see it, after running into a few self-important authors, who get defensive and OFFENSIVE when low-vote-power folks, or DUST - like me - vote on the 'quality content' posts that they've artificially boosted to trending with paid upvote bots! Who can blame them, right? They paid good money to gain exposure and don't want curation crumbs falling into the hands of "plankton", "minnows" or "redfish"!
Here's an example of being accused of stealing from a heavily bot-voted trending post (Be sure to read follow-up comments. There's more about the REALITY of the toxic Steemit societal rules here too!):
https://steemit.com/@personz/re-justmeagain-re-personz-in-defense-of-finding-value-on-steem-20180918t122106458z
Truly, I have become reluctant to upvote posts that I've actually read and appreciated, without checking the rewards value first. Why? Because Vote-Power-Apartheid is the LAW now and has been a loudly spoken 'etiquette rule' from the foundation of this platform. That's the system here on Steemit - you can get punished into poverty by heavy-weights and unscrupulously programmed bots committed to keeping the blockchain 'clean' of the drivel and filth of unrefined 'low quality' 'abusers'. And if you're 'working' your way up the food-chain (see the White Paper listed in the hamburger menu, top-right on Steemit) you'll have to capture the attention of wealthy dolphins and whales to get a few pennies worth in rewards. Sounds like prostitution, doesn't it?
So, for the wee plankton on Steemit, do yourselves a favor and sign up for the Vote Exchange Club. It will save you from the embarrassment of being accused of stealing curation reward crumbs when you actually just wanted to say you LIKE or appreciate a post.
If you're really, REALLY new to Steemit, here's some sage advice I've learned:
Do NOT like posts or comments with high rewards accumulated;
Do NOT leave a generic comment, such as "Great post!";
Do NOT post with the incorrect category tag;
Do NOT forget to properly format quotes with the ">" tag;
Do NOT forget to cite your sources and attribute copyright ownership;
DO NOT copy/paste your own work from other blogs;
DO NOT use Steemit to syndicate YOUR OWN established news outlet articles;
DO NOT forget that after 7 days your posts cannot be edited;
DO NOT forget that votes on posts older than 7 days are worthless.
If you forget any one of these rules you risk the chance of either being scolded or having your reputation score negatively affected by down-votes from 'community members' in person or represented by delegated down-vote bots.
Don't vote or comment on high-rewards posts, because you and me are the Steemian NIGGER CLASS and we oughtta keep to our own kind, keep our heads low and avoid provoking the ire of the wealthy folks ruling the platform.
Fortunately, to assuage the concerns about small fish nibbling away at the rewards of the SHARKS on Steemit, the programmers implemented a solution on Sep 25 with Hardfork 20, aka Velocity. Pertinent to plankton is the section on the DUST VOTE Threshold Changes. What's important is that all us nigger-plankton know our vote is worth ZERO when its value is less than .02!
Don't dat mean we be workin for FREE, MASSA? Yessa, it sho do mean dat!
Click image or read it here: https://steemit.com/steem/@steemitblog/steem-velocity-hardfork-hardfork-20
Also note timcliff's comment:
There are two "dust" thresholds, which can get a little confusing.
There is a dust payout threshold, which requires at least 0.02 worth of payout on a post/comment in order to receive a reward. (If the payout is less, it gets rounded down to zero.) This will be unaffected by the changes being proposed.

There is also a dust vote threshold, which is a minimum restriction on the size of votes that are allowed. This is what is changing, as described in the post.
YOU CAN LOOK ON THE PRIVILEGED, BUT DON'T YOU DARE TOUCH, NIGGER!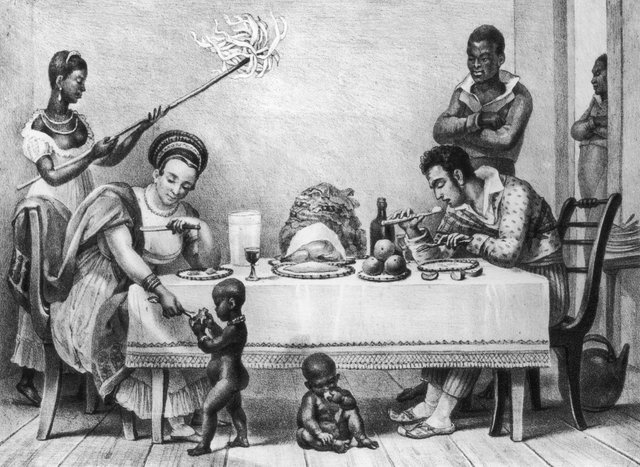 Avoid a WHOOPIN from the MASSAS on Steemit
Know your place and wait for the scraps to be handed to you, like these folks.
Apartheid (South African English: /əˈpɑːrteɪd/; Afrikaans: [aˈpartɦəit], lit. "separateness") was a system of institutionalised racial segregation that existed in South Africa from 1948 until the early 1990s. Apartheid was characterised by an authoritarian political culture based on baasskap (or white supremacy), which encouraged state repression of Black African, Coloured, and Asian South Africans for the benefit of the nation's minority white population. The economic legacy and social effects of apartheid continue to the present day.
https://en.wikipedia.org/wiki/Apartheid
Now that we ALL see the actual results of Hardfork 20 and can understand the INTENT of high-stakes investors, devs, witnesses and delegates, on this platform, it isn't difficult for 'po folk' to recognize that their role here is and will always be to serve the massas. Posting provides the façade of a social media platform, but the true intent is controlling the distribution of and collecting profit from STEEM cryptocurrency. That's fine, but if demonizing new and small accounts by throwing them in with 'spammers' and cutting off their ability to post, vote and collect rewards is a necessary feature of the platform that enables investors to profit, the platform is JUNK as far as social platforms go. It's SOCIAL ENGINEERING by people who probably support EUGENICS!
Due to the fact that many components of the RC system are non-consensus, we can continue to adjust the resource pool budgets, track trends, and adjust charges incrementally over time so that we can meet our third goal of moving us toward sustainable pricing of blockchain operations.
https://steemit.com/steem/@steemitblog/hf20-update-restoring-continuity
In other words, the patch that has multiplied Resource Credits enough to allow basic use of this platform, will be adjusted DOWNWARD gradually. So while all us niggers just got a backhander WHOOPIN with HF20 and an ice pack to take down the swelling with a 10X boost, we is gonna get mo beatins' soon enough, cos dats what the massas hea likes doin'!
Be sure to read the comment section of the HF20 'restoring continuity' update post linked above. You can see how so many 'middle class' users recognize how damaging these platform principles are. They are resisting, but the authorities from on-high want exactly what has happened and will continue to happen. It's no accident! The devs merely MISJUDGED the negative feedback they are receiving in protest. Not that they care what us po folk think. It's the push-back from the middle class they didn't anticipate!
There are some good people here, but I do believe the fundamental agenda of Steemit Inc is to sell high and hope buyers sell low. Imagine, you buy at $4 and bolt when the value drops to $1. Steemit Inc keeps your $3 USD.
Has there been any official statement about the 'experiment' of DLive or its exit after exactly a year? Was the DLive experiment coordinated by Steemit and DLive?
How about those interface upgrades? Most people aren't even using Steemit to interact on the blockchain. They use SteemPeak or Busy. When a company doesn't REINVEST, you should know what that implies.
I'll leave you with a clip and a warning, folks. It's time for me to...

---
@berniesanders here's a 'shitpost' topic for you. Let the MASSAS FEEL THE BERN!
---