STEEMMONSTERS: A GAME OF COLLECTIBLES (DAPPREVIEW)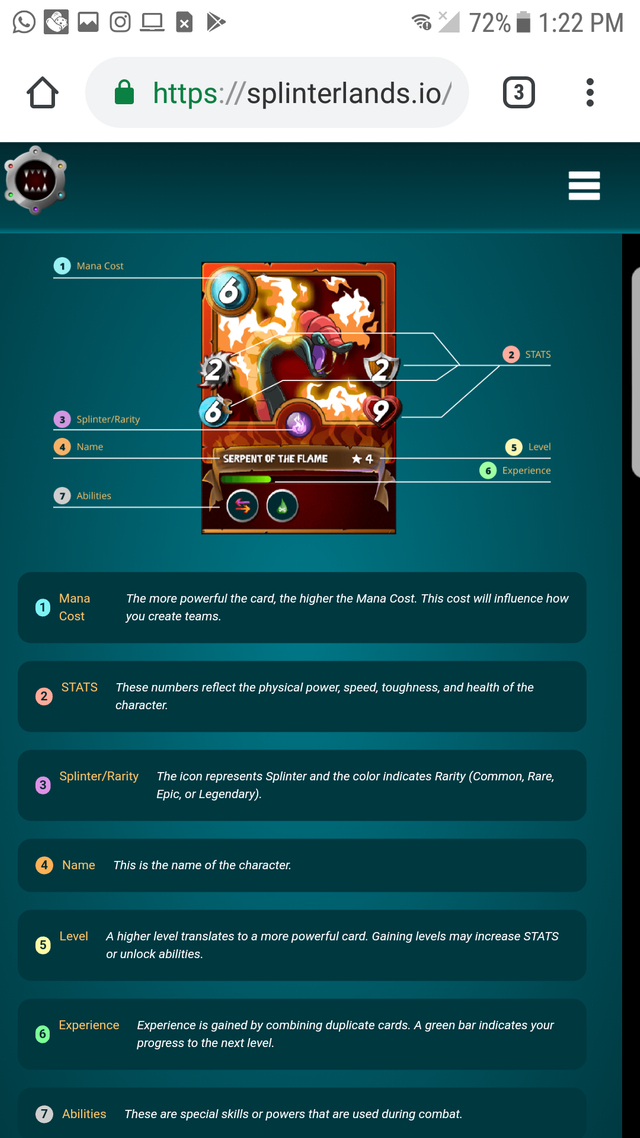 [Image from the SM website]
The blockchain has created alot of income for individuals, a place of investment for business minded people and also a place of relaxation for passionate games.It ha birthed lots of game dapps that are not only beneficial to play but also a means to earn.The introduction of game dapps has brought extra traffic to the blockchain and has turned people's passion to income.As a decentralised body it is has enabled a big change in our ecosystem.Games are classified to be fun and friendly under the right environment , they tend to break down barriers in communication and relationship and this is exactly what steemmonsters has done to the blockchain.It has broken the bridge between the tiers on the platform, I mean the minnow, dolphin and orcas.All players are all under one umbrella called the battle ground.
ABOUT STEEMMONSTERS
Steemmonsters now known as Splinterlands is a decentralised game built on the steem blockchain technology by Aggroed and Yabbapmatt in 2018.Featured on the stateofthedapps list, it is a virtual game that comprises of multiple players and cards.This game mainly focuses on building a team of monster card to the highest level and then take them to battle to either win or lose.The stronger your team the more your chances of winning and ranking high in the league.
This game was designed in such a way that you can either be an investor by trading or lending your cards or fight your way to the top and start earning via the daily quest/reward.All cards gained through this dapp can be sold in the exchange market created by the founder.
FEATURES OF STEEMMONTERS
BATTLE: This is the arena where the battle takes place and where your fate will be determined as either a winner or a loser.
BUY: You can start by buying your booster pack or starter pack here if you are new to the game or a recurrent player.
MARKET: This is where you trade or buy cards you intend to use or got from the game.
TOURNAMENT: This is one lovely feature on the platform that allows multiple player to fight for a common goal.
FAQ: Questions that are often asked has already been answered here relating to steemmonsters.
CARD DELEGATION: Here you can delegate cards to anyone either for free or for a specified amount.
SUMMONER: This are cards that serves as the leader of a team, they determine the monsters to fight.
MONSTER: They are the minnows of the game,these ones are the foot soldiers who do majority of the work.
SPLINTER: They are the names given to the lead cards called summoner and we have : Life, Water, Earth, Death, Dragon.
RANKED: Steemmonsters runs a seasonal fight for its player.In each season you get rewarded according to your league.
LEAGUE: This is the award given to a player during the seasonal fight and whatever league you find yourself at the end of the season will determine your reward card.We have 6 leagues ranging from the Novice 3-1,Bronze 3-1- Champion3-1.Each league has its own number of card at the end of the season.
GETTING STARTED
First you log in to steemmonsters with your posting key by making sure you have a steemit account.Then you proceed to buying the starter pack that gives you the basic cards to begin the game .You can then proceed to buy addidtional cards in form of booster pack which cost 2$ each or buy the cards individually.
You can also learn the techniques of the game by :
practicing
How to play
Challenging your friend.
Steemmonsters also have card rarity namely:
Epic
Legendary
Rare
Common

They also have foil cards in Neutral or Gold foil

The cards comes in edition;
Either in Beta form or Alpha form
Beta are ordinary cards while Alpha cards are tend to be more powerful than beta. They can also be converted into a beta card.They look a little bit different from the beta cards.
STATS & ABILITIES
This is determined by the card.The carf stats can either be in Attack form that is the melee,ranged or magic or the speed, armor or health.All this stats determines the power your card holds and in what capacity it can be used and played.
For ability we have the blast,dodge heal,inspire,life,leech,flying,poison among others.All these can be used against your opponent on the battle ground.
IN CONCLUSION
I love this dapp because it is easy to play and serves as an extra income for crypto lovers.
I do not like it because it is the game of the rich.Without money or crypto you won't be able to level up your cards.
I am rating this dapp 4/5