My experience of winning "Review a wallet DAPP" contest in Oracle-D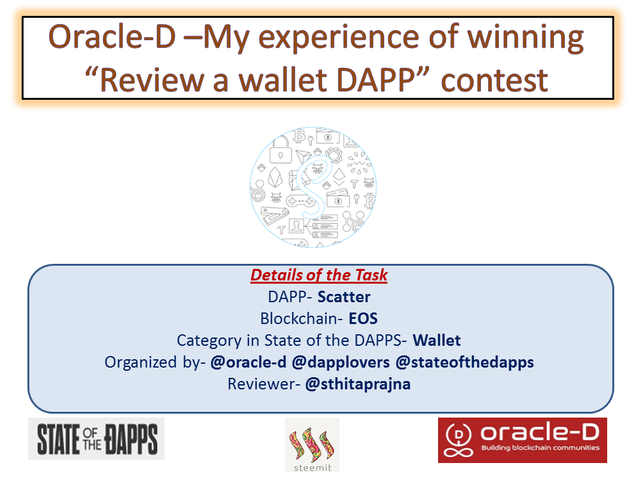 Earlier in this month, I participated in the Review Task organized by @oracle-d @dapplover @stateofthedapps. This time the review of the dapp was from "wallet" category. Stateofthedapps is a curated directory which lists various dapps of different ecosystem with the most popular being Etherum, EOS, STEEM blockchain. The wallet category has a long list of dapps as compared to other category. Interestingly, wallet category in itself is very interesting from the viewpoint of a user. In crypto ecosystem, the wallet is first thing we generally come across and that is why wallets are popular dapps than any other category.
After checking the list of the various dapps in wallet category, I did go through all the rules & guidelines mentioned by @dapplovers in its task. Then I finally decided to write about Scatter wallet as EOS is a very popular blockchain and is generally considered as the next generation blockchain. There are so many tokens in the EOS ecosystem also, so to exchange a token with dexeos, the users generally take the route through scatter. But scatter is not just about getting started with dexeos, it is more than that and having so many important use-cases. That prompted me to write about Scatter so that people who will read my blog will get to know about the Scatter wallet in details. The idea was to write a comprehensive blog but at the same time I tried to stick to the @dapplovers @oracle-d guidelines.
After writing the review on Scatter, I was personally satisfied and at that point of time I sensed that it could at least impress the reviewer. But I was not sure whether it would feature in top five or not. But today as I noticed that my review on Scatter has been featured in the top five, it has given me a lot of satisfaction. The moment you feel that your hard effort is appreciated in some way, you suddenly feel energetic, enthusiastic. The same thing happened with me after I got to know about the announcement of winner in the review task by @dapplovers @oracle-d.
I have participated in other blockchain writing contest like Originalworks contest in past (2018), so I had the experience of how to write a review. But every contest has its own frame of assessing an entry. So participating in @oracle-d contest was another pleasant experience. I was actually searching on the trending page to partake in blockchain writing contest and luckily I found about @oracle-d tasks. So thanks to @oracle-d @dapplovers @stateofthedapps. The entire team of @oracle-d should be appreciated for organizing such contests every month and in a down market, keeping up with contest consistently over a period of time is not an easy task, but @oracle-d has been successful in organizing it every month.
Before concluding I must say that, there are so many advantages of such contests on Steem blockchain apart from the reward. The activity of the users remains intact with regular contests. The exposure is rather more important, every time a user participate in a contest; he/she used to get an exposure to the product. As the dapps ecosystem is evolving at a faster rate, the users in the crypto ecosystem must also have a brief understanding about the various dapps, as some of the dapps may found to be useful at some point of time in our life. So contest is a best way to spread awareness about the various dapps and the users will show enthusiasm to know about the various dapps, through such contests.
Those who have not won this time will win next time. So don't give up. Something best is in store for you (in future). For an instance, if you just forget about the top five and look to put your best in writing a review and if you try to pace the content in your article in an organized way, then you may end up winning it. I participated in this contest with that mindset, and ended up winning it. Selecting the best five is also not an easy task, so the reviewers must also be appreciated, complemented for their best effort in selecting the best five.
Thank you again @oracle-d @dapplovers @stateofthedapps. Today I feel elated with this announcement and I am looking forward to participate in the next task.

Winner Announcement of "Review a wallet DAPP" contest
https://steemit.com/wallet/@dapplovers/announcing-the-winners-of-review-a-wallet-dapp-contest-ft-state-of-the-dapps
My review on wallet DAPP- Scatter
https://steemit.com/stateofthedapps/@sthitaprajna/scatter-offering-a-unified-interface-to-allow-users-to-connect-to-emerging-blockchains-and-networks