Scatter- Offering a unified interface to allow users to connect to emerging blockchains & networks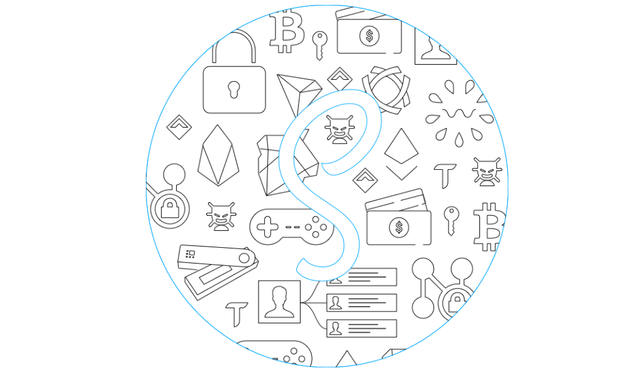 -----------------------------------------------******--------------------------------------------------
https://github.com/GetScatter
-----------------------------------------------******--------------------------------------------------
Introduction

The invention of blockchain technology with Bitcoin in 2009 was the beginning of a new era & the trustless, p2p transaction could become a reality. After the first-ever cryptocurrency Bitcoin, many other coins were evolved. So in this ecosystem, there are many blockchains, many networks, many wallets. Each of them tried to offer some kind of usability or experience or a solution to the existing problem interface, or better scalability or modularity, or better business-grade application, etc.
Handling each of the networks will always be time-consuming and also will not be practical. This will become even more complex as we go down the line after 2/3 years when the blockchain ecosystem will further expand.
Therefore unified user experience is the real solution where a user can access other blockchains or networks from a single interface, where tokens can be managed and exchanged, where security can be guaranteed, where users can play games, where users can get exposure to many types of use cases.
Scatter

Realizing the meteoric rise of decentralized applications, sensing the expanding horizon of blockchain economy, Scatter
aims to offer its users a unified interface where emerging blockchains and networks can be connected, where tokens can be managed safely and can be exchanged easily.

Currently, it offers access to EOS, TRON, Etherum. However, its continuous development has the vision to expand its reach to other blockchains & networks.
Scatter has a desktop application and it is compatible with hardware wallet too. It has a mobile app available for both Android and iOS devices. Scatter desktop integrates with the web app to enable users to use the web application.
Scatter in State of the DAPPS



Scatter is featuring in State of the DAPPS in wallet category. State of the DAPPS is a directory of decentralized applications. State of the DAPPS shows the status, development activity, etc. The overall rank of Scatter in State of the DAPPS is 903. The chart shows the development activity of Scatter.


https://www.stateofthedapps.com/dapps/scatter
Main Components of Scatter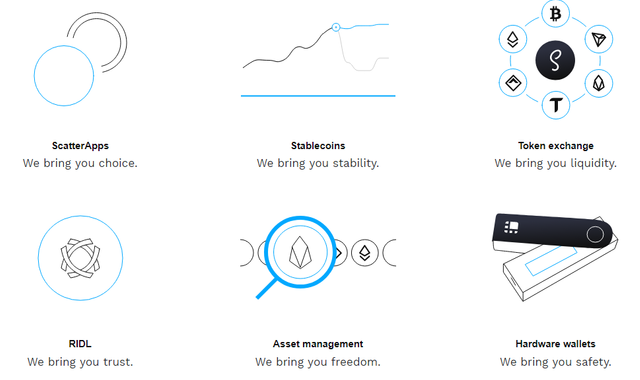 Integrated App List
In Scatter, a user can explore so many different types of apps & services. The category includes Game, Tool, Gambling, Block Explorer, Payment, Exchange, Chain, Wallet, Social, Educational, Forum, etc.

So many varieties of apps & services mean it can accommodate a lot of users and use-cases. One can use these apps free of cost.
Stablecoins
Volatility is a peculiar term in crypto market. While some people make a lot from the volatility, some don't feel comfortable. So while volatility is a natural phenomenon for an emerging crypto market, stability is equally a much-needed use case, which can address the concern of many users.

Scatter has a feature called "Stabilize" using which the user can swap his crypto asset to a stable currency any time. This can enable users to stay unaffected by the volatility and fluctuations of crypto market. The users can also manage their portfolio in a better way.
Token Exchange
With the expansion of the decentralized economy, this domain is adding more different types of blockchain. While there are different types of businesses, the interaction between different businesses is also a type of business and is also a key business. That is where the interoperability between different heterogeneous blockchain is tasked. Further, when a user will be able to interact/transact between two blockchains, then it will further strengthen the overall blockchain economy.

Scatter has an external service called Coinswitch though which one can make an exchange of tokens between heterogeneous blockchains.
RIDL(Reputation & Identity Layer)
With blockchain technology & decentralized applications, the business innovations are taking a new shape and slowly the world is heading to a stronger ecosystem where the business will be executed in a decentralized way. But along with the expansion of decentralized economy, the exercise of reputation & management of reputation in a business deal will further bring another use-case to the table. But this management of reputation has to be democratic, free flow & should be established in a natural & decentralized way.
In a traditional centralized system, leakage of data, selling of users data without consent is very common. Blockchain is a natural solution to such a problem, as the authentication can be done in a cryptographic way and in a decentralized way. But the problem is that there are numerous platforms and everyone have their own way of authentication. So there is a need for a unified solution, where different services can be interconnected.

Scatters with robust asymmetric encryption, aims to offer a solution where users with single sign-on attempt can access to various services and apps. The users will continue to be the owner and authority of their data and information. The users will further be benefited by the RIDL defense system which ensures additional protection to the users while dealing with various apps & services.
The RIDL defense system is dynamic, decentralized and based on its history of performances. It basically gives a helpful warning sign to its user when they interact with a dapp. So the end users are likely to be benefitted by this.
Benefits
As RIDL is dynamic, no one can sit on the premise of past reputation. RIDL constantly updates and hence the dapps and services have to constantly perform well and the user's activity has to be there to maintain their reputation. Else it will start degrading again.

It is decentralized. So there is no monopoly, no control by a third party and based on the user's experience the reputation effects.

RIDL can bring a new paradigm of healthy competition between different dapps.
Asset Management
The latest version of Scatter also helps users to manage their portfolio in a better way. One can analyze a particular crypto asset's performance based on the historical chart. The charts can at least help users to know which one a good token & worth investing and which one is not worth investing. So this can at least give a primary idea on a particular crypto asset.

Hardware Wallet Support
The wallet security is very very important considering the management of crypto assets in a wallet. The cold & hardware wallets are the safest bet in comparison to the hot wallet, as hot wallets have been a subject of malware & phishing attacks in the past.

Scatter supports hardware wallet as security is better in case of hardware wallet.
Get Started with Scatter

Go to https://get-scatter.com/

Click on the "Download Scatter" link.


Download 10.1.2. It is available for MacOS, Windows 64-bit & Linux Appimage. Check your device and as per your suitability select the appropriate link to download. I am downloading it for Windows 64 bit.
Install it and set the password & save the backup phrase.

Now login to Scatter using the password/backup phrase.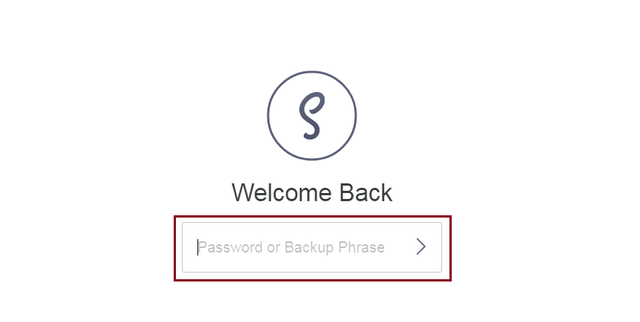 Now you can browse dapps, interact with dapps, send/exchange cryptos, import your keys & add your existing account, create a new EOS account etc.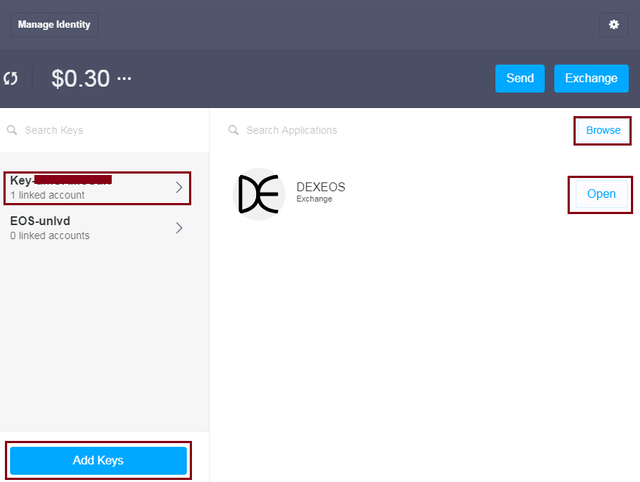 You can also import from a hardware wallet.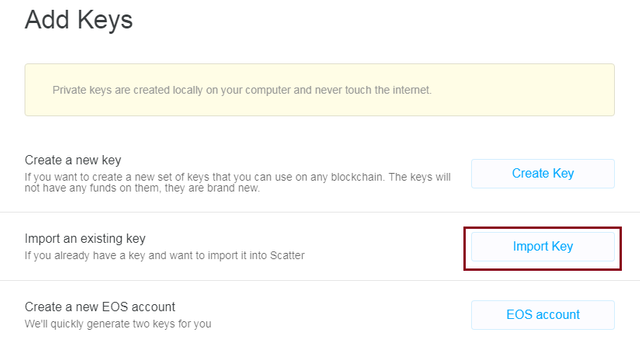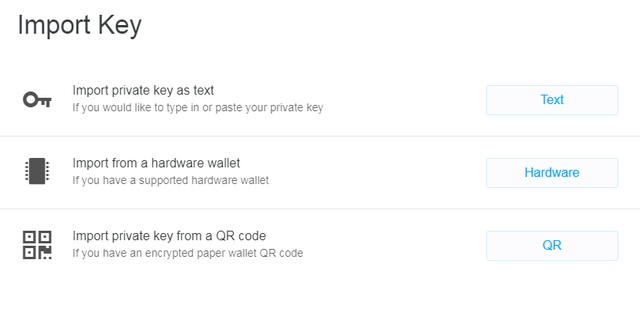 For sending choose the particular network, then provide the Account name of the recipient and then click on "Send".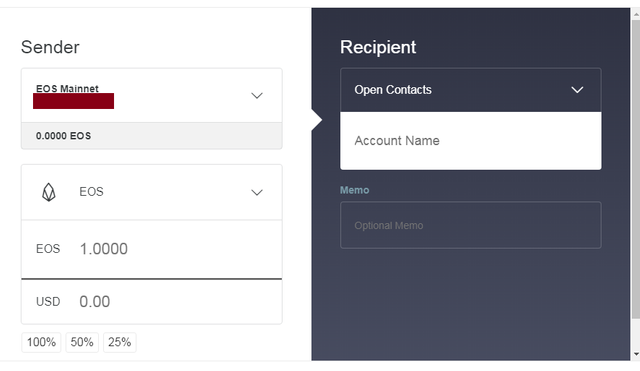 Similarly in case you want to exchange, select the token first. It supports Base tokens(exchange service) such as ETH, TRX, BTC, etc. Similarly Stable coins(exchange service) like TUSD, DAI, USDC, etc. It also supports Atomic Swap. So choose a particular token you want. Then in the "To" field, provide the Account name and click on "Exchange Tokens".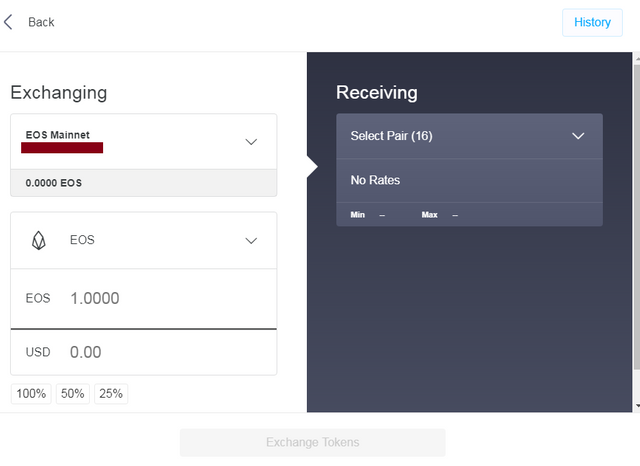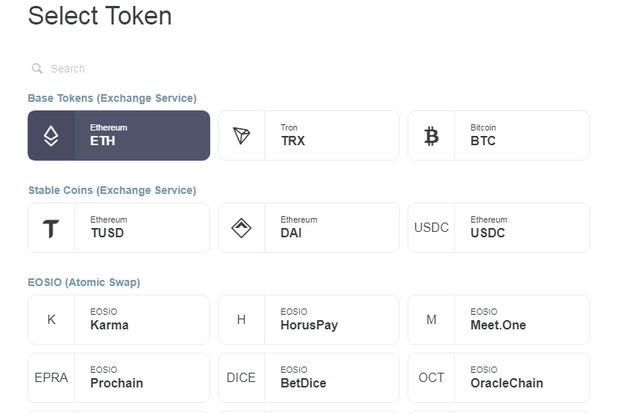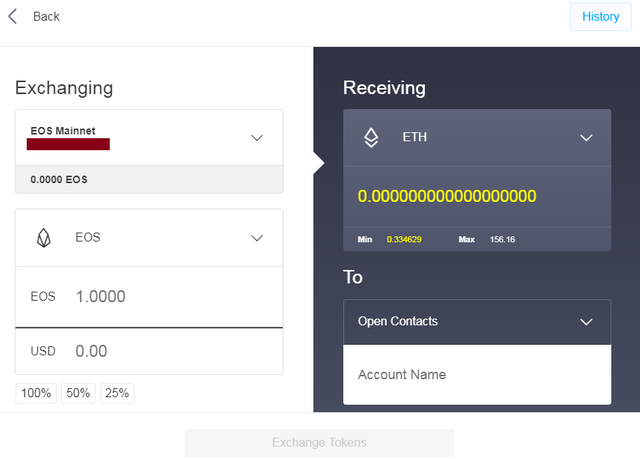 In case you want to interact with dapps, you can browse it and add it. For example, I want to interact with DEXEOS, then I have to click on "open", then it will redirect me to the web page(open in a browser). Please keep open the scatter as well, otherwise sign in will not happen.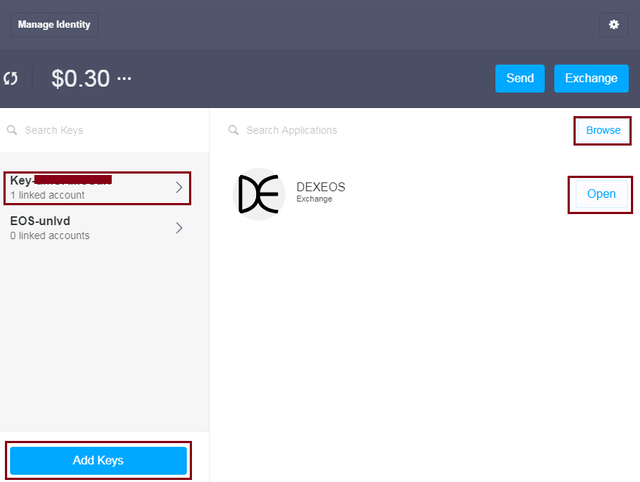 Click on "Sign in with Scatter".

Now authorization is required from Scatter to login. So click on "login".

As DEXEOS is an exchange within EOS family, if you want to trade an EOS based token, click on "Trade", then you can see the full list of tokens. You can buy/sell these tokens.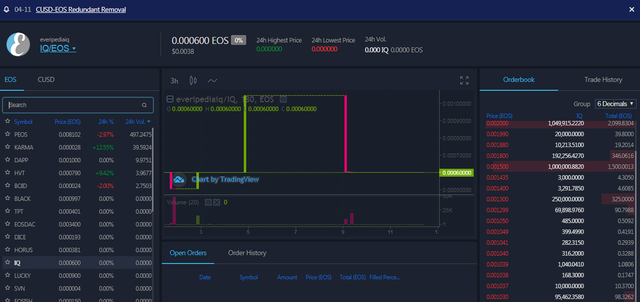 Merits of Scatter

It is free to use.
It connects to popular blockchains like EOS, TRON, Etherum and it has the vision to connect to many other blockchains in future. So in other words, it is working towards interoperability, which is good for the ecosystem.
A user can explore dapps and can interact with it.
The Exchange includes both Exchange service with base tokens as well as Atomic Swap facility for other types of tokens.
RIDL can bring healthy competition between different apps and services.
The list of apps covers a wide variety, so many different categories of apps & services available to interact with.
Areas of improvement

In the crypto domain, it is mostly nuclear, because of lack of marketing. So along with good development activities, it needs little more marketing. I think even a section of the general users of crypto are unaware of Scatter. So I think they should plan a bounty or some sort of advertisement so that at least the users in crypto domain will be aware of its existence.

They can also add more social authentication.

Security features can further be improved and worked upon. I am not saying any security lapses in Scatter but I am referring to the general security vulnerability. As the ecosystem is expanding, the security challenges must also be addressed properly so that phishing attacks, malware attack can be prevented.
Evaluation & Rating

Scatter is definitely a great tool in EOS ecosystem but over a period of time, it has expanded its reach to other blockchains. It has added RIDL, the stabilize feature, token swap/exchange facility, etc. Further, the listed apps are many. So the constant development is going on in Scatter. Scatter has covered many important aspects in the past few months.
I have evaluated Scatter based upon the various parameters as shown below and I would like to give a rating of 4.5 star out of 5 stars to Scatter.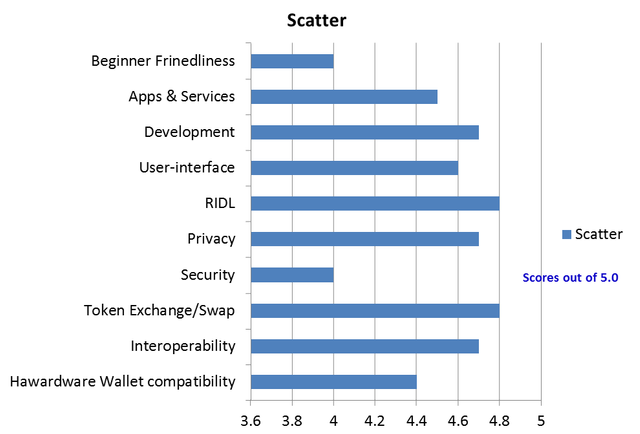 Conclusion

Scatter is very very consistent in its development activity and that is also consistent with its vision and roadmap. The generic issues of blockchain have also been taken care up along with its mission which is key for mass adoption. The mobile version can further make it easy for users to interact with. The effort to expands its reach to other blockchains can be a serious solution towards interoperability. The business will expand in crypto & blockchain domain with interoperability. The user experience will also get better and better only. I can see Scatter adding value to the ecosystem.
References
---
Images & Logos have been taken from the official website of Scatter. The evaluation chart, graphical analysis are prepared by me.