Dapp Review on LocalEthereum.
A couple of days ago, I was conversing with my twin brother about cryptocurrency. He is not really a crypto-enthusiast, but he believes these currencies can make the world a better place. He has always yearned to have a share in Ethereum but was unversed in how to buy it securely. We all know crypto-security is horrid. So I went ahead and assisted him to buy Ether using LocalEthereum and oh my God, he was completely surprised by how super-fast and efficiently the platform works. He could not believe he had obtained the Ether tokens in a few minutes, yet he had desired for them for over a year. It was lickety-split!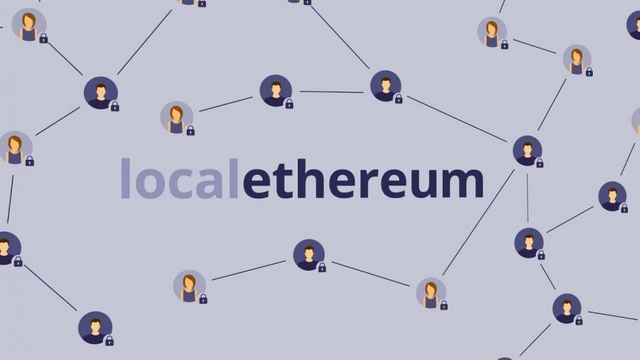 source
---
---
It is a private platform that matches up peers who want to buy and sell Ether locally and internationally. On this platform, you can find people trading Ether with your local currency and you can choose from over 30 payment methods, depending on what works best for you, as long as the other trader is happy with it. This platform is very secure because it uses an Ethereum-powered escrow service to safely hold funds until transactions are complete. In addition, it uses end-to-end encryption, which means buyers and sellers can communicate in complete privacy. LocalEthereum is one of the Ethereum Dapps listed on the state of the dapp platforms under the Exchanges category where it ranks #62. It is also among the top-used Ethereum Dapps of 2019.
---
How to trade on LocalEthereum?
---
Trading on LocalEthereum is as easy as falling off a barn. First, you need an account. This can be a normal account, or you can connect your Ethereum-compatible wallet to the platform. The most selected account by its users is the normal account which requires you to fill in your username, a strong password, and an email address. It is recommended you use an email address you will always remember since your email address is used for two-factor authentication. However, once your account is set up you can also switch it over to OTP (e.g. Google Authenticator) and it is worth noting that you cannot change your user name.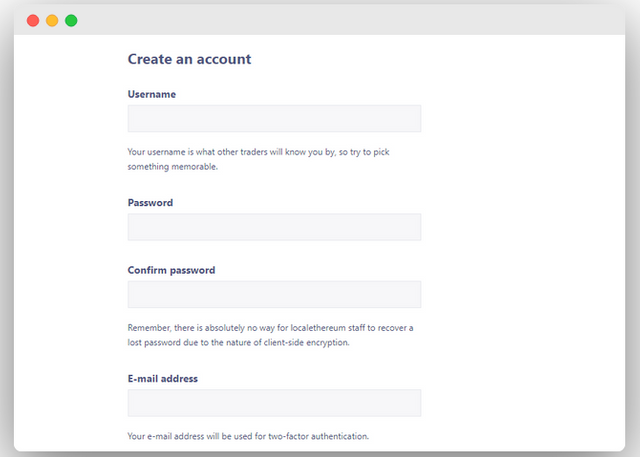 create account page.
After creating an account you are then directed to the home page which can be viewed in English, Russian, Chinese, and Spanish. Above the fold, you can sort traders by buy or sell, payment method (Paypal, bank transfer, cash-in-person, cash deposit, international wire, Alipay, WeChat Pay, and others), popularity, price, and finally, by location. From the listed traders, you can select any buyer or seller that piques your interest, taking into account the limits the traders set, plus their reputations. If you want to sell on the platform you are obligated to deposit funds into your account. You can also go ahead and create an offer based on your best interests at heart.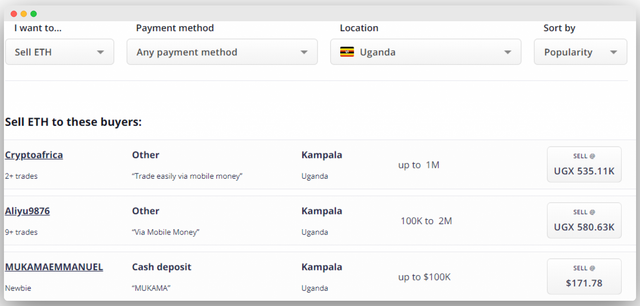 offers page.
As soon as you find your preferred trader, click on their price and you will be brought to the trade page. Input the amount of Ether that you would like to trade. Then you will be directed to the chatroom where you can discuss the payment details with the seller or buyer. It must be noted that for the payment to be completed the Ethereum needs to be in an escrow smart contract for the safety of the buyer.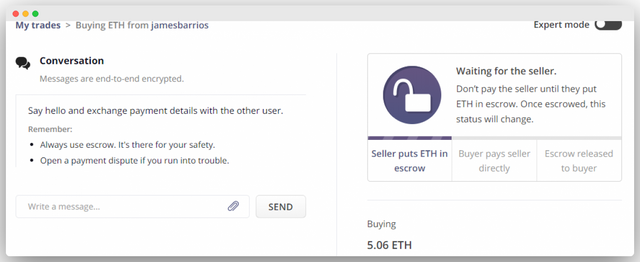 trades page.
When LocalEthereum detects that the ether has been escrowed, it will update the right-hand side of the interface to let the buyer know. Immediately, a countdown timer and a "Mark as paid" button will appear. The confirmation time for the payment takes about 3-15 minutes. If you are the buyer, hit "Mark as paid" after making the payment and wait for the seller to release the escrow. If you want, you can leave a review of the trade. Make sure to leave a good rating if the traders' service is excellent.
---
What is good about this Dapp?
---
LocalEthereum sticks out among other decentralized platforms as it is extremely portable, so it works in all modern browsers without extra software. On top of that, it is intuitive to use for new Ethereum users, no matter their background.
The platform is immune to surveillance as it utilizes an end‐to‐end encryption scheme to protect messages in transit from nosy hackers and oppressive regimes. However, in the event of a dispute, a moderator can decipher the encrypted messages in a particular conversation and take action against dirty tricks.
LocalEthereum supports an impressive selection of payment methods in fiat currencies, depending on the country and the personal preferences of their users. If you reside in a country where cryptocurrency is not yet widespread, the platform uses PayPal as one of their payment methods to make things easier and faster for newbies.
Contrary to other traditional escrow arrangements, LocalEthereum has invented an escrow system that never takes custody of the ether in escrow, meaning it does not give full control of the escrowed ether to a moderator unless a dispute arises. So it is self-custodial.
---
How can LocalEthereum be a leading marketplace?
---
I think it will be nice to have LocalEthereum marketing itself more in Africa. Apparently, the number of users of this platform from Africa are minute because most people know nothing about it yet. Ethereum users are steadily growing in this region.
---
Conclusion.
---
Comparing LocalEthereum to other dapps that are under the Exchange category on the state of the dapps it has a positive volume change in the last seven days because of its safety, security and privacy, global reach and seamless user experience.

Volume change in 7 days is 13.75% as indicated on the state of the dapps
---

I give this dApp a 4.0/5 Rating
---
Links:
https://localethereum.com/
https://whitepaper.localethereum.com/
https://blog.localethereum.com/
Disclaimer.
---
This is not financial advice, nor a guarantee or promise in regards to any result that may be obtained from using the above content. The information provided here is for informational and entertainment purposes only. It should not be considered as financial or investment advice. No person should make any kind of financial decision without first consulting their own financial adviser or conducting their own research.
A happy trading !