Welcome To Decentraland: Playing With The Builder
Blockchain technology has brought us many things;if put on a scale, you will find that the pros greatly outweigh the cons. This technology has found its way into various aspects of our lives and Decentraland brings us a virtual reality platform that leverages the benefits.
About Virtual Reality
Virtual reality is the in thing these days. Platforms like Oculus Rift, EONreality and a host of others are thriving and making good profit from their activities.
Virtual Reality can be seen as an interactive computer-generated experience taking place within a simulated environment.
Decentraland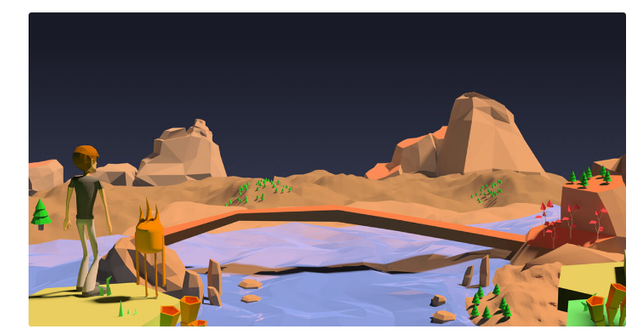 source
Decentraland is one of the Featured Dapps found on Stateofthedapps meaning it is a decentralized platform. It is powered by Ethereum blockchain and offers a virtual platform where users can create, experience, and monetize content and applications.
The masterminds behind this platform are Ari Meilich and Esteban Ordano.
Virtual Reality And Blockchain
Like I mentioned earlier, blockchain technology has found a way to seep into various aspects of our lives and Decentraland represents a unique example. Among numerous qualities of this platform, what stands it out from the rest is the seamless fusion of cryptocurrency/blockchain and virtual reality.
Users of the platform are thrust into a virtual society where they can purchase assets, property, land etc and make profit from activities that take place in them. Decentraland took this project a step further by including a virtual map of the world at large, giving users a broader variety of properties to invest in.
Decentralized Virtual Reality
Whenever I see the word "Decentralized", I think transparency and that is a quality that this platform offers users. In this fun "made up" world by Decentraland, you can be rest assured that there will be no form of manipulation. Transactions are done swiftly and openly to ensure this high level of transparency
Running On Ethereum Blockchain
Ethereum Blockchain is a highly revered network that has thousands of associated dapps running concurrently. Decentraland is one of them and transactions are done using an ERC20 token called MANA. It is the local currency of the virtual reality platform. MANA is already a tradable token and can be found on most exchanges.
Transactions on Decentraland
There are different types of transactions that can be done on the platform and at different cost. Users may decide to
Purchase land and create real estate in the virtual world, for example.
Lease property and use it for your own personal venture.
The leased property will in turn yield profit for the original owner based on the stipulated rate
Decentralized Market Place


screenshot
To have access to the market place and purchase virtual property or land, you will need to connect the marketplace to an ERC20 wallet. I use metamask and connected easily.
Here's an explanation about how to use the market place

Playing With The Virtual Builder
While exploring the platform, I came in contact with the Virtual builder. It is a virtual space that is automatically generated based on your selected area specification where you can create your own virtual environment and publish it.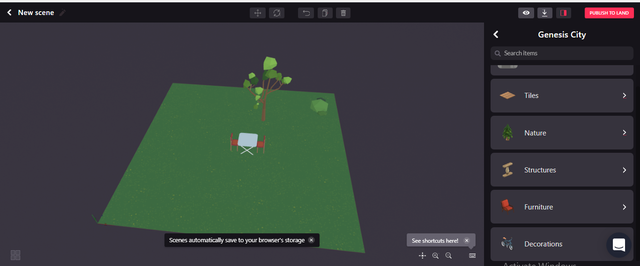 source: screenshot of unfinished builder project
I'm actually trying to build a serene environemnt where people can come chill, play virtual chess and pretend they're aged Professor Xavier and Magneto. There'll be no metals around either, so don't worry about Magneto haha.
The builder is super easy to use; all you need to do is click and drag the items from the options at the right hand side of the page you would like to include in your project. The items are based on the template city you want to work with.
You can also rotate and edit the work through the tools at the top of the builder page.
Personal Issue:
I'm still learning how to use the builder so I don't know a couple of things; one of which is how to put things on top each other. I tested it out by trying to put the bottle on the table and it kept going under it. Is it possible to include a feature where smaller items just snap to the top of larger items?
Conclusion:
I thoroughly enjoyed exploring the platform and I look forward to building cooler projects as time goes on. I appreciate that the builder was able to work without glitches on my ancient laptop. With the right promotion, I think this simplicity will go a long way in attracting many users.
Rating:


Disclaimer: This is not financial advice. Ensure you make personal research before making any investment.