SPUD X - UNOFFICIAL Winner's List & Honorable Mentions - [steem] [blockchain] [community]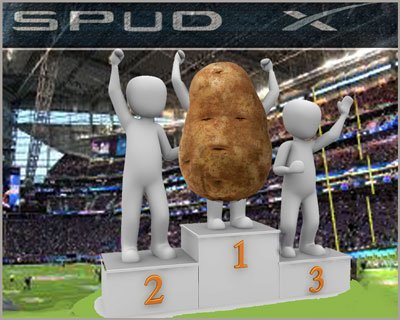 WE ARE SPUD
Ok, finally, the UNOFFICIAL Winner's List and the Honorable mentions list are now updated. This is the final opportunity for anyone who I might have missed, and/or incorrectly tallied their Steem Power Up to let me know. After 24 hours this WILL become the Official Winner's List.
There were many new "faces" and many returning ones too for SPUD X. I was surely kept busy keeping up with everyone's power ups and posts. I do try to reply to all of you but unfortunately 100% replies are just not possible or I would never get to the data. I did miss a couple of you so hopefully I now have this list pretty close to complete.
Now without further ado:
UNOFFICIAL Winner's List for SPUD X
& Qualifying Entrants
**@mariita52 - Stopped a Power Down
Honorable Mentions
SPUD SPROUTS
Please check to make sure I have your info on here and that it is correct. I am human and prone to mistakes. I caught a few just making this list, and have looked it over just to be sure I have done the best I could. Let me know within the next 24 hours after which this list becomes official.
Also, I just wanted to mention 2 Steemians of notice for this SPUD. First is @oblivioncubed, a newer Steemian, who did a major Power Up with 189% but due to a mistake on my part and a misunderstanding of the rules, was not entered into the contest due to being shy of the needed Steem Power by just about 3 Steem. I ask that you, the STEEM ARMY troops, go over to his account and show him some Steem Love and support. I know it isn't the same as winning but I hope it helps a little.
The other Steemian I want to mention is @mariita52 who lives in Venezuela. She joined in for SPUD X, but more importantly, she Stopped her current POWER DOWN. I imagine a difficult decision to make when many in Venezuela are in need. I commend you @mariita52 and thank you and fully appreciate the support and belief you are putting in this social experiment we know as the Steem Blockchain. I am sure stoping that Steem Power Down was not an easy decision to see through.
THANK YOU!
STEEM ARMY, please show her the all powerful STEEM LOVE as she has shown us!!
THANK YOU ALL!
FULL STEEM AHEAD!
+++ @streetstyle