SPUD 9 - New Decade, New Heights - January 1st, 2020 - [steem] [blockchain] [community]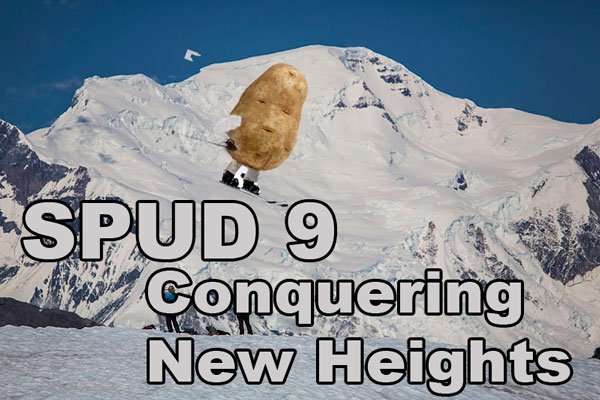 Heeding the Call
&
Rising to the Occasion
In my last SPUD Post, Uncle SPUD is Looking for a Few Good Steemians, I put out the call to our sponsors as well as to the Steem Community in general looking for both sponsors and participants to join in for SPUD 9 on January 1, 2020.
At this point I have heard back from most of our SPUD Prize Sponsors who will continue to support this initiative, while @davedickeyyall has actually stepped up his original prize sponsorship of 1000 Steem Power Delegation for 3 weeks to 5000 Steem Power Delegation for 3 weeks.
SPUD 9 now has 20+ prizes with about 16,500+ in Steem Power and other gifts. SPUD 8 had some serious competition, and with the grand prize now 9500 in Steem Power Delegation, it could get even more competitive, so start saving up those Steem Coins.
I have not heard back from @livinguktaiwan @reggaesteem or @beerlover (@detlev) yet, so the prizes could change. For now here are the prizes as they stand.
ps. 10 SBI for first to comment below with the name of this volcanic mountain that SPUD is skiing on.
SPUD 9 PRIZES
1st Place -
2nd Place -
3rd Place -
4th Place
5th Place
6th-20th Place Each
Plus
Rules to Win Prizes for SPUD9 :

with some small changes to allow more participants
MUST
have a reputation score BELOW 69.00 ( so 68.99 is good & Can participate.) AND more than 150 STEEM POWER (prior to SPUD9) BUT LESS than 8000 Steem Power.
MUST have a reputation score of 40 & ABOVE (so rank of 39.99 will Not Win)
MUST have at least 1 Steem Post in their blog about SPUD9
MUST Power Up Steem on January 1st, 2020
On January 1st, you MUST make a post about your POWER UP. It can be as simple as "I powered up X amount of Steem" to a simple picture/screenshot of your Power Up and posted to your Steem blog, or it could be a super long dissertation on Steem Power. IMPORTANT: Use the SPUD and/or SPUD9 Hash tags so that I can be sure to see them.
The winner Must meet all 5 requirements, and will be the one with the Biggest Steem Power Up PERCENTAGE, not the biggest Power Up. This means that it will be based on the ratio between your current amount of Steem Power and the amount you power up on January 1st.
For Example:
If you have 1000 Steem Power already powered up prior to January 1, and on January 1 you complete steps 1-5 with a 100 Steem Power Up,
and
another Steemian has 200 Steem Powered up prior to January 1, and on January 1st Powers Up 40 Steem, then this 2nd user would be winning with a 20% power up versus the first example with a bigger power up but smaller percentage of only 10% based on their account.
__
The winners will be announced via a Steem Post a few days later or sooner, and if no one challenges it or lets me know I missed them after 1 days from Winner Announcement, the Winners become official and the prizes will then be given out.
Thank you to All our SPUD Prize Sponsors and to all SPUD supporters and participants working to get STEEM to higher Elevations!!
FULL STEEM AHEAD!
Cheers & Good Luck!
+++ @streetstyle
Img Src:
wikimedia