Congratulations to the Winner of the Steem Fest ticket sponsored by Blocktrades and Steem Monsters!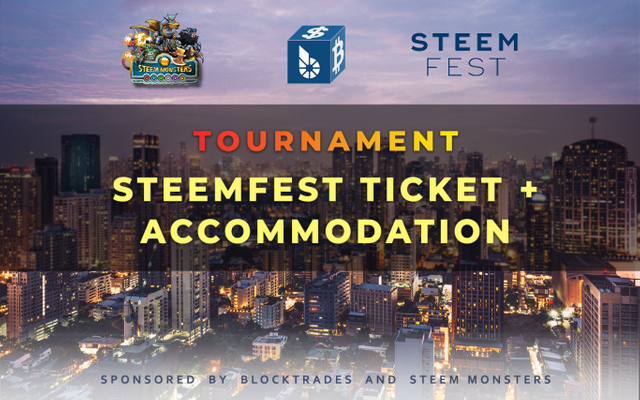 There it was: August 11th, 2019, it was still under HF20... The moment they had all be waiting for... After the initial Placement Tournaments, where blood, sweat and tears were shed to be able to contest today The Time Had Arrived.
Ladies and Gentlemen: the Splintertalks Tournament would start in only 10 minutes! With what at stake? Well: nothing less than a SteemFest ticket + Accommodation for SteemFest 4 in Bangkok!
The Arena
---
Only ten minutes to go and Steemians were slowly starting to show up. In alphabetical order these were the *brave brave* Steemians who were willing to fight their way towards Bangkok in November:
@beeyou
,
@broxi
,
@endgegner
,
@glory7
,
@goldfashioned
,
@happymax
,
@hundemama
,
@jaki01
,
@khan.dayyanz
,
@kobold-djawa
,
@lava-heron
,
@lord-of-fire
,
@louis88
,
@mellofello
,
@monstermother
,
@philippekiene
,
@pkocjan
,
@planosdeunacasa
,
@playtricksonyou
,
@raynie
,
@schachoberhessen
,
@sirtorito
,
@soyrosa
,
@szf
,
@thekillingqueen
,
@udow
.
Would they have the right deck? Would they be able to outsmart their opponents? Did they practice beforehand? Did they maybe buy a few cards so they could win this tournament?
The tension went up a few notches when the clock started counting down: 10 seconds, 9 seoncds... BATTLES begin!
The Rounds
---
Each round consisted of 3 battles which were heavily thought. The first people already got beaten up pretty quickly... The second round - a bit more intense. The third round... this was getting really exciting!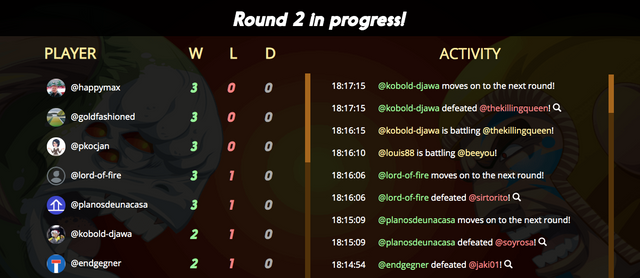 As more and more people fell in battles that were fought with Silver League Decks, No Legendary Cards and Double Rules (ouch!) a lot of dreams got scattered... As soon as you lost your second battle in a round you knew: no ticket + accommodation for me!
But that's also what made it so much fun: the stakes were high and seeing from the names a few dedicated Steemians that were present at SteemFest3 or that hadn't had the chance to attend a SteemFest before were here to try their luck...
The Final Rounds
---
The last round was played 'best out of five' - so even more battles were needed before you'd be sure. The Final 8, a very very honourable title if you ask me, were played between @happymax, @beeyou, @goldfashioned, @pkocjan, @lord-of-fire, @endgegner, @planosdeunacasa and @kobold-djawa. In the arena people were watching: who would win and who would go on to the Semi-Finals?
The Semi-Finals were played between @beeyou, @goldfashioned, @pkocjan and @kobold-djawa. Battles took longer and longer, it was clear only the best of the best ended up here!
The Finale
---
Then the Finale: @beeyou and @goldfashioned. OH MY! In the end they both won two and lost two - it was sooo close for both of them! Round 5: Both tried with Dario Dragonscale but there it was, the final beating: a winner rose up from the blood and tears of past battles! It was @goldfashioned, who must have broken down in tears of winning from a strong player like @beeyou - taking the lovely @blocktrades sponsored price of a SteemFest 4 ticket and Accommodation in Bangkok in both hands.
The Arena cheered - in awe with what they had seen in this very very exciting tournament.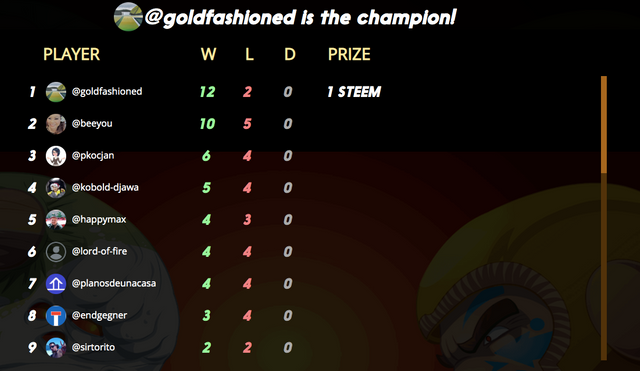 The results
---
Of course, everyone wanted to win, but having arrived in the Tournament is an accomplishment in itself. Therefore the full results of the Tournament:
---
Congratulations to @goldfashioned and everyone who played!
---
There is already one contest to win a Steem Fest ticket and it's sponsored by Blocktrades and Actifit, you can check it out here!!
I want to thank @soyrosa for providing the inside viewpoint of the tournament for the making of this post. Make sure to give her a follow and check out her posts!