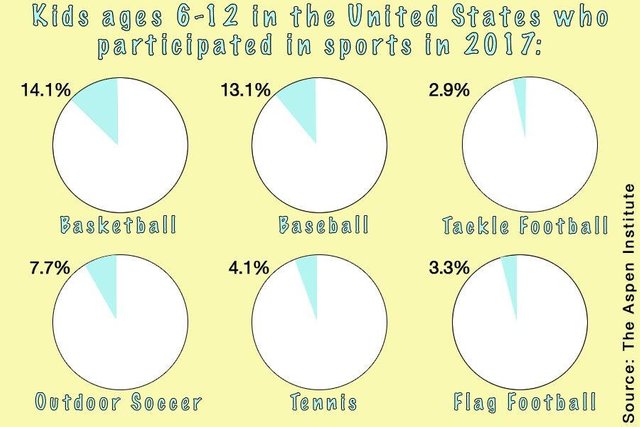 source
Quite sad stats if you ask me. Most kids should at least try one or two sports and not just do nothing. This is more like lazy parent syndrome.
Parents think differently on how they raise their kids and how they approach sport is also interesting. When I had my son I never forced him to do anything he didn't want to and felt he had to want to do something in order to be any good at what ever it was he was trying.
I used to play ball games in the garden and he had good hand eye coordination so I guided him to try different things. First there was cricket and he didn't have the patience for that and frustrated the hell out of me. Every ball had to be hit out the ground and it doesn't quite work like that. He had extra lessons and canned it when there was no improvements.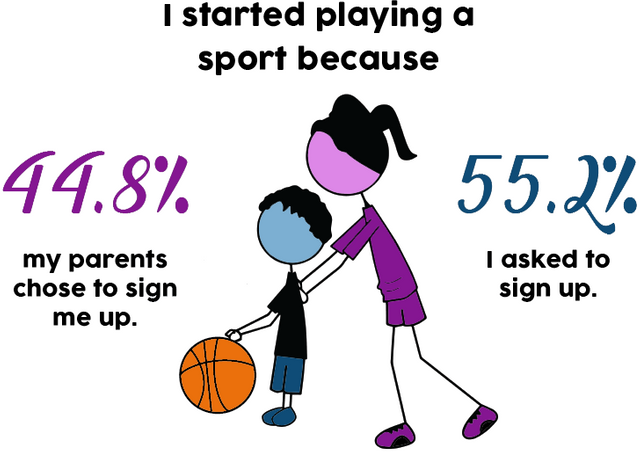 source
When I grew up I loved sports so would just do it on my own anyway. I didn't have parents who came to watch me as my mother was always working and my dad honestly didn't care. Maybe that is why I didn't push my son, but would rather be there for whatever he chose. I wanted him to love sport as much as I did. But then again I Never had Playstation when I grew up. Esports is not sports as I know it.
He was bigger than his classmates so I hoped he would enjoy rugby. The coaching at school was not very good as they had a lady coach for his age group. Nothing wrong with that, but when you have young boys learning they need to be taught properly and getting the basics right at this age is when they learn. I helped out and my son showed what he could do but would forget things that he had been taught. He just wanted to flatten other people that he stopped playing and just looking for the next big hit. We scrapped rugby as he could come back to it if he wanted to. He wasn't really interested and was just trying to please me.
Hockey was the next game he played and enjoyed it over all the other sports. Unfortunately I didn't enjoy it and I still went to go and watch him with one eye on the rugby match being played behind his field. The thing is I never pushed him into anything he didn't want and he ended up playing hockey even after school and still enjoys it.
If I compare that to his cousin who I actually felt sorry for as he had something on every day of the week. He played all these different sports and to be fair was a bit like his dad who was keen but useless at everything. I used to always tease him that is why he supported Man Utd as he never achieved anything at sport so looked elsewhere for glory when Man Utd were good. The difference is he doesn't play any sport anymore as he has a choice and isn't forced to do everything. They never found a sport he loved as the poor bugger was dead tired and never had a chance to enjoy anything.
My brother in law had something similar when he grew up as he was good at baseball. His dad pushed him from a young age and it was as though his dad was living his dream through his son. He was so good he went for trials with the Red Sox and once he was free from his dad was more concerned about girls and alcohol. In a foreign country he went off the rails and wasn't ready for what was being thrust on him. The difference is he would have got there without his dad pushing him and all that happened was he turned his back on an opportunity of a lifetime. He regrets it today, but it was how he had been raised and wasn't able to enjoy what he was doing.
There are no real right or wrongs and common sense should prevail. I see kids all the time being pushed by their parents and wander if the kid actually wants to be doing that or the parent wishes they were playing.