Today in Sports History #5 - Team Canada Ice Hockey 47-0 victory - February 12, 1949
Steemians - the new edition of "Today in Sports History" presents a remarkable Ice Hockey match. During the 16th Ice Hockey World Championships in Stockholm one match will never be forgotten.  Team Canada beat Denmark 47-0 in the most lopsided international hockey game in history to that day.
The biggest defeat of all time for Denmark was also the first international match for the country too in Hockey. Canada is still the most successful Ice Hockey Nation in the world. Personally Canada is the country I would love so much to visit. Since my Youth I am a fan, love the nature, animals, silence, the music, the people - maybe once it will happen!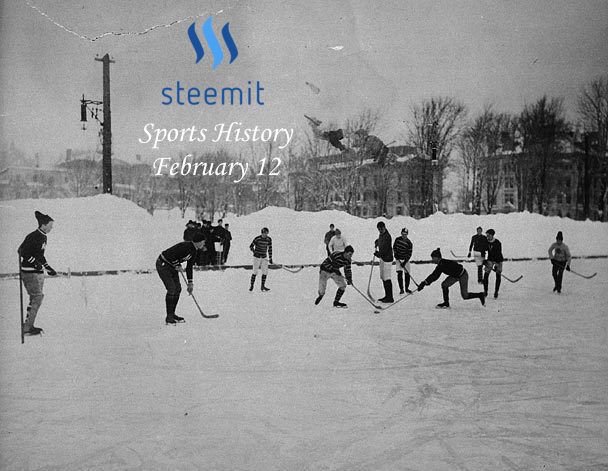 Hockey at McGill University, Montreal, 1901 
Back to Ice Hockey! The Canadian national men's ice hockey team won in total nine Olympic gold medals (the most in the world) and are 26-times World Champions.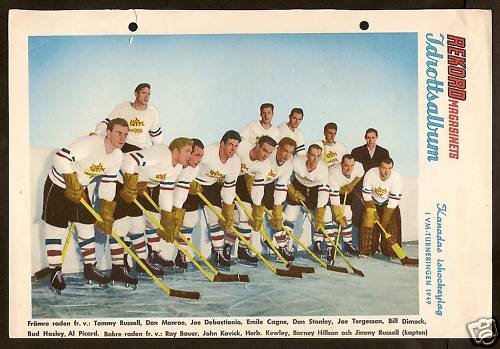 Team Canada 1949
But what is Ice hockey again? Wikipedia summarised below:
Ice hockey is a contact team sport played on ice, usually in a rink, in which two teams of skaters use their sticks to shoot a vulcanized rubber puck into their opponent's net to score points. Ice hockey teams usually consist of six players each: one goaltender, and five players who skate up and down the ice trying to take the puck and score a goal against the opposing team.
A fast-paced, physical sport, ice hockey is most popular in areas of North America (particularly Canada and the northern United States) and northern and eastern Europe. Ice hockey is the official national winter sport of Canada, where the game enjoys immense popularity. In North America, the National Hockey League (NHL) is the highest level for men's hockey and the most popular. 
Ice hockey is believed to have evolved from simple stick and ball games played in the 18th and 19th century United Kingdom and elsewhere. 
Photo Sources: Wikipedia under Creative Commons
To see what happened in Sports History already - check the links below:
February 11: Mike Tyson knocked out
February 10: Mark Spitz Birthday
February 9: Volleyball invented