Today in Sports History presents an awesome date  from: 1950 - February 10 - one of the most successful athletes of all times has been born - the hero of the 1972 Olympics in Munich - Happy Birthday Mark Spitz.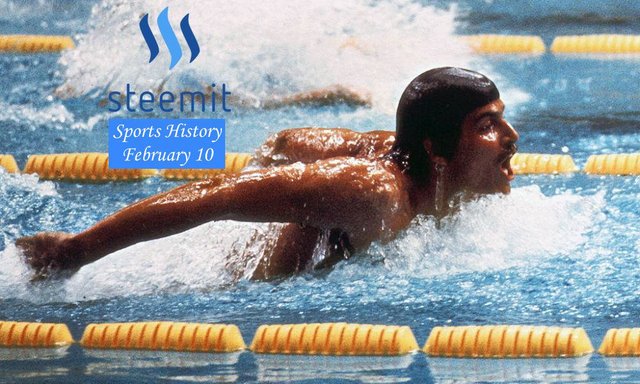 Mark won seven Gold Medals in Swimming during the Olympic Games in Munich only and was used to be the Olympic hero of all time - no one ever thought there would be someone to win more medals (but another US athletes overtook him, see below)!
Biography (excerpt and summarised via Wikipedia)
Mark Andrew Spitz (born February 10, 1950) is an American former competitive swimmer, nine-time Olympic champion, and former world record-holder in seven events. He won seven gold medals at the 1972 Summer Olympics in Munich, an achievement surpassed only by Michael Phelps, who won eight golds at the 2008 Summer Olympics in Beijing. Spitz set new world records in all seven events in which he competed in 1972. Spitz holds more medals than any other Jewish athlete in the history of the Olympics.[1]
Between 1968 and 1972, Spitz won nine Olympic golds, a silver, and a bronze; five Pan American golds; 31 Amateur Athletic Union (AAU) titles; and eight National Collegiate Athletic Association (NCAA) titles. During those years, he set 35 world records, but two were in trials and unofficial.[2][3] He was named World Swimmer of the Year in 1969, 1971, and 1972 by Swimming World Magazine. He was the third athlete to win nine Olympic gold medals.
While there is someone called Michael Phelps that has won more medals in total does not mean he is the better athlete all-time - Mark Spitz is probably still the greatest swimmer ever as during his career less options to win medals did exist! And Mark Spitz did retire at the age of 22 already!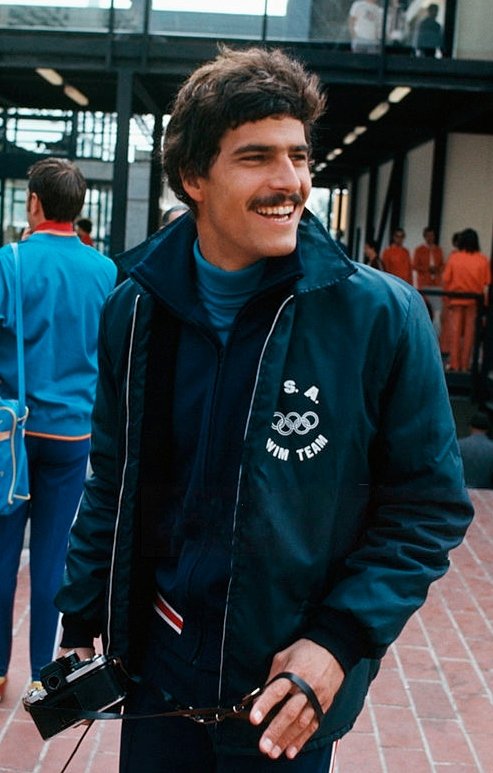 Famous moustache as personal brand
Mark was known for his moustache - looks a bit like Thomas Magnum if you know what I mean - during an era when male and female swimmers were shaving body hair to wwim faster. When asked why he initially grew one he stated "I grew the moustache because a coach in college said I couldn't grow one." - So Mark did win even with a slowing moustache - so no question who the greatest athlete of all time is - or have you seen Phelps that way?
After his retirement someone tried to convince him to shaving off his moustache for a year, and he finally did - comment of his wife Suzy was - " he looks so handsome without it."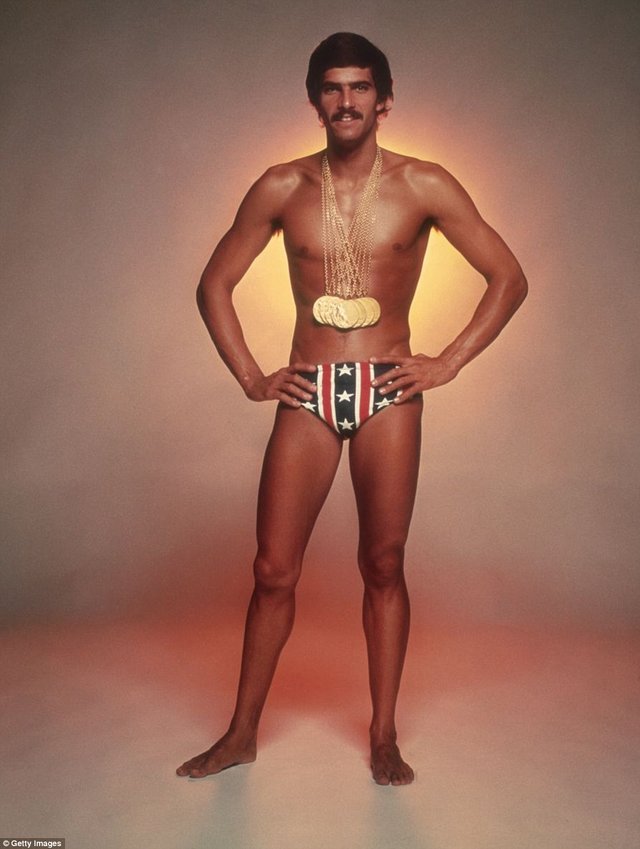 Spitz, who was widely regarded as America's greatest swimmer before Phelps splashed onto the scene, was photographed by Terry O'Neill (Source Daily Mail) with his medals dangling around his neck after the 1972 Games in Munich
Photo Sources: Daily Mail and Wikipedia
To see what happened in Sports History check links below:
February 9: Volleyball invented