am a fan of martial arts for many reasons, it is a sport with great discipline and respect, where the fighters prepare throughout their career to win contests and get to be outstanding fighters.
That fanatic who reads this article can deny feeling pure adrenaline when seeing these fights, if you are really a follower of this sport you will move from one place to another as if wanting to dodge blows when you are watching a fight, this is something that can not be denied, You live the fight as if you were there inside.
When they criticize me for being an amateur of this discipline telling me that it is a horrible sport where they are hit without need, I simply answer you definitely ignore the special thing of this, do not stop to think how much effort you get and how much these people sacrifice to be able to be inside the octagon, and believe that a simple comment will make me change my passion, they are wrong.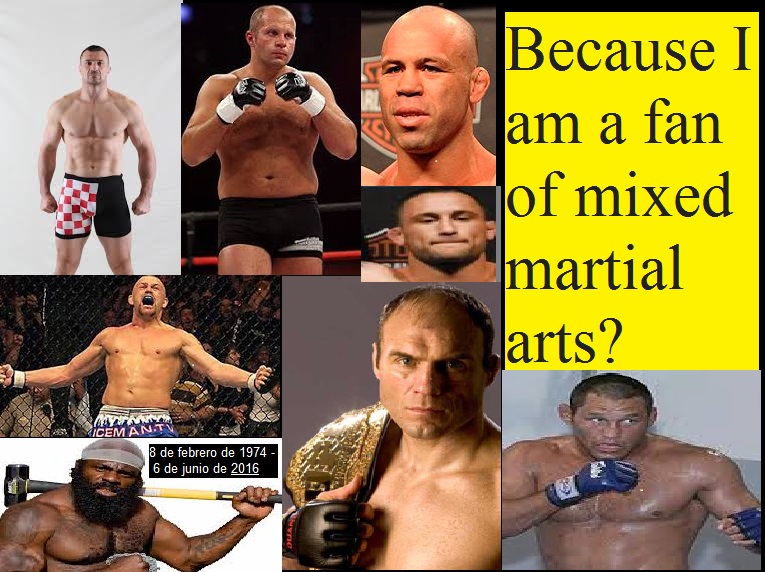 Soy un fanático de las artes marciales por muchas razones, es un deporte con gran disciplina y respeto, donde los luchadores se preparan a lo largo de su carrera para ganar concursos y llegar a ser luchadores sobresalientes.
Ese fanático que lee este artículo puede negar la sensación de adrenalina pura al ver estas peleas, si realmente eres un seguidor de este deporte te moverás de un lugar a otro como si quisieras esquivar golpes cuando estás viendo una pelea, esto es algo que No se puede negar, Vives la pelea como si estuvieras allí adentro.
Cuando me critican por ser un aficionado de esta disciplina diciéndome que es un deporte horrible donde son golpeados sin necesidad, simplemente te respondo definitivamente ignoras lo especial de esto, no te detengas a pensar cuánto esfuerzo obtienes y cómo mucha gente se sacrifica para poder estar dentro del octágono, y creen que un simple comentario me hará cambiar mi pasión, están equivocados.